Galleries/photographers
DOF. Plumbing The Depths (Of Field) The issue of Depth of Field (DOF) seems to cause a great deal of confusion.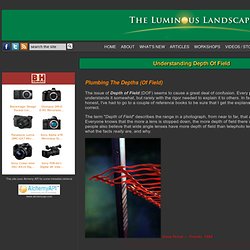 Every photographer understands it somewhat, but rarely with the rigor needed to explain it to others. In fact, to be completely honest, I've had to go to a couple of reference books to be sure that I get the explanations here technically correct. The term "Depth of Field" describes the range in a photograph, from near to far, that appears to be in focus. Everyone knows that the more a lens is stopped down, the more depth of field there will be, (true). Prabuddha Dasgupta. Subhankar Banerjee Biography. "Seasons of Life and Land will surely become a classic of American environmental consciousness.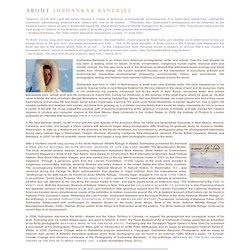 It is impeccably researched, intelligently conceived, astonishingly observant and radiant with love for its subject. … Potentially, they [Subhankar's photographs] are as influential as the massive Exxon Valdez oil spill in Alaska that saved the refuge [Arctic National Wildlife Refuge] from the drillers in 1989. They should make even the most gung–ho believer in the American public's absolute right to cheap gasoline feel uncomfortable."
—Andrew Robinson, The Times Higher Education Supplement, London, 27 June 2003. Best of 2011 in photographs | Kalyan Varma Journal. The year 2011 has been one crazy ride.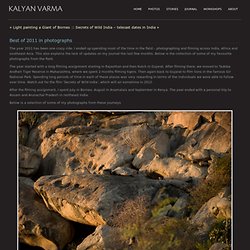 I ended up spending most of the time in the field – photographing and filming across India, Africa and southeast Asia. This also explains the lack of updates on my journal the last few months. Below is the collection of some of my favourite photographs from the field. The year started with a long filming assignment starting in Rajasthan and then Kutch in Gujarat. After filming there, we moved to Tadoba Andheri Tiger Reserve in Maharashtra, where we spent 2 months filming tigers. Flash Photography Made Simple. Flash Photography Made Simple by Chuck McKern For some reason, flash photography is a topic that many people are deathly afraid of and many others do not fully understand.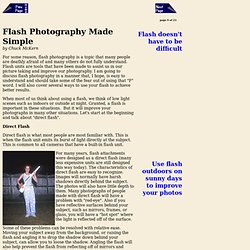 Flash units are tools that have been made to assist us in our picture taking and improve our photography. I am going to discuss flash photography in a manner that, I hope, is easy to understand and should take some of the fear out of using that "F" word. I will also cover several ways to use your flash to achieve better results. BACK TO THE FUTURE : Irina Werning - Photographer. I love old photos.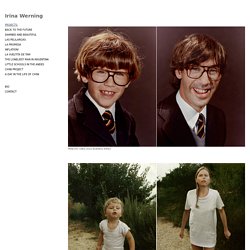 I admit being a nosey photographer. As soon as I step into someone else's house, I start sniffing for them. Most of us are fascinated by their retro look but to me, it's imagining how people would feel and look like if they were to reenact them today… Two years ago, I decided to actually do this. 8 Effects Every Photographer Should Know About.
Photography seems easy at first glance.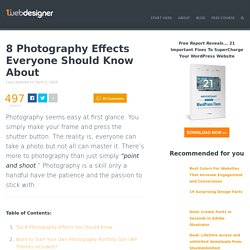 You simply make your frame and press the shutter button. The reality is, everyone can take a photo but not all can master it. There's more to photography than just simply "point and shoot." Photography is a skill only a handful have the patience and the passion to stick with. What Everybody Ought to Know About Posing for Portraits. A l o n e on the Behance Network. Rick Nunn ~ If You Play With Fire… Hey I've just launched a new design for my website & I'm currently working through all the content updating it to the new layout.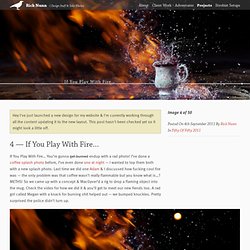 This post hasn't been checked yet so it might look a little off. If You Play With Fire… You're gunna get burned endup with a rad photo! I've done a coffee splash photo before, I've even done one at night — I wanted to top them both with a new splash photo. Last time we did one Adam & I discussed how fucking cool fire was — the only problem was that coffee wasn't really flammable but you know what is…? METHS! Food Photography. 12 Ways to Add Randomness and Creativity to Your Photography. A Post By: Darren Rowse One of the wonderful things about digital photography is the creativity that you can engage in once you've got your image on your computer and in Photoshop.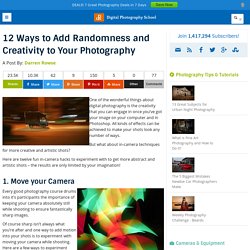 All kinds of effects can be achieved to make your shots look any number of ways. But what about in-camera techniques for more creative and artistic shots? Brand Irony by Sharad Haksar. 25 of the Most Influential News Images of All Time. News Photography is all about capturing the decisive moment in an aesthetic way.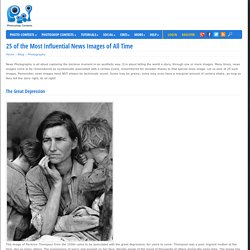 It is about telling the world a story, through one or more images. Many times, news images come to be remembered as symbolically associated with a certain event, remembered for decades thanks to that special news image. Let us look at 25 such images. Remember, news images need NOT always be technically sound. 70 Photos That Will Take Your Breath Away. We here at DPShots believe that the easiest way to learn photography is to learn it by example.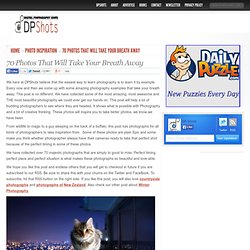 Every now and then we come up with some amazing photography examples that take your breath away. This post is no different. We have collected some of the most amazing, most awesome and THE most beautiful photography we could ever get our hands on. This post will help a lot of budding photographers to see where they are headed. It shows what is possible with Photography and a bit of creative thinking. National Geographic Photos: May 2011 Photos | National Geographic Photos: May 2011 Pictures - Yahoo! News. 18 Stunning Self Portraits. Photography urban exploration | page 1. 10 Top Sites for Alternative Urban Photography: From Abandonments to Non-Photographs. Link List: 10 Top Websites for Alternative Urban Photography Article by Urbanist, filed under Photography & Video in the Art category.
(Check out our complete collection of Urban Exploration Tips, Tricks and Guides.) Inspiring Conceptual Photographs121clicks.com. Conceptual photography as a part of conceptual art is a photography genre in which the artist makes a photograph of a concept or idea. Usually the conception of the idea precedes the realization of the photography. This kind of photography often involves use of computer editing to achieve the desired effects, but many artists work without the computer. They "put in place" the things and the beings that will be the subject of the final photograph, and the placement of those things and beings "build" the concept, the idea, and the final outcome, as for example the famous Judy Dater's conceptual photograph "Imogen and Twinka". Below we present over 50 beautiful examples of Conceptual Photography. All photos are linked and lead to the sources from which they were taken.
Beautiful Bird Photography | Inspiration | Scott Photographics | Free Inspiration. Birds are beautiful creatures and with such a vast range of colourful species your sure to find a special photo opportunity. At the sight of an unusual bird your first thought would or will be to take a photo, so if this happens or you are a regular bird watcher here is some inspirational photographs for you to think about for the next time you discover a rare beauty! Please click any photograph you see below to find out more about the photographer's photographic skill and possibly the secrets to great bird photography! The 24 Hours of One Day In One Single Photo. Absolutely Amazing Photography by Edgar Moskopp | smashingpicture.com. 19 Beautiful Examples of HDR Done Right. A Post By: James Brandon As some of you may know, HDR photography is a big part of what I do.
I've spent countless hours learning, practicing and honing my processing techniques and I'd like to think that by now I have an eye for a good HDR image. One thing that gets on my nerves is when I see a post on some blog titled "50 Examples of Incredible HDR Photography." It's not the title that bugs me, but the content. 40 most enchanting examples of Staircase Photography. 52 Dazzling Examples of Sunset Photography. 50 Incredible Examples of HDR Photography. Small Gallery of Phenomenal Flickr Photog John Dalkin. Nick Brandt : Photography. Broken sundowns. 2010 Tour de France - part I. 80 Rain Photography taken by Talented Photographers | Onextrapix.
---