End times
NASA UPGRADES 2012 SOLAR STORM WARNING - LEARN HOW TO PREPARE
le parti de jésus
Infowars : La France soutien l'Espagne par Solidarité  
Alex Jones' InfoWars.net: Manning the guns in the fight against tyranny
Alex Jones and his team of Infowars reporters are breaking down the electronic Berlin Wall of media control by reaching millions of people around the world - with more waking up every day. Circumventing the dying dinosaur media systems of information suppression, Infowars and the Alex Jones Channel are a beacon of truth in a maelstrom of lies and deception. You have found the tip of the spear in alternative media - Infowars is on the front lines in the battle to reclaim our rights, dignity and our destiny by exposing the control freaks who seek to turn the globe into a prison planet.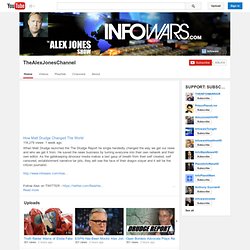 INFOWARS : Révolutions et Nouvel Ordre Mondial, OWS, Ron Paul
Hidden Obamacare Secret: "RFID Chip Implants" Mandatory for All by March 23, 2013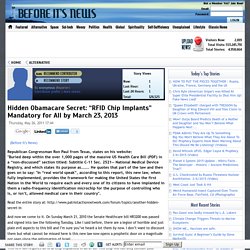 (Before It's News) "Buried deep within the over 1,000 pages of the massive US Health Care Bill (PDF) in a "non-discussed" section titled: Subtitle C-11 Sec. 2521— National Medical Device Registry, and which states its purpose as........ He quotes that part of the law and then goes on to say: "In "real world speak", according to this report, this new law, when fully implemented, provides the framework for making the United States the first Nation in the World to require each and every one of its citizens to have implanted in them a radio-frequency identification microchip for the purpose of controlling who is, or isn't, allowed medical care in their country". Read the entire story at: http://www.patriotactionnetwork.com/forum/topics/another-hidden-secret-in And now we come to it.
Front Page - theTrumpet
The Coming Crisis
Power of Prophecy: The monthly newsletter ministry of Texe Marrs
Chaîne de HesTheLamb
1 Corinthiens 1:25 Car la folie de Dieu est plus sage que les hommes, et la faiblesse de Dieu plus forte que les hommes. 1:26 Considérez, frères, que parmi vous, qui avez été appelés, il n'y a pas beaucoup de sages selon la chair, ni beaucoup de puissants, ni beaucoup de nobles. 1:27 Mais Dieu a choisi les choses folles du monde pour confondre les sages, et Dieu a choisi les choses faibles du monde pour confondre les fortes,