GTD
Get flash to fully experience Pearltrees
Getting Things Done is a time-management methodology, described in a book of the same title by productivity consultant David Allen . It is often referred to as GTD . The GTD method rests on the idea of moving planned tasks and projects out of the mind by recording them externally and then breaking them into actionable work items.
This article was originally posted during the first week of 43 Folders' existence, and, pound for pound, it remains our most popular page on the site. Please be sure to also visit related pages , browse our GTD topic area , plus, of course you can search on GTD across our family of sites. I'll be talking a lot here in coming weeks about Getting Things Done , a book by David Allen whose apt subtitle is "The Art of Stress-Free Productivity."
Post written by Leo Babauta . Follow me on twitter . Have you gotten good at organizing your tasks in a to-do list, but have trouble actually executing them? You're not alone. Getting things on your to-do list actually done is difficult because it's really a collection of habits that most people don't think about. Today, we'll look at addressing those issues that stop you from doing things, and the habits needed to overcome those issues.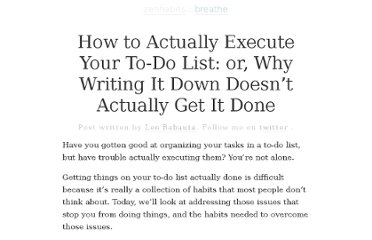 There's no better feeling than checking something off your to-do list. Done! Finished! Mission accomplished! Yet it's so easy to let a whole day or week go by without knocking one task off your list. How does that happen?