International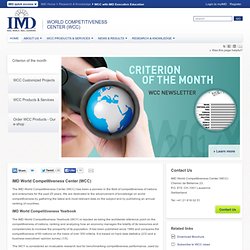 World Competitiveness Yearbook (WCY)
The IMD World Competitiveness Center (WCC) has been a pioneer in the field of competitiveness of nations and enterprises for the past 25 years. We are dedicated to the advancement of knowledge on world competitiveness by gathering the latest and most relevant data on the subject and by publishing an annual ranking of countries. IMD World Competitiveness Yearbook The IMD World Competitiveness Yearbook (WCY) is reputed as being the worldwide reference point on the competitiveness of nations, ranking and analyzing how an economy manages the totality of its resources and competencies to increase the prosperity of its population. It has been published since 1989 and compares the competitiveness of 60 nations on the basis of over 300 criteria. It is based on hard data statistics (2/3) and a business executives' opinion survey (1/3).
United Nations Development Programme
Japan International Cooperation Agency
From the FieldAfghanistan Takes a Step toward Self-Sufficiency April 16, 2014On April 5, 2014, Afghanistan marked its presidential election day. For the first time since the Taliban administration collapsed in November 2001, the Afghan people had the chance to choose a successor to President Hamid Karzai.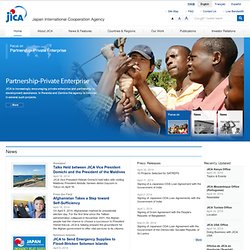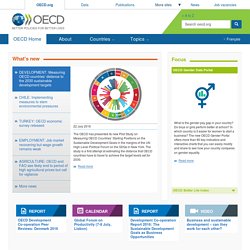 JAPAN: Half a century of OECD membership 4 April 2014 Japan joined the OECD in 1964, the same year it hosted the summer Olympic Games in Tokyo. OECD membership signalled Japan's successful transition into a fully industrialised economy, Foreign Minister Fumio Kishida writes on the 50th anniversary of his country's accession. Read more
CEI International
A strong recovery is predicated on reducing debt. There are different ways achieve it, some are much more effective and efficient than others. The governments of most advanced countries are adopting the least effective and efficient policies, and, if... read more... CEI has been engaged by the Government of Rwanda to assist their national level institutions in addressing the acute shortage of middle level skilled labour in the country, also known as the the missing middle.
عربي | 简体中文 | Français | 日本語 | Русский | Português | Español News What's New A Guide to Getting Started in Local Procurement More... Resources for...