Food Blogs
For the Love of Cake - Toronto Custom Cakes and Cupcakes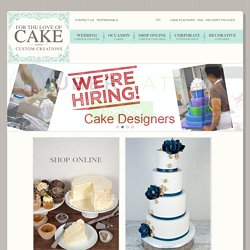 With a flagship location in the heart of Toronto's Liberty Village and a 2nd retail store in Oakville's Kerr Village For The Love of Cake offers delectable treats for the senses. Our custom designer cakes, gourmet cupcakes, gluten free products and cakeballs taste as fabulous as they look. Using only the finest ingredients our creations are baked from scratch daily. Feel free to drop by our bakery location or contact us to enquire about; We deliver our cakes and cupcakes to Toronto, Oakville, Mississauga, Burlington, Milton, Richmond Hill, Brampton, Pickering, the Niagara region and everywhere in between. Order Now
A question I get asked on a regular basis is "Can I substitute all purpose flour for cake flour?" It is far less common to hear the reverse (although I have actually done so in recipes when I was out of flour and couldn't be bothered to go to the store), since if you have one kind of flour at home, it will generally be all purpose. The answer to the question is yes, but the substitution is not one-to-one. The general rule of substitution is 1 cup of all purpose flour minus 2 tablespoons (1c – 2tbsp) is equivalent to 1 cup of cake flour. If you want to substitute cake flour for all purpose, use 2 cups of cake flour plus 2 tablespoons (2 cups + 2 tbsp). If you do decide to use this sub, treat the all purpose flour just as you would cake flour (sifting before measuring, etc.).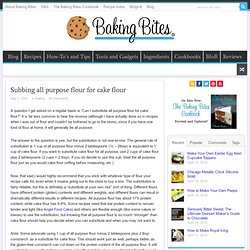 Subbing all purpose flour for cake flour
This is a lovely simple, elegant cake to celebrate Saint Patrick's - it surely does have a wonderful Gaelic bent as I used Scottish marmalade which has a nice deep flavour. I used the recipe from this book by Ruth Isabel Ross - one of my 'go to' favourite books for Irish recipes. These last few weeks I have been eating a lot of organic tangelos and realized - wait why am I throwing away the peel when I can so easily make candied peel on the ever cranked wood burning stove - it has been wicked chilly these last few weeks, nary a day above freezing so the old stove has been doing a fine job of keeping us toasty! Anyway when I decided to do the Irish Marmalade Cake I decided a topping of home made candied 'orange' peel would be a good addition to the simple cake - and boy was I right - was a lovely extra.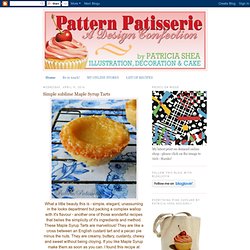 patternpatisserie
Welcome to the home of the The Daring Bakers! This is the site that lists all active members of the incredible baking group known as The Daring Bakers. To give you just a bit of a history lesson, the idea for the The Daring Bakers was born in November of 2006 when Lis of La Mia Cucina and Ivonne of Cream Puffs in Venice decided to challenge themselves by baking pretzels for the very first time using the same recipe.
Welcome!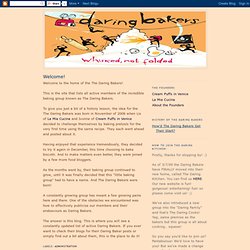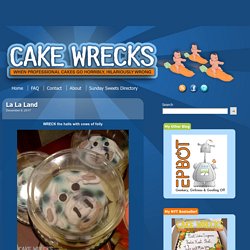 "Iiiittty bitty living space." Ever wonder why cake decorators use so much plastic flotsam? Still, where there's a will to wreck, there is a way:
Okay, so this isn't really a hard sell. I mean let's face it … cake dressed up as cute baby carrots is way more fun than the real vegetable version, right?! I think so.
You know I love cupcakes! They are so dang cute and happy. to try out her new "Greet & Treat" single cupcake boxes. They are adorable!!!! They were all fabulous and she has several new patterns coming soon - think Damask :)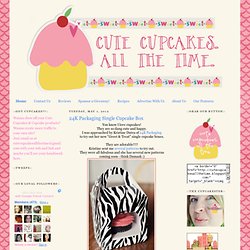 I am really excited to announce that I am teaming up again with my dear friend John Ondo, Chef at Lana restaurant in Charleston, South Carolina for a 4 day workshop in Myrtle Beach, South Carolina, May 13th-17th 2014, combining cooking classes and photo/styling....! We were able to open registration to one more student thanks to the property we chose which is always good since our workshop always sell fast and with a wait list. Hopefully you will be lucky number 13! Yes, it's a good number (my birthday is May13th...) I have known John for many years and have photographed him and his crew many times.
By applecupcake on July 7th, 2010 . Filed under: Tattoos . Is it pink and pretty or evil and foreboding? It surprises me how much variation we see in the different styles and takes we receive on the cupcake when it becomes art.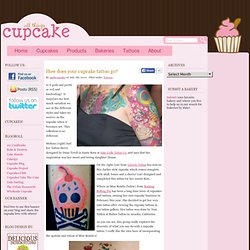 How does your cupcake tattoo go? | All Things Cupcake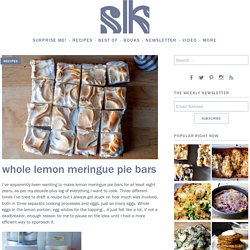 Thursday, January 16, 2014 pear and hazelnut muffins We all know that muffins teeter precariously on a razor-thin line that divides the food categories of "Acceptable for Breakfast" and "Nope, This Is Dessert" and one must maintain firm boundaries during the breakfast hours lest the day that follows devolve into a full-on bacchanal of Resolution decompensation that ends with one passed out amid scatters of Cheetos, ketchup packets and French fry grease with a side of cronut. Thus, when I come upon a new muffin recipe — or in this case, when my son is told to pick a recipe for us to make from a new book, and he predictably chooses the thing that most resembles cake — I immediately assess the list of ingredients and label them accordingly: Continued after the jump »
unnamed pearl
I'm always dubious of some of the designs requested in our custom collections. I like my collections to be cohesive and to make sense. Sometimes, well, a lot of the time, the collections make sense only to the client and the recipient. Here are some of the custom collections we created last week. It was a big week for custom collections.
People ask me all the time how many cookbooks I own (never count them) and do I actually use them all (I certainly use a lot of them). Inevitably I'm asked which ones are my favourite and that's a really tough one to answer as so many are near and dear to me. I'm happy to say that I can add Thomas Keller's Bouchon Bakery to that list. I first heard about Thomas Keller in 2005 when I was planning a trip to California.
Cream Puffs In Venice
Summer equals berries in this house. Even if summer also equals fog. (There is something refreshing about walking to work in a cool drizzle in July.) The three of us go through containers of blackberries on a regular basis – we heart blackberries. I was itching to mash some up and make a cupcake out of them.
Do You Love Chocolate and Cakes? Do you want easychocolate and cakes recipes? Do you need a decorated cakeor cake decorating ideas? At Inspired By Chocolate And Cakes you will find easy baking recipes and cake decorating ideas that I know will work and inspire you. It's my passion.
Chocolate and Cakes, Easy Chocolate Recipes and Great Cake Decorating Ideas
Kitchen remodel ideas are not simple thing to do. Long time with the same kitchen look might you get no ideas about changing the look of it. Therefore, you will… Small kitchen design will need to be managed in perfect preparation. There are some tricks and tips that you can choose.
Kitchen Koala
Exquisite Banana