Rituals-daily acts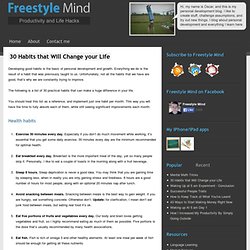 Developing good habits is the basic of personal development and growth. Everything we do is the result of a habit that was previously taught to us. Unfortunately, not all the habits that we have are good, that's why we are constantly trying to improve.
Do you want to be happy? Of course you do, who doesn't?! Here are 101 easy ways to achieve a better, happier life! It's not things that make us happy but our experiences. Travel can have a profound effect on us by taking us out of our comfort zones and opening our eyes to some of the different places and lives that were unknown to us. It's also just fun!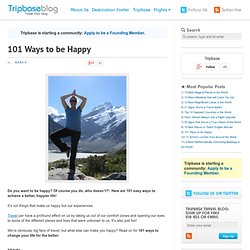 I recently found these Native American code of ethics - I am unsure of where this originated and of it's accuracy. Regardless of where it originated, I like it and I wanted to pass it on. So much common sense, a great respect for the earth and everything that calls it home.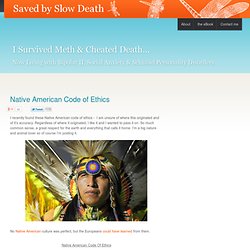 Saturday, January 2nd, 2010 Cross Posted (& Edited) from Linda's Yoga Journey HEALTH: 1. Drink plenty of water. 2. Eat breakfast like a king, lunch like a prince and dinner like beggar. 3. Eat more foods that grow on trees and plants and eat less food that is manufactured plants. 4.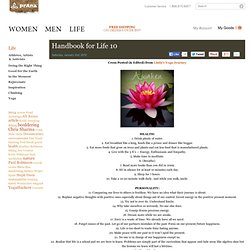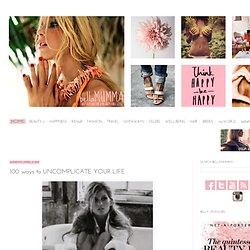 I 'STUMBLED UPON' THIS POST AT 'LIVE THE CHARMED LIFE' AND I LOVED IT SO MUCH, I JUST HAD TO SHARE IT! It begins... You see, when we're born we see the world in an uncomplicated way.
by Henrik Edberg Is truth stranger than fiction? Perhaps. In this great article written by Henrik Edberg, we find that Mark Twain had expressed in his writings over the years an entire philosophy for living. If he were around today, it seems he would be on the lecture circuit with the likes of Eckhart Tolle or Wayne Dyer. Below are Mark Twain's Nine tips for living a "kick ass" life: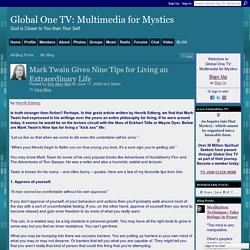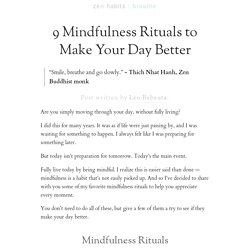 "Smile, breathe and go slowly." - Thich Nhat Hanh, Zen Buddhist monk Post written by Leo Babauta. Are you simply moving through your day, without fully living? I did this for many years. It was as if life were just passing by, and I was waiting for something to happen. I always felt like I was preparing for something later.