Right-Leaning News
Thomas Sowell was born in North Carolina and grew up in Harlem. As with many others in his neighborhood, Thomas Sowell left home early and did not finish high school. The next few years were difficult ones, but eventually he joined the Marine Corps and became a photographer in the Korean War.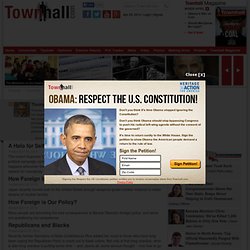 Thomas Sowell - Conservative Columnist and Political Commentator2010 Column Archive2007 Column Archive
Dick Morris
World Net Daily
Reason Magazine
Lucianne
The Daily Caller
National Review
Breitbart.com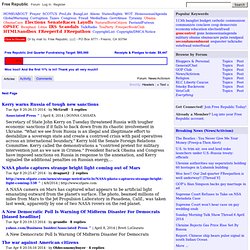 Free Republic
The Tea Party is a political movement, not a political party, and it began as a spontaneous reaction to the overreach of the Federal Government. Spurred on by Rick Santelli's rant, video.cnbc.com/gallery/?video=1039849853, I, Dianne Belsom, organized a Tax-Day Tea Party Rally in April of 2009 in my town of Laurens.
DRUDGE REPORT 2012®
Newsmax
Michelle Malkin
Ann Coulter - Official Home Page
The Official Home of Lou Dobbs On The Web
If you have a taste for Schadenfreude (and who doesn't, especially in this holiday season?), you'll enjoy Anemona Hartocollis's article in the New York Times of December 14. Here's the opening paragraph: Many in New York's professional and cultural elite have long supported President Obama's health care plan. But now, to their surprise, thousands of writers, opera singers, music teachers, photographers, doctors, lawyers and others are learning that their health insurance plans are being canceled and they may have to pay more to get comparable coverage, if they can find it. The article goes on to detail the Obamacare-induced travails of members of New York's "creative classes" (a phrase the Times fails to put in quotation marks) and concludes: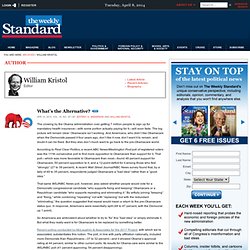 William Kristol
NewsBusters
Red State
The Weekly Standard
HotAir
The Blaze