Right-Leaning News
Thomas Sowell was born in North Carolina and grew up in Harlem. As with many others in his neighborhood, Thomas Sowell left home early and did not finish high school. The next few years were difficult ones, but eventually he joined the Marine Corps and became a photographer in the Korean War.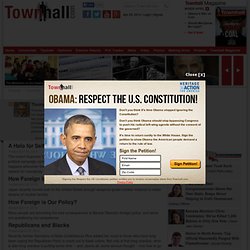 Thomas Sowell - Conservative Columnist and Political Commentator2010 Column Archive2007 Column Archive
Dick Morris
World Net Daily
Reason Magazine
Lucianne
The Daily Caller
National Review
Breitbart.com
The much-hyped bipartisan Ryan-Murray budget "deal" struck late last year increases the national debt $6.4 trillion over the next ten years. It does nothing to change the trajectory of our growing debt at a time when it is among the greatest national security threats facing our nation. The "deal" also increases near term federal spending with a promise of future cuts (dubious) while raising taxes on airline passengers.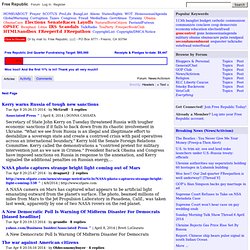 Free Republic
In the aftermath of the mass shootings in Aurora, Colo.; Newtown, Conn.; Tucson, Ariz.; Virginia Tech; the Washington Navy Yard; and sadly, other locales, conventional wisdom held that the epidemic of mass shootings was a problem of gun control. I wrote columns attempting to draw attention to the mental health system in America that so wrongheadedly fails to treat the dangerous mentally ill. Now, at last, the mental health angle on mass shootings has become conventional wisdom -- just in time, perhaps, to be wrong again.
Bank-Run Fears Continue; HSBC Restricts Large Cash Withdrawals... BLAIR: Extremist religion is at root of 21st-century wars... Will Richard Branson's space tourist ever take off?
DRUDGE REPORT 2012®
Newsmax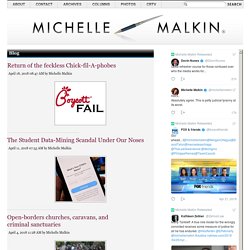 Michelle Malkin
Beware the left-wing-funded "Main Street" Republicans by Michelle MalkinCreators Syndicate Copyright 2013 What do George Soros, labor unions and money-grubbing former GOP Rep. Steven LaTourette all have in common?
January 8, 2014 With Republicans tying themselves in knots over the Democrats' destructive, but superficially appealing, demand that unemployment benefits be extended to two and a half years, I return to my suggestion that Republicans stop playing defense and go on offense. For every issue that MSNBC loves to prattle on about, gloating that it will cost Republicans this or that demographic, there's an equivalent issue to use against the Democrats.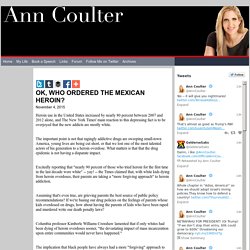 Ann Coulter - Official Home Page
The Official Home of Lou Dobbs On The Web
The crowing by the Obama administration over getting 7 million people to sign up for mandatory health insurance—with some portion actually paying for it—will soon fade. The big picture will remain clear: Obamacare isn't working. And Americans, who didn't like Obamacare when the Democrats passed it four years ago, don't like it now, don't want it to remain, and doubt it can be fixed. But they also don't much want to go back to the pre-Obamacare world. According to Real Clear Politics, a recent ABC News/Washington Post poll of registered voters was the 111th consecutive poll to find more opposition to Obamacare than support for it. That poll—which was more favorable to Obamacare than most—found 48 percent support for Obamacare, 50 percent opposition to it, and a 12-point deficit for it among those who feel "strongly" (27 to 39 percent).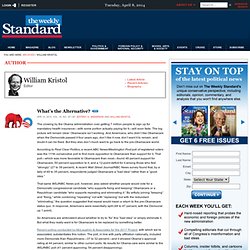 William Kristol
NewsBusters
An unhinged Chris Matthews exploited another tragedy on Wednesday, connecting the pro-Second Amendment views of Ted Cruz and other Republicans to the shootings of two prosecutors in Texas. The Hardball anchor began by dredging up failed Senate candidate Sharron Angle's three-year-old reference to "Second Amendment remedies." Matthews connected, "If that was frightening enough for you, how about what's happening in Colorado and Texas?...In Texas, two prosecutors were killed, a third has now pulled out of a case against the Aryan brotherhood of Texas for, quote, 'security reasons.'" Matthews made his linkage totally clear: " We've got a Texas senator, Ted Cruz, who won't let the Senate hold a democratic vote on gun safety.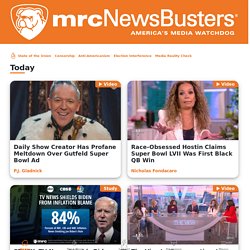 Just a few months after Missouri's Governor Jay Nixon vetoed a small but beneficial income tax cut, totaling $700 million over 10 years (barely larger than the one-year value of recent cuts in North Carolina), the Governor convened a special session to provide tax carve-outs for aircraft manufacturer, Boeing. Read More » On today's edition of Coffee and Markets, Brad Jackson and Ben Domenech are joined by Francis Cianfrocca to discuss the debate over income inequality, the difference between rich and poor in America and if there is a way to bridge the gap. Read More » As I mentioned yesterday, Ben Sasse of Nebraska is running for the Senate against a guy who has Mitch McConnell's backing.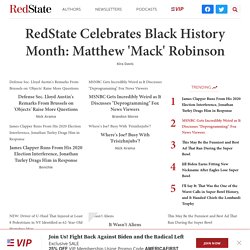 Red State
The Weekly Standard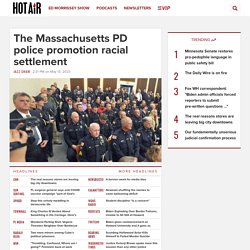 Mozilla CEO "resigns" after uproar over his opposition to gay marriage Apr 3, 2014 4:41 PM by Allahpundit "It's clear that Brendan cannot lead Mozilla in this setting."
HotAir
The Blaze
Channel Finder Find TheBlaze on your TV This zipcode is invalid, please try again TheBlaze is available on channel . Spread the word!