Handy lifehacks
My collection of funny emails from my inbox. Subject: 5 MINUTE MANAGEMENT COURSE Lesson 1: A man is getting into the shower just as his wife is finishing up her shower, when the doorbell rings.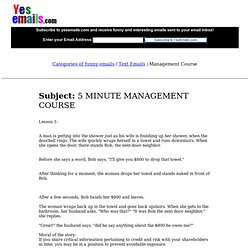 The wife quickly wraps herself in a towel and runs downstairs. How To Steal Like An Artist by Austin Kleon. 50 Things Everyone Should Know. By Mark and Angel Self-reliance is a vital key to living a healthy, productive life.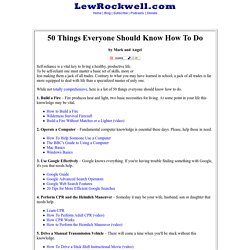 To be self-reliant one must master a basic set of skills, more or less making them a jack of all trades. Contrary to what you may have learned in school, a jack of all trades is far more equipped to deal with life than a specialized master of only one. While not totally comprehensive. 100 Skills Every Man Should Know: 2008s Ultimate DIY List. Automotive 1.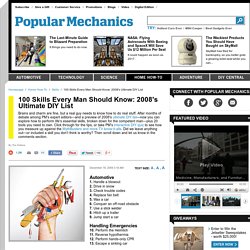 Handle a blowout2. Drive in snow3. Waking Up Early - 15 Tips That Work. It has almost been one year since I posted about how to Wake up Early and Consistently.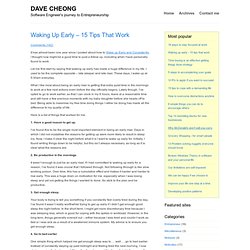 I thought now might be a good time to post a follow up, including what I have personally found to work. Let me first start by saying that waking up early has made a huge difference in my life. 40 Ways to Feel More Alive. "I don't believe people are looking for the meaning of life as much as they are looking for the experience of being alive."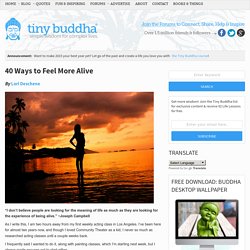 ~Joseph Campbell As I write this, I am two hours away from my first weekly acting class in Los Angeles. I've been here for almost two years now, and though I loved Community Theater as a kid, I never so much as researched acting classes until a couple weeks back. A Big List of Sites That Teach You How To Do Stuff. Top 40 Useful Sites To Learn New Skills.
The web is a powerful resource that can easily help you learn new skills.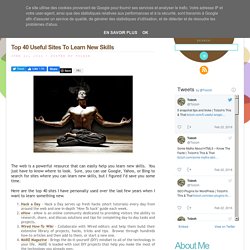 You just have to know where to look. Sure, you can use Google, Yahoo, or Bing to search for sites where you can learn new skills , but I figured I'd save you some time. Here are the top 40 sites I have personally used over the last few years when I want to learn something new. Ten Lies You'll Hear Before Pursuing Your Dream. (photo: salty_soul) Unfortunately, just before you take your first step on the righteous journey to pursue your dreams, people around you, even the ones who deeply care for you, will give you awful advice.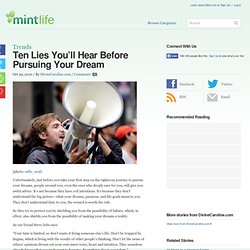 It's not because they have evil intentions. 8 Things Everybody Ought to Know About Concentrating. "Music helps me concentrate," Mike said to me glancing briefly over his shoulder.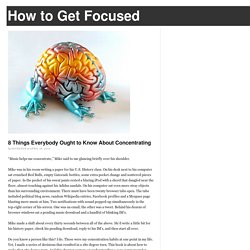 Mike was in his room writing a paper for his U.S. History class. 100 Ways to Simplify Your Life (and Make Yourself Happier) I've been striving to simplify my life for many years now, and have recently (through my writing) been advising others how to do the same.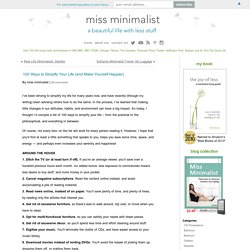 In the process, I've learned that making little changes in our attitudes, habits, and environment can have a big impact. So today, I thought I'd compile a list of 100 ways to simplify your life – from the practical to the philosophical, and everything in between. Of course, not every item on the list will work for every person reading it. How To Check Your Credit without Hurting Your Score.
---