Teaching and Learning
SOLO Taxonomy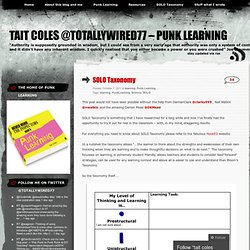 This post would not have been possible without the help from DamianClark , Neil Watkin and the Darren Mead SOLO Taxonomy is something that I have researched for a long while and now I've finally had the opportunity to try it out for real in the classroom – with, in my mind, staggering results. For everything you need to know about SOLO Taxonomy please refer to the fabulous Hoo kED website. In a nutshell the taxonomy allows ".. the learner to think about the strengths and weaknesses of their own thinking when they are learning and to make thoughtful decisions on what to do next." The taxonomy focusses on learning, is extremely student friendly, allows teachers and students to consider feed"forward" strategies, can be used for any learning context and above all is easier to use and understand than Bloom's Taxonomy.
Creating a Google Site
The 5 Minute 'Oops'-based Lesson Plan | Classroom creativity! | Sparky Teaching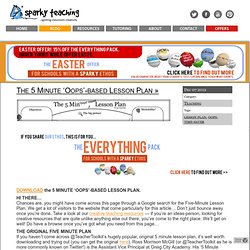 DOWNLOAD the 5 MINUTE 'OOPS'-BASED LESSON PLAN. HI THERE… Chances are, you might have come across this page through a Google search for the Five-Minute Lesson Plan.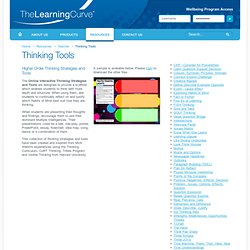 The Online Interactive Thinking Strategies and Tools are designed to provide a scaffold which enables students to think with more depth and structure.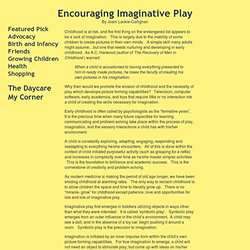 Encouraging Imaginative Play
Childhood is at risk, and the first thing on the endangered list appears to be a lack of imagination. This is largely due to the inability of some children to create pictures in their own minds. A simple skill many adults might assume…but one that needs nurturing and developing in early childhood. As A.C. Harwood (author of The Recovery of Man in Childhood ) warned: When a child is accustomed to having everything presented to him in ready made pictures, he loses the faculty of creating his own pictures in his imagination.
Dylan Wiliam Webinar: Understanding Formative Assessment & Why it Needs to Be a Priority for Every School
02/08/12 - Plenary Lunch with Dylan Wiliam, San Antonio SCASS
02/08/12 - Plenary Lunch with Dylan Wiliam, San Antonio SCASS Part 2
pedagoo.org
Merlin John Online :: The Innovators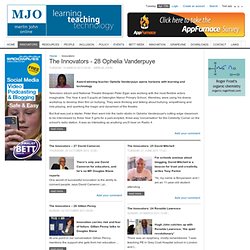 Thursday, 25 October 2012 12:09
This is the introduction to Bloom's Digital Taxonomy. The different taxonomical levels can be viewed individually via the navigation bar or below this introduction as embedded pages. This is an update to Bloom's Revised Taxonomy which attempts to account for the new behaviours and actions emerging as technology advances and becomes more ubiquitous. Bloom's Revised Taxonomy describes many traditional classroom practices, behaviours and actions, but does not account for the new processes and actions associated with Web 2.0 technologies, infowhelm (the exponential growth in information), increasing ubiquitous personal technologies or cloud computing.Bloom's Digital Taxonomy isn't about the tools or technologies rather it is about using these to facilitate learning.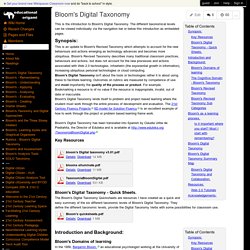 TEDucation - Full On Learning reflections on www.TED.com talks
How We Learn What We Learn
kvnmcl : Is your headteacher a leader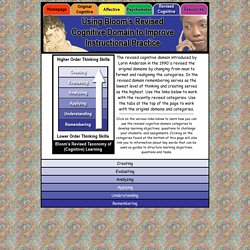 The revised cognitive domain introduced by Lorin Anderson in the 1990's revised the original domains by changing from noun to format and realigning the categories. In the revised domain remembering serves as the lowest level of thinking and creating serves as the highest. Use the links below to work with the recently revised categories. Use the tabs at the top of the page to work with the original domains and categories.
educationalreading - home
www.pearsoncpl.com/wp-content/uploads/2011/10/Tweeting-for-teachers.pdf