CSS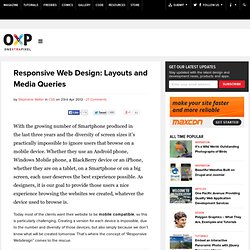 Responsive Web Design: Layouts and Media Queries
With the growing number of Smartphone produced in the last three years and the diversity of screen sizes it's practically impossible to ignore users that browse on a mobile device. Whether they use an Android phone, Windows Mobile phone, a BlackBerry device or an iPhone, whether they are on a tablet, on a Smartphone or on a big screen, each user deserves the best experience possible. As designers, it is our goal to provide those users a nice experience browsing the websites we created, whatever the device used to browse is.
Prereqs Requires the jQuery Library as well as the Easing plugin . <script type='text/javascript' src='http://ajax.googleapis.com/ajax/libs/jquery/1.4/jquery.min.js'></script><script type='text/javascript' src='js/jquery.easing.1.2.js'></script><script type='text/javascript' src='js/jquery.circulate.js'></script>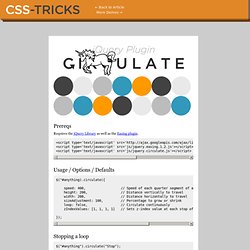 A CSS3 rendering catfight, with some surprising results. There's been a lot of talk over the last few days over the differences between the CSS3 box-shadow property and the drop-shadow filter . * The former has been around for a long time, and is well-supported across modern browsers; the latter is a translation from SVG into CSS , and currently only has support in recent Webkit-based applications, or in Firefox through an equivalent SVG filter. At first glance the CSS and filter shadow techniques appear to be same effect: even their syntaxes are very similar. As we'll see, there are some very significant differences between the two. Much of the recent conversation has focused on one feature or another; this article will be a complete side-by-side matchup of the two systems, comparing flexibility, rendering speed and quality.
box-shadow property vs. drop-shadow filter: a complete comparison
Ingrid – a fluid CSS layout system
Hello, my name is Ingrid Ingrid is a lightweight and fluid CSS layout system, whose main goal is to reduce the use of classes on individual units. Making it feel a bit less obtrusive and bit more fun to reflow for responsive layouts. Ingrid is also meant to be an extendable system, easy to customize to your own needs. Some examples unit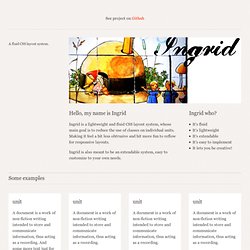 Description Free CSS Drop-Down Menu Framework was first released back in June, 2008. Since then it has struck the audiences with its perfect cross browser performance and wide variety of drop-down menu transformations and themes. As the internet changes this project remains a steady advocate of purely CSS driven solutions. Modular, with themes.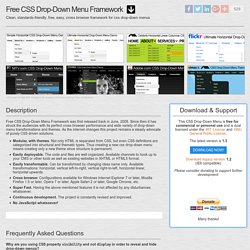 Free CSS Drop-Down Menu Framework - LWIS.NET