Business
Get flash to fully experience Pearltrees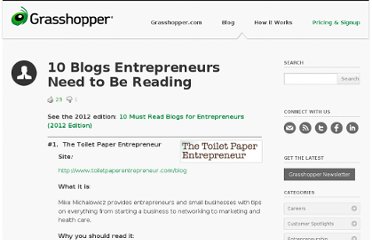 Category September 11, 2009 See the 2012 edition: 10 Must Read Blogs for Entrepreneurs (2012 Edition)
I remember it like it was yesterday.
Banks
Success in life is always relative. Some people are happy with small achievements while there are others who won't be satisfied until mountains are moved. Regardless of our ambitions, our career spans through a series of jobs and experiences that truly polish our personality and will.
If you're like thousands of other designers, programmers and other creative professionals out there, at one point in time you've considered starting your own business. Unlike most, you've gone against common sense and decided to open shop for yourself. And not just freelance full-time, mind you, but file for the company name, get some stationery, and wade through the legal mumbo-jumbo.