Android
Get flash to fully experience Pearltrees
The Android Market may not have as many apps as the iPhone App Store yet, but there are still enough to be overwhelmed, and it's growing at a breakneck pace. To help you sort through them all, here's my list of the best apps I've found on Android. Again, remember that this is a snapshot in time. The Android platform is developing so quickly right now that I guarantee my home screen look different a month from now.
Contrary to popular belief, it's not all free on Android. The paid-for development scene is alive and well and charging people money, with plenty of pro-level game entertainment on hand to help you happily spend all day staring at your mobile telephone. Thankfully, Android's a world of bargains - most of the finest examples of paid-for Android games come in around the psychologically negligible 'micro-transaction' cost level, with the majority of developers selling their works for a couple of dollars, tops. So, now you've been gently acclimatised to the possibility of having to pay for something, pay for these things - the 10 best paid-for games on Android today.
If you're waiting impatiently for the Android 2.2 update to arrive on your mobile, then bookmark this page, because we'll be keeping it up to date with all the latest Android 2.2 release dates. First off, the Nexus One Android 2.2 update has finally landed. "This update will be rolled out gradually to phones – and most users will receive the notification by the end of the week," Google said on 29 June. However, Vodafone UK Nexus One users were upset they weren't able to get the update at the same time – but that's now been rectified according to the network, with the new update coming over the next week or so for all those on contract.
Smartphone owners who fancy Google's mobile operating don't have to shell out any cash for excellent apps. When talk turns to mobile app stores, Apple's iTunes App Store is often the focus of conversation—but that may be quickly changing. ABI Research reported that Google's Android Market overtook Apple's in Q2 2011, becoming the marketshare leader in mobile app downloads with a 44 percent share, versus Apple's 31 percent. If you're an Android smartphone owner, that should come as no surprise. Not only does the Android operating system power a wide array of handsets from HTC to Samsung (Apple, as always, has its OS tied exclusively to its own hardware), but there are many excellent apps that expand your cell phone's out-of-the-box functionality. And many of the best Android apps are free Android apps.
Whether the Android Market has 70,000 or 100,000 apps, there are more Android apps than any one device will ever be able to hold. AppBrain argues that "Quality, not quantity" is what matters most in the Android Market, and we have to agree. Take a look at this data from AppBrain, which reveals that the top app on Android is used by 99.1% of its users. That's not surprising given that Maps – and fellow top apps Facebook, Goggles, and Amazon MP3 – comes preloaded on many Android devices. Few apps see remotely similar penetration rates, so AppBrain argues that users probably care more about discovering the good apps that they use rather than the actual number of available choices.
So, you've got your spiffy new Motorola Droid phone from Verizon. Now what? When it comes to applications, the Android ecosystem is pretty different from that other far more controlled alternative . Sure, the Android Market may not have 100,000 options just yet . But it does offer plenty of powerful programs -- somewhere around 10,000 total -- and, in a refreshing twist, it lets you decide what apps you want, instead of frequently censoring selections for you . See Related: Top 10 Android Apps for Entertainment & 12 Essential Android Games & Top 10 Android Apps for Entertainment & 11 Essential Android Travel Apps .
Android's been around for more than a year, and in that time developers have whipped up some great apps. Whether you're a new Android owner or a pro looking for new tools, these 10 great and free apps belong in your arsenal. Photo by lwallenstein . We're going to skip right over the apps that are just so common, universal, and well replicated on the iPhone or other mobile platforms that a user with a need will probably hunt them down—Facebook, Yelp, Evernote, Remember the Milk, and endless Twitter clients, widgets, and apps. We've also skipped over Google's own neat apps, like Google Voice, Navigation, and Goggles, that are (or will be) included standard on new Android phones.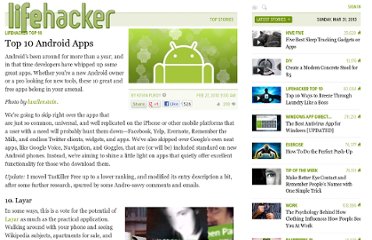 Battery life is one of the biggest issues in the Android world today.
Samsung Captivate - Galaxy