Awesome n' not sorted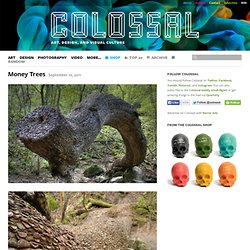 Money Trees | Colossal
As perhaps a companion piece to last week's skull nickels, here's yet another thing I had no idea existed. Apparently in several wooded areas around the UK, passersby have been stopping for decades (if not centuries), meticulously hammering small denomination coins intro trees. Most of the trees seem to be in and around Cumbria and Portmeirion, and I didn't find a single example of a tree like this located outside the UK.
Six Degrees of Black Sabbath #6dobs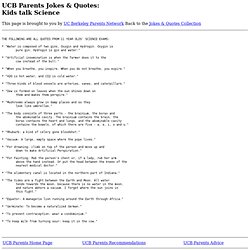 UCB Parents Jokes &Quotes: Kids talk Science
This page is brought to you by UC Berkeley Parents Network Back to the Jokes & Quotes Collection THE FOLLOWING ARE ALL QUOTES FROM 11 YEAR OLDS' SCIENCE EXAMS: * "Water is composed of two gins, Oxygin and Hydrogin. Oxygin is pure gin. Hydrogin is gin and water." * "Artificial insemination is when the farmer does it to the cow instead of the bull." * "When you breathe, you inspire. When you do not breathe, you expire." * "H20 is hot water, and CO2 is cold water." * "Three kinds of blood vessels are arteries, vanes, and caterpillars." * "Dew is formed on leaves when the sun shines down on them and makes them perspire." * "Mushrooms always grow in damp places and so they look like umbrellas." * "The body consists of three parts - the brainium, the borax and the abominable cavity.
Deep, Hipsterish "Words on Pictures" Parody | SadAndUseless.com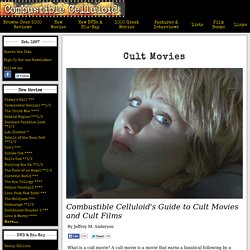 Combustible Celluloid - Cult Movies, Cult Films
Army of Darkness (1993) The third film in Sam Raimi's Evil Dead trilogy features more zombies, more action, more laughs, and more kisses. With Bruce Campbell. "Gimme some sugar, baby!"
Bertrand Russells Message to the Future
For the live-updated, interactive version of this infographic, click here. A year ago, we published one of our most popular findings – 6 surprisingly effective treatments for depression. I went ahead and repeated the analysis today, and now we have 23 treatments in the "surprisingly effective" category for depression. This chart is based on 4,956 people with depression who participated in CureTogether surveys, compared to 944 people last year.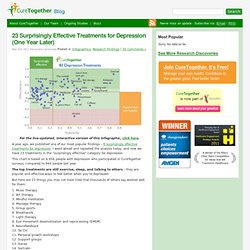 Blog & Blog Archive & 23 Surprisingly Effective...
almonds vs. hard boiled egg - Which is healthier?
Mr. Spock, Space Wizard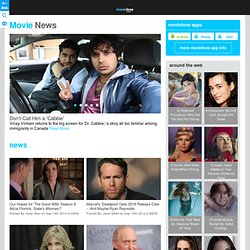 Mr. Spock, Space Wizard An exploration of how the concept of the wizard translates into science fiction television and films with your friend Mr. Spock from Star Trek.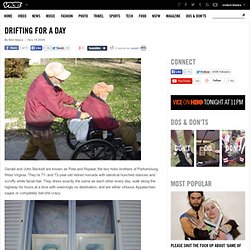 Gerald and John Beckett are known as Pete and Repeat, the two hobo brothers of Parkersburg, West Virginia. They're 71- and 73-year-old retired nomads with identical hunched stances and scruffy white facial hair. They dress exactly the same as each other every day, walk along the highway for hours at a time with seemingly no destination, and are either virtuous Appalachian sages or completely bat-shit crazy. Apparently John was hit by a car about five years ago, so now, instead of walking exactly ten paces in front of him at all times, Gerald pushes John around in a wheelchair. I was once told that they cut their own toes off after getting frostbite traveling by boxcar from Canada.
DRIFTING FOR A DAY - Viceland Today
Let's keep things simple this week. When it comes to personal-care products, we are big believers in streamlining what you use—see "Eight Products You Think You Need But Don't" for a refresher—buying less in general, and getting creative. We have both always loved experimenting in our kitchens and our bathrooms, checking ingredients in products we love, isolating the main ones, and then trying them on their own.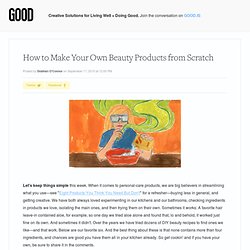 How to Make Your Own Beauty Products from Scratch - Health - GOOD
Water Marble Tutorial. Supplies: orange stick or toothpick, shot glass or cup (the smaller the circumference, the less polish you end up wasting), room temp. water, nail polish, tape (optional, but it helps with the clean up) I like to begin by prepping my nails with base coat and one coat of polish.
Water Marble Tutorial. Supplies: orange stick or...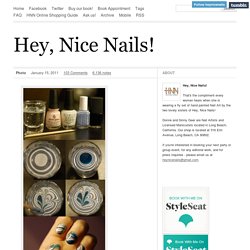 Project Your Imagination
"Why do we describe a distraught person as being 'beside himself'? Because the ancients believed that soul and body could part, and that under great emotional stress the soul would actually leave the body. When this happened a person was 'beside himself.'" ~ Dictionary of Word Origins "For what is a man profited, if he shall gain the whole world, and lose his own soul?" ~ Jesus (Matthew 16:26) Part I
PARALLAX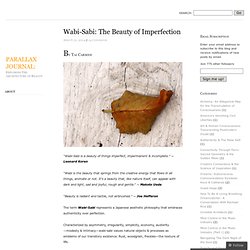 http://www.testcolor.com/personalitytest/personalitytest.php
Shibori is a Japanese term for methods of dyeing cloth by binding, stitching, folding, twisting, and compressing. In Japan, the earliest known example of cloth dyed with the shibori technique dates back to the 8th century where indigo was the main dye used. We were immediately inspired by this fascinating technique, it's history and beauty. After much research, we decided to tackle 3 techniques of Shibori dyeing with an Indigo Tie Dye Kit, a few old white shirts and scarves, and several household items.
DIY Shibori - Honestly WTF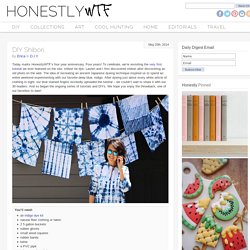 I've been wanting to do this for a year. It's one of those things I've just been putting off. I love ball canning jars, especially the blue ones. The first thing you have to do to make the Ball jar lights, is take out the glass seal. So I took the hammer and busted up the seal to get it out.
Ball Jar Lights
College Answers: Ask a Question! | Supported by ClassesandCareers.com
Welcome Guest. Sign in or Signup 2 Answers I don't live in the states can is it wise that i take classes with a school from there? And will I be able to get financial aid I am a single mother of 1 child?
Download our app and get Internet Tendency optimized for your device,plus much more!(hide this message) is a riddle wrapped in a mystery wrapped in bacon. Back to the front page
McSweeney's: Recommendations.
Chart Topping Musicians
The Secrets of Jujitsu: A Complete Course in Self Defense, by Allan...
A ModernTake on the Doily - $850 Lamp for less than $50 | Handmadeology
A Modern Take on the Doily $850 Lamp for less than $50? Yes Please! Hello Pretty people! We are so excited to share a project we did this past weekend. A few months ago, I came across a ceiling lamp, I absolutely loved. It was $850, and I just couldn't justify the spend, being it was simply made of doilies.
FEUDAL DELUSIONS - Missile-Making Samurai Hideyoshi Hashiba is Ready for War...
Bruce Lee- Ping Pong (Full Version)‬‏
fishtail6.jpg from honestlywtf.com