Web Applications
We are excited to announce that Yahoo has acquired Bread! When we launched Bread in 2011, our goal was to help social media influencers and publishers better monetize their online content. We built the first digital platform that delivered beautiful and engaging advertising across social media, desktop, and mobile devices.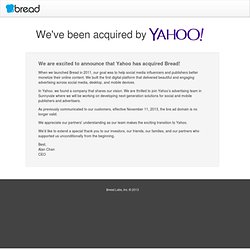 Sparked - http://www.sparked
Quixey - http://www.quixey
ifttt - http://ifttt fontpro.com Font Pro - is a free fonts database with awesome typeface testing tool. It provides more than 20,000 free fonts and web fonts. Font Pro has made the process of searching fonts, previewing fonts, collecting fonts, to discovering new font combinations super easy and awesome. This tool can save hours of design time every week. You can start a new project with a blank canvas, and get some pretty detail options in minutes.
Google Docs is handy for editing documents online, acting as a complete office suite. But what happens when you need to open a file and do some minor changes to it? You'll have to perform some tedious tasks, like uploading the file, making the changes, than exporting the changed document. GDocsOpen will help you eliminate the upload and export part of the process: automatically uploads the file to google docs when you open it automatically synchronize the changes back to your file once you're done editing! GDocsOpen is a software that you can download to help you work with your Google documents easily.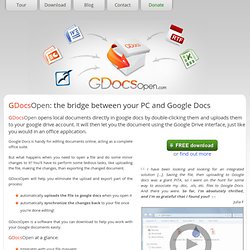 Edit all Office document types using Google Docs directly fom windows explorer
web based time tracking and invoicing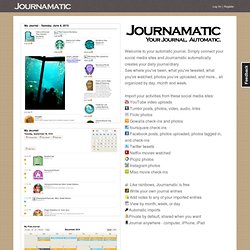 Journamatic - Your Journal. Automatic.
Welcome to your automatic journal. Simply connect your social media sites and Journamatic automatically creates your daily journal/diary. See where you've been, what you've tweeted, what you've watched, photos you've uploaded, and more... all organized by day, month and week. Import your activities from these social media sites:
Outils graphiques et visuels
Outils de gestion de projet
Support
iBigBang - My Internet Desktop
The Pixelpipe team is pleased to announce that we will all soon be joining a much larger organization. While the details are still to be finalized, we can say that we will be working on similar themes to what we have delivered with both our Pixelpipe & Pi.pe services. We are very proud of the many millions of files that we have been able to share over the years & thank all of our loyal users. Today we are shutting down both the Pixelpipe & Pi.pe services. Payment We today introduce a paid subscription for those busy in polling at the level which might be called as "Professional". All basic functions are still accessible as before for free use. Restricted were only such functions as the possibility to insert one's own Google Analytics counter, transmit a form to another user, and export form arguments. Apart from that, paid subscribers will not have reflected on their forms our logo and our buttons.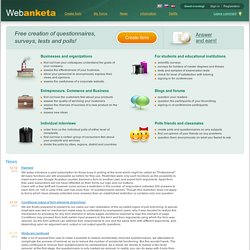 Wists, top web picks from for all. Wists, social shopping scrapbook, wishlist
Encapsuler tout type de fichiers sur votre blog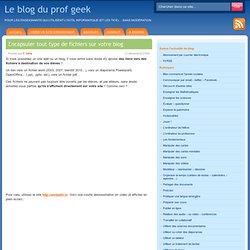 Si vous possédez un site web ou un blog, il vous arrive sans doute d'y ajouter des liens vers des fichiers à destination de vos élèves ? Un lien vers un fichier word (2003, 2007, bientôt 2010...), vers un diaporama Powerpoint, OpenOffice... (.ppt, .pptx, etc), vers un fichier pdf... Ces fichiers ne peuvent pas toujours être ouverts par les élèves, et par ailleurs, sans doute aimeriez-vous parfois qu'ils s'affichent directement sur votre site ? Comme ceci ? : Pour cela, utilisez le site http://embedit.in.