Web Applications
Bre.ad. Sparked - Quixey - Ifttt - Online tools and applications - Go2web20.
Cartographie
Webdoc beta - For rich expression. Edit all Office document types using Google Docs directly fom windows explorer. Web based time tracking and invoicing. Journamatic - Your Journal. Automatic. 321Meet | Unlimited Online Meetings! Partage de contenu. Outils graphiques et visuels. Sauvegarde. Conversion de fichiers. Navigation et Favoris. Outils de gestion de projet. E-learning. Listes et Notes. Mind maps.
User-generated Comparisons make Decisions easier and better. Support. iBigBang - My Internet Desktop. Organiser. Pixelpipe - Liberate your media! post, upload and share almost anywhere. Questionnaires, polls, Sociological polls, surveys of consumers, surveys of staff, polls, online surveys, questionnaires, Voting, Statistics, Analysis, Constructor of Forms, questionnaires.
Widgetbox › World's best place to find and make web widgets. Wists, top web picks from for all. Wists, social shopping scrapbook, wishlist. ▶ TEUFELSBERG by AudiobeamerS. Stack Exchange - Free, Community-Powered Q&A. Encapsuler tout type de fichiers sur votre blog. Si vous possédez un site web ou un blog, il vous arrive sans doute d'y ajouter des liens vers des fichiers à destination de vos élèves ?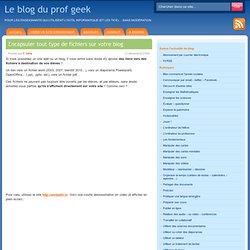 Un lien vers un fichier word (2003, 2007, bientôt 2010...), vers un diaporama Powerpoint, OpenOffice... (.ppt, .pptx, etc), vers un fichier pdf... Ces fichiers ne peuvent pas toujours être ouverts par les élèves, et par ailleurs, sans doute aimeriez-vous parfois qu'ils s'affichent directement sur votre site ? Comme ceci ? : Pour cela, utilisez le site. JavaScript and Java Diagram Library Components. Account ([1]) Utilitaires/divers.
---