NASA
Image Gallery. Martian Rock and Dust Filling Studied with Laser and Camera Scientists used the Chemistry and Camera (ChemCam) instrument on NASA's Curiosity Mars rover in June 2014 to examine a Martian rock "shell" about one inch (two to three centimeters) across, embedded in fine-grained bedrock and with a dust-filled hollow interior.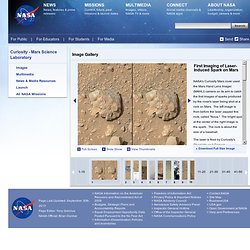 This graphic combines an image of the target, called "Winnipesaukee," with spectrographic results from using ChemCam's laser on a row of points including the rock, the matrix around it and the material filling it. The image merges a high-resolution, black-and-white image from ChemCam's remote micro-imager and a color image form the telephoto-lens camera of Curiosity's Mast Camera (Mastcam). The ChemCam laser and camera atop of Curiosity's remote sensing mast were about 9 feet, 10 inches (3 meter) from Winnipesaukee when the instrument examined Winnipesaukee on the 654th Martian day, or sol, of the rover's work on Mars (June 8, 2014).
Multimedia - Video Gallery. Mars Science Laboratory. Mars Science Laboratory, the Next Mars Rover.
---