Recipes
Home-stuff-808. Vegetarian Recipes: Favorite Vegetarian Recipes. Most favorited all-time - page 3. Weekend Cocktail~ Pink Grapefruit Margaritas « There Goes the Cupcake… These margaritas will certainly liven up your weekend, both refreshing and delicious.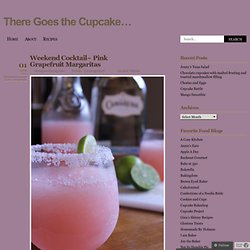 They are super simple to make, the only catch being, you need fresh limes, it really makes a difference. Make these at your next party, they are sure to be a hit. Pink Grapefruit Margaritas From: Barefoot Contessa's How Easy Is That 1 cup ruby red grapefruit juice1/2 cup fresh squeezed lime juice (about 4 limes)1 cup triple sec orange liqueur3 cups ice1 cup silver tequila1 lime cut in wedges, optional Kosher salt. If you prefer to rim the glasses take a lime wedge and rim, then dip in salt, if you do not like a salted rim sprinkle a touch of salt in each glass, the salt really brings out the flavor. Cheesy Bacon Ranch Pull Apart Bread — Buns In My Oven.
Y'all are going to hate me for this.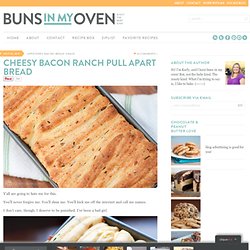 You'll never forgive me. You'll shun me. You'll kick me off the internet and call me names. I don't care, though. Strawberry Champagne Slushies :: Une Vie Saine. Espresso and Cream: Autumn Chopped Salad. Photo Courtesy of Richard Swearinger, BHG Food Editor Extraordinaire If you're stopping by from Pinterest, welcome!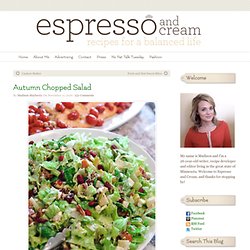 I'm happy you took the time to visit Espresso and Cream and hope you'll stay a while. Baked Spinach Dip Mini Bread Bowls Baked Spinach Dip Bread Bowls 22 – Picky Palate. Creamy Grilled Chicken Piccata. A few weeks ago, I saw The Pioneer Woman make another lemon pasta dish and I immediately thought "Yuck!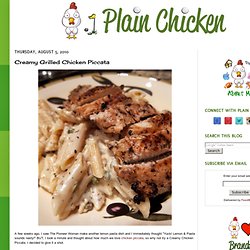 Lemon & Pasta sounds nasty! " BUT, I took a minute and thought about how much we love chicken piccata, so why not try a Creamy Chicken Piccata. Cheesy Chicken Pot Pie Cups | Between 3 SistersBetween 3 Sisters. If you haven't figured out, you soon will...I love my muffin pan!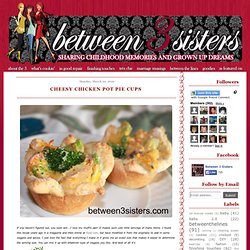 It makes such cute little servings of many items. I found this recipe years ago in a magazine and then online at food.com, but have modified it from the originally to add in some veggies and spices. I just love the fact that everything I make in it gives me an exact size that makes it easier to determine the serving size. You can mix it up with whatever type of veggies you like. Turkey Cranberry Monte Cristo. Lay the 4 slices of the bread out on a cutting board.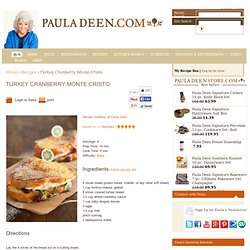 On each slice, place 2 tablespoons of the fontina, followed by 2 slices of the turkey, and 2 tablespoons of the cranberry sauce. Equally divide the arugula leaves and place on next layer. Top with the remaining fontina and remaining bread slices. Press down firmly on sandwiches to seal in the filling. Coupons, Deals, Publix, Saving Money and Living Life: Chicken & Spinach Pasta Bake. It looks like you're new here!
You may want to subscribe to our RSS feed , Like Us on Facebook, or Follow Us on Twitter for recipes, DIY crafts, & savings tips and more. Thanks for visiting! The End of Chicken Parmesan As You Know It. Not counting pizza and spaghetti, chicken Parmesan may be the most popular Italian-American restaurant entree out there.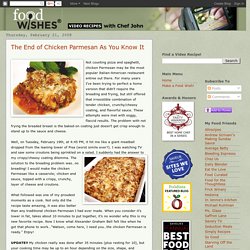 For many years I've been trying to perfect a home version that didn't require the breading and frying, but still offered that irresistible combination of tender chicken, crunchy/cheesy coating, and flavorful sauce. These attempts were met with soggy, flaccid results. The problem with not frying the breaded breast is the baked-on coating just doesn't get crisp enough to stand up to the sauce and cheese. Recipes | The Best Tomato Basil Soup & The Best Grilled Cheese | Dinner Ideas. Back to School season always makes me nostalgic.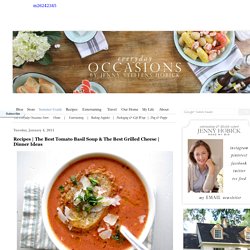 Can you imagine anything better on a crisp Fall day than heading over to a friends house to be served this warm and flavorful soup? It almost gives me warm fuzzy feeling just thinking about it. Cheesy baked artichoke dip. In college i was a waitress and bartender at The Loring Bar & Cafe in Minneapolis. it is where i met alex, so it will always hold a very special place in my heart. it was a really great place to work - cool co-workers, great customers and excellent food. the one thing that we were known for was artichoke dip. i can't tell you how many times i ate that for dinner. it was incredible but since The Loring closed no other artichoke dip has even came close to replacing it. i have tried several recipes for artichoke dip that really sucked. too dry - to heavy - not enough flavor - i have covered them all. but this recipe is the last artichoke dip recipe i will ever need. it is similar to the Loring recipe - dare i say - it might be even better. let me put it this way - this is THE BEST artichoke dip!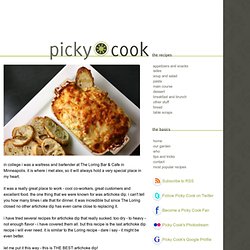 Bang Bang Shrimp. October 2, 2011 in appetizer , seafood Time for another delicious football snack! This one would be good for a nice dinner too though! So this is supposed to be like the Bonefish dish with the same name but I've never had the dish so I can't really say how close it is to the real thing. I can, however, say that it is amazing. Cheesy Chicken Lasagna. Here is a fun alternative to your normal lasagna. I found this recipe at What's for Dinner? It is so delicious and not that complicated to make. I love the chicken and ranch flavor to it. Steven's Oven Baked Chimichangas. Preheat oven to 450 degrees. Saute poultry until cooked through and starting to brown. Add taco seasoning and stir. Cocktail - HIGHLYFAVOREDBRIDE's Blue Wedding by Color Blog. Fan7.JPG (image) PRETZEL BITES – Parmesan or Cinnamon and Sugar with glaze. Do you need a perfect snack for the big game? These Pretzel bites will hit the spot for sure. You can make a combination of Parmesan bites with a Cheese dip or Cinnamon and Sugar bites with a Vanilla glaze for dipping.
Crispy Parmesan Asparagus Sticks. Who would have ever thought I would get excited about seeing something green on sale in the grocery store? Not me. But that's what happened when I walked by these super thin asparagus spears. How often do I find thin asparagus that doesn't look half dead and is on sale? Cheesy Ranch Potato Bake Recipe. Best Orange Chicken Recipe. Recipe for Easy Cheesy Zucchini Bake. Queso Blanco, The First Attempt. Corn Cakes with Tomato Avocado Relish » Annie's Eats. Three-Cheese Pasta Bake < Quick Fix Pasta Suppers. Strawberry Margarita Jell-O Shots. Pesto Baked Potatoes. Gastronomer's Guide: Simple Tiramisu. Recipe for Cheesy Roasted Garlic Potato Balls at Life. Spanakopita Bites. Chicken teriyaki. Cheesecake Stuffed Strawberries.
---