Never Ending News...2011
Major Video Gaming Companies Abandon SOPA. (Image Source: Flickr/PopGeekCulture.com) Seems the Internet made a pretty brutal example of GoDaddy's support of SOPA.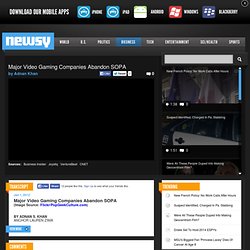 Now three of the top video game companies are also following GoDaddy's lead and jumping the SOPA ship. Business Insider has the latest. "Nintendo, Electronic Arts and Sony Electronics — some of the largest video game companies in the world — have all pulled their support for an online bill that could encourage censorship online, according to an updated list of supporters of the bill." That list is still pretty lengthy, with 60 plus supporters eager to make online pirates walk the plank.
Watchdog Groups Object to 'Search Plus' (Image source: www.norebbo.com) Google's latest attempts to know its users better than Facebook might have reached too far, according to one Internet privacy watchdog group.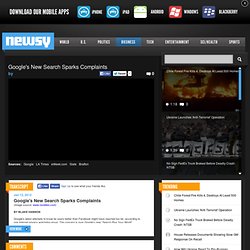 The concern is over Google's new "Search Plus Your World" feature, which incorporates Google Plus posts into search results. The LA Times describes what the group's miffed about... (Video: Google) S&P Downgrade. (Image Source: Flickr/Adam Baker) It was a gloomy Friday the 13th in Europe.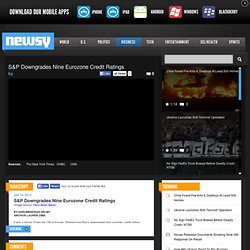 Standard and Poor's downgraded nine countries' credit ratings, saying European policymakers have not done enough to address the region's debt crisis -- which could, in turn, get worse after the ratings cut. euronews has the summary. Protesters' stories: Camila Vallejo and Chile | World news. President of the University of Chile Student Federation, 23-year-old Camila Vallejo has led a campaign for better access to education that began in April 2011.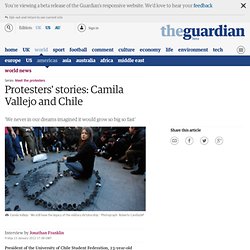 She was voted person of the year in a poll of guardian.co.uk readers. We never in our dreams imagined it would grow so big so fast. We had plans for protests and for mobilising students, but what happened last year was surprising even to us. Historically, the University of Chile students' union has had an important political role. UK must rethink its unfailing support for Canada's fossil fuels | Kelly Rigg | Environment. If it's true that desperate times call for desperate measures, the Canadian government is acting like a junkie in need of a fix.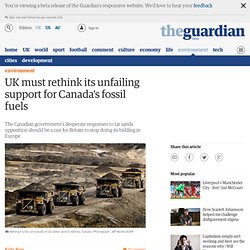 As public hearings on the proposed Northern Gateway tar sands pipeline proposal got underway in British Columbia last week, natural resources minister, Joe Oliver, lashed out at "environmental and other radical groups" and "jet-setting celebrities. " In an open letter, he accused them of being the stooges of foreign special-interest groups, opposing tar sands development in order to undermine Canada's national economic interest. The letter was so far off the mark, one can only conclude that the government is becoming unhinged over the growing opposition to tar sands development.
This should be a cue for Britain to reconsider its unfailing support for Canada on this issue in the European context. Greek creditors bridle at demands, default fears grow. By Lefteris Papadimas and Steve Slater ATHENS/LONDON (Reuters) - Greece's private sector creditors warned on Monday that the Athens government must urgently break a deadlock in debt swap talks triggered by "unreasonable" demands from international lenders if is to avoid a disorderly default.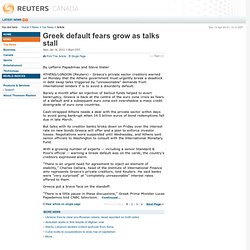 Barely a month after an injection of bailout funds helped to avert bankruptcy, Greece is back at the centre of the euro zone crisis as fears of a default and a subsequent euro zone exit overshadow a mass credit downgrade of euro zone countries. Cash-strapped Athens needs a deal with the private sector within days to avoid going bankrupt when 14.5 billion euros of bond redemptions fall due in late March. Canada faces legal challenge over Kyoto withdrawal | Canada. WASHINGTON (Thomson Reuters Point Carbon) - The Canadian government's withdrawal from the Kyoto Protocol is illegal, alleges a suit to be filed in federal court by a law professor and former Canadian MP on Friday.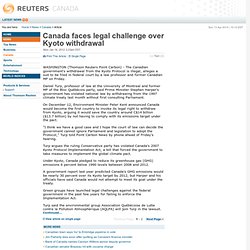 Daniel Turp, professor of law at the University of Montreal and former MP of the Bloc Québécois party, said Prime Minister Stephen Harper's government has violated national law by withdrawing from the 1997 climate treaty last month without first consulting Parliament. On December 12, Environment Minister Peter Kent announced Canada would become the first country to invoke its legal right to withdraw from Kyoto, arguing it would save the country around C$14 billion ($13.7 billion) by not having to comply with its emissions target under the pact.
"I think we have a good case and I hope the court of law can decide the government cannot ignore Parliament and legislation to adopt the Protocol," Turp told Point Carbon News by phone ahead of Friday's hearing. Reprise for Nortel debacle as Toronto trial opens | Business. By Alastair Sharp TORONTO (Reuters) - Three former executives at bankrupt Nortel Networks reached into the "cookie jar" a decade ago to enrich themselves, prosecutors said, opening a fraud trial that dredged up memories of one of the most spectacular casualties of the 1990's dot-com bubble.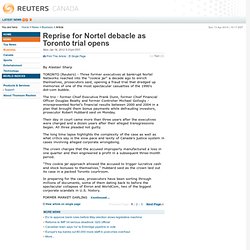 The trio - former Chief Executive Frank Dunn, former Chief Financial Officer Douglas Beatty and former Controller Michael Gollogly - misrepresented Nortel's financial results between 2000 and 2004 in a plan that brought them bonus payments while defrauding investors, prosecutor Robert Hubbard said on Monday. Their day in court came more than three years after the executives were charged and a dozen years after their alleged transgressions began.
Iraq: what next for a corrupt and divided country? | World news. Post-Saddam Iraq has rarely been more brittle.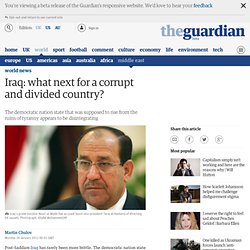 The democratic nation state that was supposed to rise from the ruins of tyranny is steadily disintegrating. Less than one month after the US withdrawal, Iraq is showing no sign of uniting behind a Washington-backed central government. More alarmingly, Baghdad doesn't seem to care much. Sopa plans set to be shelved as Obama comes out against piracy legislation | Technology. Sopa and e-Parasite aim to tackle online piracy by preventing Google and Yahoo from directing users to sites distributing stolen material.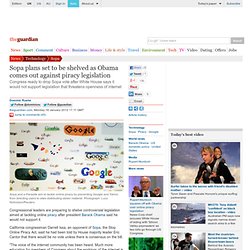 Photograph: Lucy Nicholson/Reuters Congressional leaders are preparing to shelve controversial legislation aimed at tackling online piracy after president Barack Obama said he would not support it. California congressman Darrell Issa, an opponent of Sopa, the Stop Online Piracy Act, said he had been told by House majority leader Eric Cantor that there would be no vote unless there is consensus on the bill. Israeli Top Court Upholds Law Barring Palestinian Residents. (Image Source: Wikimedia Commons) Israel's Supreme Court upheld a law that prevents Palestinian spouses from getting Israeli citizenship.
USA Today quotes one of the supporting judges as saying… "Human rights do not prescribe national suicide..." UN climate talks see 'delayer countries' throw away the 2C goal | Michael Jacobs | Environment. When psychologists identified the phenomenon of cognitive dissonance – the ability to believe two contradictory things at the same time – they might have been describing the world of international climate change negotiations. Only this month, two authoritative international agencies have pointed out that the world has only a few years left in which to begin taking sufficient action to combat dangerous global warming. The United Nations Environment Programme's Bridging the Emissions Gap report shows that, even if all countries implement their emissions targets for 2020 to their maximum extent, total emissions in that year will still exceed the level required to hold global warming to the UN's 2C goal.
Iran rejects US calls for return of spy drone | World news. US president Barack Obama says his government has requested that Tehran return a RQ-170 Sentinel surveillance drone captured by Iran's military Link to video: Obama requests Iran return US spy drone Iran has rejected US calls for the return of a spy drone captured by its military and instead demanded an apology from Washington. Tehran last week identified the drone as an RQ-170 Sentinel and said it was captured over the east of the country. Perpetual National Elections Make the Top 1% Richer. December 11, 2011 | Like this article? Join our email list: Stay up to date with the latest headlines via email. To stay on top of important articles like these, sign up to receive the latest updates from TomDispatch.com here. Newt Gingrich condemned for calling Palestinians 'terrorists' | World news. Leading Palestinian officials have rounded on the Republican presidential candidate Newt Gingrich for his description of Palestinians as an "invented" people and "terrorists".
The Republican frontrunner insisted at a candidate debate on Saturday – to warm applause from the audience – that "these people are terrorists. They teach terrorism in their schools. They have textbooks that say, if there are 13 Jews and nine Jews are killed, how many Jews are left? We pay for those textbooks through our aid money. "It's fundamentally time for somebody to have the guts to stand up and say, enough lying about the Middle East. " Canada bank bonuses rise despite market turmoil | Business. New U.N. climate deal struck. Panama ex-dictator Manuel Noriega flies home | World news. Russians come out in force to protest against alleged electoral fraud | World news | The Observer.
Palestinians tell Gingrich to learn history after 'invented people' claim | World news. Does the US military want Afghanistan to get even nastier? | World news. U.S., Canada to set security deal at White House | Canada. Julian Assange loses appeal against extradition | Media. Space crew returns after 'Mars' mission to nowhere | Science. U.S. seeks to manage global economic shift to China. U.S. agency approves Shell Arctic oil drilling plan. Internet becomes a new battleground in Mexico's drug wars | World news. Iran warns US to avoid clash over nuclear programme | World news. UK economic forecast: gloomy, marked by austerity, for six years | Politics. Lombian president dissolves intelligence service | World news. America's itch to brawl now has a new target – but bombs can't conquer Iran | Simon Jenkins.
Put monarchy to a vote, NDP leadership hopeful says. Greek leader's referendum bombshell | Business. The big squeeze: warning over incomes as Britain goes on strike | UK news. Plane lands on its belly in Poland | World news. Judge William Adams beats daughter for using the internet. » Report: 'US used nukes on Iraq, Afghanistan' Alex Jones. Japanese MP drinks Fukushima water under pressure from journalists | World news. Israeli PM orders investigation into Iran leak | World news. Strikes over public sector pensions hit services across UK as 2 million walk out | Society. Police Advise Google to Remove Protest Videos. Eurozone crisis: what happens next at the G20 summit? | Business. World central banks act to prevent fresh credit crunch | Business. G20 likely to disappoint Obama again | World news. UK military steps up plans for Iran attack amid fresh nuclear fears | World news. Central banks buy wiggle room, not solution.
Gulf Oil Spill Crisis Not Over: BP's Deepwater Horizon Well Is Leaking Again. Over 20 Radioactive Hotspots Found in Tokyo … Despite Government and Media Attempt to Cover Up Spread of Radiation. Canada cuts environment spending | Environment. The U.S.-Canada Security Perimeter and the Political Consolidation of North America. Obama Rolls Back Miranda Rights. Keystone: pipeline to Obama's re-election | Amy Goodman. Egyptian protesters reject military's timetable for elections | World news. Medvedev: Russia may target US missile shield | World news.
Canada regulating pharmaceuticals badly: report. Tahrir Square: police clash with protesters live coverage | World news. Tar Sands Fight Goes Beyond Keystone: A Little-Known Pipeline Plan Could Prove Disastrous for British Columbia | Environment. Keystone XL Pipeline Delay: Were Fears Of A 'North American Union' Behind Opposition? Melissa Gorrie: Exposing the Blind Side of the Ethical Oil Campaign. Canada Perimeter Security Deal: Feds Fear U.S. Losing Interest. A Map Of Every McDonald's In The U.S. Tar sands oil and Keystone XL's dirty secret | Bernie Sanders. Kristin Wartman: Pizza is a Vegetable? Congress Defies Logic, Betrays Our Children. Maude Barlow: CETA: A Threat to Local Democracy. Mississippi voters evenly split over controversial abortion ballot | World news. Vicious triangle forming against Iran. UC Davis Students Blasted With Pepper Spray: Investigation, Calls For Resignation After Video Goes Viral. Iranian missile architect dies in blast. But was explosion a Mossad mission? | World news.
Italy's borrowing costs at highest level in euro history | Business. Supreme court seems troubled by police GPS tracking. With Arab vote, pressure mounts on Syria | World news. US officials worried about security at London 2012 Olympics | Sport. US court verdict 'huge blow' to privacy, says former WikiLeaks aide | World news. Syria suspended from Arab League | World news. PROTECT IP / SOPA Act Breaks the Internet. Russian space agency battles to save Mars probe | World news.
Arab spring + European autumn = Mediterranean crisis | Michael White | Business. Italy's debt crisis: 10 reasons to be fearful | Business. European debt crisis spiralling out of control | Business. Russia rejects further sanctions of Iran over nuclear programme | World news. Ron Paul reveals plan to save $1 trillion. Ron Paul says Obama is practically a dictator.
Ron Paul success scares establishment. Fannie Mae taps $7.8 billion from Treasury, losses widen. Israel could mount pinpoint raids on Iran: analysts. Russia warns against military strike on Iran. Europe's banks retreat into 'mini-crunch' | Business. Eurozone debt crisis: EU members line up to demand ECB intervention | Business. Far right on rise in Europe, says report | World news. Isn't US sponsor of terrorism? Israel's attack threats to backfire? US 'absolutely' concerned Israel... JPost - Iranian Threat - News. Angry Jesse Ventura thinking about presidential run. Big Canadian publisher opts for paywall | Media. Arab League 'roadmap' helps Assad play for time | Simon Tisdall. Sweden vs. Assange. Press TV.
---