Notyetsonic
Geocaching - The Official Global GPS Cache Hunt Site. » Activists Launch Online Film Festival to Counter TSA & NSA Attacks On Free Speech Alex Jones. State Trooper Mocks Owner After Deputy Shoots Family Dog #MyNYPD Exposes Police Brutality Georgia "Guns Everywhere Bill" Now Law Texas AG Abbott to BLM 'Come and Take It' Is The Constitution Outdated?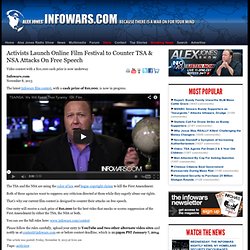 Inside Information: A Trail Of Evil.
Check This Out V. When You See It VI. SHTF/ TEOTWAWKI II. CANADA lll. Health Related lll. Documentaries III.
Our Environment ll. Sustainable Living. Social/Political Issues.
n3uromanc3r comments on Obama Administration Says President Can Use Lethal Force Against Americans On US Soil. » Corporatism: A System Of Control Designed By The Monopoly Men Of The Global Elite Alex Jones. Michael Snyder Economic Collapse March 7, 2013 The Dow is at a record high and so are corporate profits – so why does it feel like most of the country is deeply suffering right now?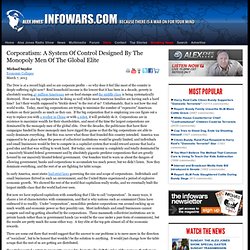 Real household income is the lowest that it has been in a decade, poverty is absolutely soaring,47 million Americans are on food stamps and the middle class is being systematically destroyed. Wiki Weapon - 3D Printable Gun - Defense Distributed. Canada : Hijacked by Big Brother & The Surveillance Police State. What The Dollar's Collapse Will Mean To The World. More people killed at work than by war, Aids and accidents | UK news. More than 1m people are killed at work every year including 12,000 children and 250m suffer workplace injuries which force them to take time off, according to International Labour Organisation estimates.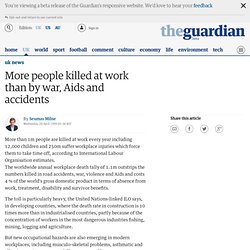 The worldwide annual workplace death tally of 1.1m outstrips the numbers killed in road accidents, war, violence and Aids and costs 4 % of the world's gross domestic product in terms of absence from work, treatment, disability and survivor benefits. The toll is particularly heavy, the United Nations-linked ILO says, in developing countries, where the death rate in construction is 10 times more than in industrialised countries, partly because of the concentration of workers in the most dangerous industries fishing, mining, logging and agriculture.
But new occupational hazards are also emerging in modern workplaces, including musculo-skeletal problems, asthmatic and allergic reactions, stress and illnesses caused by exposure to asbestos, radiation and chemicals. » Your entire reality has been scripted by the manipulation masters Alex Jones. Mayan calendar, Sandy Hook, Peace Prize Obama Mike AdamsNatural News December 21, 2012 This is a message for those who are new to Natural News and who seek the truth in this time of great change.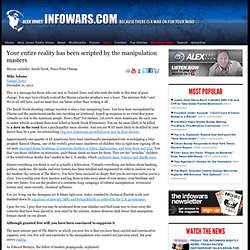 World Death Clock.
Government Agencies..ll. Surfing. YouTubed It. Pearltrees videos. Everything You Know is Wrong... Learn Something lll. War/Oil...Oil/War... Peak Oil/ Energy.
Freeman. Fredom of Information ll. The Internet. Secrets of Body Language. No ma'am. Senator Dianne Feinstein, I will not register my weapons should this bill be passed, as I do not believe it is the government's right to know what I own.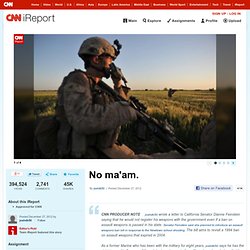 Nor do I think it prudent to tell you what I own so that it may be taken from me by a group of people who enjoy armed protection yet decry me having the same a crime. You ma'am have overstepped a line that is not your domain. Guns and the Government. If you have listened to President Obama and Vice President Biden talk about guns in the past month, you have heard them express a decided commitment to use the powers of the federal government to maintain safety in the United States.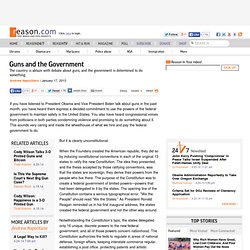 You also have heard congressional voices from politicians in both parties condemning violence and promising to do something about it. This sounds very caring and inside the wheelhouse of what we hire and pay the federal government to do. But it is clearly unconstitutional. When the Founders created the American republic, they did so by inducing constitutional conventions in each of the original 13 states to ratify the new Constitution. » Arrest Obama Under NDAA For Supporting Terrorists in Syria Alex Jones. President has violated section 1021 of act he signed into law Paul Joseph Watson Infowars.com June 14, 2013 Under the terms of the National Defense Authorization Act that he personally signed into law, President Barack Obama should immediately be arrested and indefinitely detained for providing support to Al-Qaeda terrorists in Syria.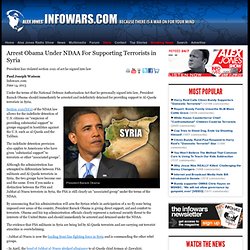 President Barack Obama. Just before Hurricane Sandy, Obama signed executive order merging Homeland Security with private sector to create virtual dictatorship. (NaturalNews) While all eyes were on Hurricane Sandy in the days leading up to the storm's breach on the mainland of the Northeast, the White House was busy devising new ways to enslave Americans under the guise of protecting national security.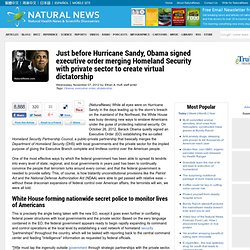 On October 26, 2012, Barack Obama quietly signed an Executive Order (EO) establishing the so-called Homeland Security Partnership Council, a public-private partnership that basically merges the Department of Homeland Security (DHS) with local governments and the private sector for the implied purpose of giving the Executive Branch complete and limitless control over the American people.
One of the most effective ways by which the federal government has been able to spread its tendrils into every level of state, regional, and local governments in years past has been to continually convince the people that terrorism lurks around every corner, and that the federal government is needed to provide safety. The Video the Pentagon doesn't want you to see!
---
hapkido690 Jun 6 2011

Yo just found your tree and you got lots of stuff I was just in the process of looking up. Gonna spend some time checking out your sites.
---