Notyetsonic
» Anti-NSA Reps. Are Being Intentionally Cut Out Of Debate On Surveillance Bill Alex Jones
NSA "cheerleaders" in Congress divert spying bill away from opponents in "highly unusual" legislative moveSteve WatsonInfowars.com March 27, 2014 Lawmakers who approve of the NSA's bulk collection of Americans' communications data have been accused of intentionally sidelining those in Congress who oppose the practice by re-routing the new surveillance bill through the Intelligence committee rather than the Judiciary Committee. The legislation, which would see significant alterations to the 1978 Foreign Intelligence Surveillance Act, will now be primarily overseen by the chamber's Intelligence Committee, a move some say represents a deliberate circumventing of vocally critical representatives in the Judiciary Committee, which has long presided over the intelligence community's broad legal authority.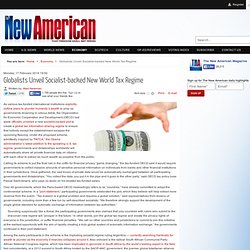 As various tax-funded international institutions explicitly outline plans to plunder humanity's wealth to prop up governments drowning in odious debts, the Organization for Economic Cooperation and Development (OECD) last week officially unveiled a new socialist-backed plot to create a global tax information-sharing regime to ensure that nobody except the establishment escapes the upcoming fleecing. Under the proposed scheme, admittedly inspired by "FATCA," the Obama administration's latest addition to the sprawling U.S. tax regime, governments and dictatorships worldwide will automatically share all private financial data on citizens with each other to extract as much wealth as possible from the public.
Globalists Unveil Socialist-backed New World Tax Regime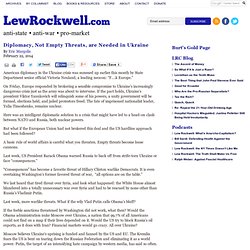 American diplomacy in the Ukraine crisis was summed up earlier this month by State Department senior official Victoria Neuland, a leading neocon: "F….k Europe." On Friday, Europe responded by brokering a sensible compromise to Ukraine's increasingly dangerous crisis just as the army was about to intervene. If the pact holds, Ukraine's president Viktor Yanukovich will relinquish some of his powers, a unity government will be formed, elections held, and jailed protestors freed. The fate of imprisoned nationalist leader, Yulia Timoshenko, remains unclear.
Is the US Trying To Start WWIII? – LewRockwell.com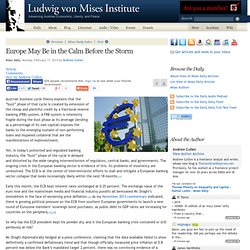 Europe May Be in the Calm Before the Storm - Andrew Cullen
Austrian business cycle theory explains that the "bust" phase of that cycle is created by extension of the cheap and plentiful credit by a fractional reserve banking (FRB) system. A FRB system is inherently fragile during the bust phase as its leverage (lending as a percentage of its own capital) exposes the banks to the emerging tsunami of non-performing loans and impaired collateral that are the manifestations of malinvestment. Yet, in today's protected and regulated banking industry, the "bust" phase of the cycle is delayed and distorted by the wide-ranging interventionism of regulators, central banks, and governments. The ongoing crisis in the European banking sector is evidence of this. Its problems of insolvency are unresolved.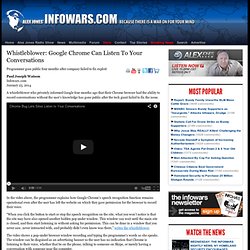 Programmer goes public four months after company failed to fix exploit Paul Joseph Watson Infowars.com January 23, 2014 A whistleblower who privately informed Google four months ago that their Chrome browser had the ability to record conversations without the user's knowledge has gone public after the tech giant failed to fix the issue. In the video above, the programmer explains how Google Chrome's speech recognition function remains operational even after the user has left the website on which they gave permission for the browser to record their voice.
» Whistleblower: Google Chrome Can Listen To Your Conversations Alex Jones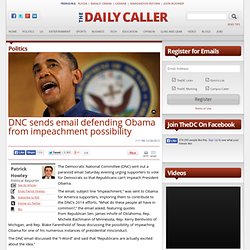 The Democratic National Committee (DNC) sent out a paranoid email Saturday evening urging supporters to vote for Democrats so that Republicans can't impeach President Obama. The email, subject line "Impeachment," was sent to Obama for America supporters, imploring them to contribute to the DNC's 2014 efforts. "What do these people all have in common?," the email asked, featuring quotes from Republican Sen. James Inhofe of Oklahoma, Rep. Michele Bachmann of Minnesota, Rep.
DNC sends email defending Obama from impeachment possibility
Weakly defends NSA lies and misrepresntations Kurt Nimmo Infowars.com December 23, 2013 On Sunday, National Security Advisor Susan Rice told Leslie Stahl and 60 Minutes that the NSA did not lie to the American people. The agency "inadvertently made false representations" to the secret FISA court about illegally collecting data on hundreds of millions of Americans, according to Rice. She said the NSA has "discovered it and corrected it." In August, the secret FISA court handed down an 85-page ruling that criticized the NSA "for repeatedly misleading the court that oversees its surveillance on domestic soil, including a program that is collecting tens of thousands of domestic e-mails and other Internet communications of Americans each year."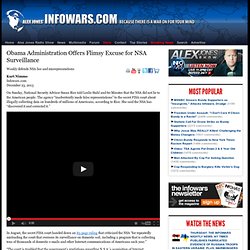 » Obama Administration Offers Flimsy Excuse for NSA Surveillance Alex Jones
» Why would anybody need an automatic rifle? Alex Jones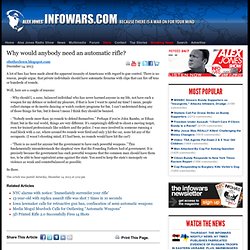 Suicided?: Senators Accused Child Porn Collecting Chief of Staff Found Hanging Show Me Your Papers.
Professor Fires Off Lengthy Email In Defense Of Student Forbidden From Handing Out Copies Of The Constitution
On Constitution Day (Sept. 17th), a student of Modesto Junior College, Robert Van Tuinen, was prevented by Modesto Junior College administration from handing out copies of the Constitution. The college apparently believes free speech is limited to a single small concrete slab on campus, generously named the "Free Speech Zone." Contrary to the First Amendment (and the state's laws governing public university policies), MJC restricts free speech to no more than two people per day, subject to approval of the administration.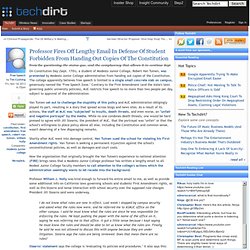 Pace of Decline Slows in Past Decade By D'Vera Cohn, Paul Taylor, Mark Hugo Lopez, Catherine A. Gallagher, Kim Parker and Kevin T. Maass Chapter 1: Overview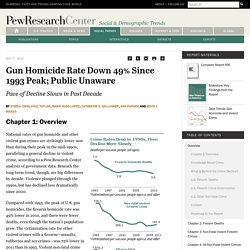 Gun Homicide Rate Down 49% Since 1993 Peak; Public Unaware
NEW YORK -- NEW YORK (AP) — Saying no to a toddler's demands for a McDonald's meal got a father branded an inept parent, he says in a lawsuit claiming a psychologist urged a judge to curtail his parental visits over the dinner debacle. David E. Schorr says psychologist Marilyn Schiller pronounced him incapable of caring for his nearly 5-year-old son after he offered a choice — dinner anywhere but McDonald's, or no dinner at all — and let the boy choose the latter.
Dad Branded Unfit Parent For Refusing To Take Son To McDonald's, Lawsuit Says
» Why Obama Thought He Could Get Away With Obamacare Alex Jones
• $6 trillion in new national debt under Obama…after he promised to decrease the deficit. The corrupt President Barack Obama.Credit: Ari Levinson via Wikipedia • Obamacare — A massive and incredibly convoluted bill which exponentially increases the federal government's control over our personal lives…which neither Obama nor a single Democrat even read before passing, and which will likely bankrupt the nation. • In both the 2008 and 2012 presidential elections, the Obama campaign purposely disabled the credit card verification system for its Web site donations, allowing anyone from any foreign country to donate with no limit and no proof of identity; in both elections it was demonstrated that people overseas and people with obviously false identities were able to donate to Obama campaign, in direct violation of several laws. To this day it is not known what percentage of Obama's campaign funds are illegally obtained, since there is no documentation.
Trans-Pacific Partnership Breaks Down Sovereignty and GMO Protections | Truthstream Media
(Truthstream Media.com) Japan is joining negotiations with 11 other countries in an ongoing effort to create a Trans-Pacific Partnership that participants hope to finalize by the end of the year. Led by the U.S., partner nations already on board include Australia, New Zealand, Canada, Chile, Mexico, Brunei, Malaysia, Peru, Singapore, and Vietnam. Many voices in the public, however, oppose the deal on the grounds that its formation favors the business interests of megacorporations who would profit off of global trade at the expense of internet freedom, national sovereignty, food independence and jobs. Moreover, the deal has been worked out largely in secret and without consulting Congress. U.S. trade representative Michael Froman visited Japan ahead of the TPP negotiation to iron out agreements and rally against protective interests in Japan who see the agreement, and particularly its loosening of tariffs as a threat.
Colbert On Washington GMO Labeling: 'Questioning What's On Your Plate Is Un-American' (VIDEO)
"I believe it is none of our business what we're putting in our mouths," Stephen Colbert joked about Washington's GMO labeling bill on Wednesday night. "I want genetically modified foods. Because you are what you eat and I'm hoping one day a mutant tomato can give me heat vision." On Tuesday, voters in Washington state rejected a ballot measure that would have required the mandatory labeling of genetically modified foods. While more mail-in ballots are still to be counted, Initiative 522 was failing 46 percent to 54 percent as of Wednesday evening, reported the Associated Press. The $46 million raised by opponents of the initiative, including Monsanto Co., DuPont Pioneer and the Grocery Manufacturers Association, topped the $7.9 million raised by supporters.
State Trooper Mocks Owner After Deputy Shoots Family Dog #MyNYPD Exposes Police Brutality Georgia "Guns Everywhere Bill" Now Law Texas AG Abbott to BLM 'Come and Take It' Is The Constitution Outdated? Inside Information: A Trail Of Evil
» Activists Launch Online Film Festival to Counter TSA & NSA Attacks On Free Speech Alex Jones
» Egyptian Lawyers Charge Obama With Crimes Against Humanity; Accessory to Muslim Brotherhood Violence Alex Jones
Governments/ Institutions/ Corparations
n3uromanc3r comments on Obama Administration Says President Can Use Lethal Force Against Americans On US Soil
» Corporatism: A System Of Control Designed By The Monopoly Men Of The Global Elite Alex Jones
Wiki Weapon - 3D Printable Gun - Defense Distributed
Canada : Hijacked by Big Brother & The Surveillance Police State
What The Dollar's Collapse Will Mean To The World
More people killed at work than by war, Aids and accidents | UK news
» Your entire reality has been scripted by the manipulation masters Alex Jones
World Death Clock
Everything You Know is Wrong...
Secrets of Body Language
No ma'am.
Guns and the Government
» Arrest Obama Under NDAA For Supporting Terrorists in Syria Alex Jones
Just before Hurricane Sandy, Obama signed executive order merging Homeland Security with private sector to create virtual dictatorship
The Video the Pentagon doesn't want you to see!