Notyetsonic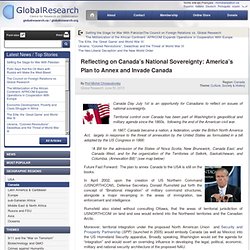 Reflecting on Canada's National Sovereignty: America's Plan to Annex and Invade Canada
The Washington Post, which casually dismissed the historical significance of "Joint Army and Navy Basic War Plan — Red", nonetheless acknowledged the aggressive nature of the proposed military endeavor: "A bold plan, a bodacious plan, a step-by-step plan to invade, seize and annex our neighbor to the north . …First, we send a joint Army-Navy overseas force to capture the port city of Halifax, cutting the Canadians off from their British allies. Then we seize Canadian power plants near Niagara Falls, so they freeze in the dark. Then the U.S.
» Why Obama Thought He Could Get Away With Obamacare Alex Jones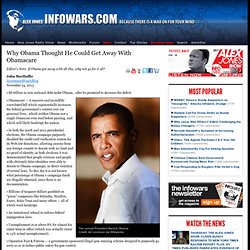 • $6 trillion in new national debt under Obama…after he promised to decrease the deficit. The corrupt President Barack Obama.Credit: Ari Levinson via Wikipedia • Obamacare — A massive and incredibly convoluted bill which exponentially increases the federal government's control over our personal lives…which neither Obama nor a single Democrat even read before passing, and which will likely bankrupt the nation. • In both the 2008 and 2012 presidential elections, the Obama campaign purposely disabled the credit card verification system for its Web site donations, allowing anyone from any foreign country to donate with no limit and no proof of identity; in both elections it was demonstrated that people overseas and people with obviously false identities were able to donate to Obama campaign, in direct violation of several laws. To this day it is not known what percentage of Obama's campaign funds are illegally obtained, since there is no documentation.
Trans-Pacific Partnership Breaks Down Sovereignty and GMO Protections | Truthstream Media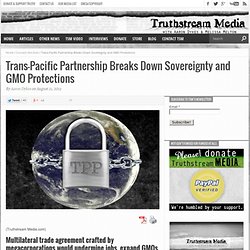 (Truthstream Media.com) Japan is joining negotiations with 11 other countries in an ongoing effort to create a Trans-Pacific Partnership that participants hope to finalize by the end of the year. Led by the U.S., partner nations already on board include Australia, New Zealand, Canada, Chile, Mexico, Brunei, Malaysia, Peru, Singapore, and Vietnam. Many voices in the public, however, oppose the deal on the grounds that its formation favors the business interests of megacorporations who would profit off of global trade at the expense of internet freedom, national sovereignty, food independence and jobs. Moreover, the deal has been worked out largely in secret and without consulting Congress. U.S. trade representative Michael Froman visited Japan ahead of the TPP negotiation to iron out agreements and rally against protective interests in Japan who see the agreement, and particularly its loosening of tariffs as a threat.
NEW YORK -- NEW YORK (AP) — Saying no to a toddler's demands for a McDonald's meal got a father branded an inept parent, he says in a lawsuit claiming a psychologist urged a judge to curtail his parental visits over the dinner debacle. David E. Schorr says psychologist Marilyn Schiller pronounced him incapable of caring for his nearly 5-year-old son after he offered a choice — dinner anywhere but McDonald's, or no dinner at all — and let the boy choose the latter.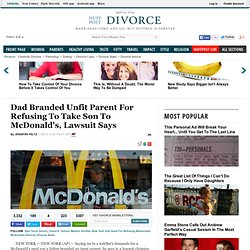 Dad Branded Unfit Parent For Refusing To Take Son To McDonald's, Lawsuit Says
Colbert On Washington GMO Labeling: 'Questioning What's On Your Plate Is Un-American' (VIDEO)
"I believe it is none of our business what we're putting in our mouths," Stephen Colbert joked about Washington's GMO labeling bill on Wednesday night. "I want genetically modified foods. Because you are what you eat and I'm hoping one day a mutant tomato can give me heat vision." On Tuesday, voters in Washington state rejected a ballot measure that would have required the mandatory labeling of genetically modified foods. While more mail-in ballots are still to be counted, Initiative 522 was failing 46 percent to 54 percent as of Wednesday evening, reported the Associated Press. The $46 million raised by opponents of the initiative, including Monsanto Co., DuPont Pioneer and the Grocery Manufacturers Association, topped the $7.9 million raised by supporters.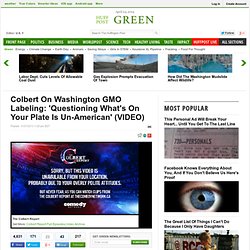 Obamacare Mocked at The CMA's Gay Activist Calls For Mandatory Abortion Cop Tasers Woman for Not Showing Boobs on Demand World Renown Artist Exposes Left/Right Paradigm Through Art Got Obamacare? Better Not Get Cancer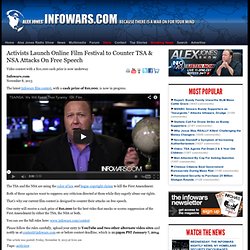 » Activists Launch Online Film Festival to Counter TSA & NSA Attacks On Free Speech Alex Jones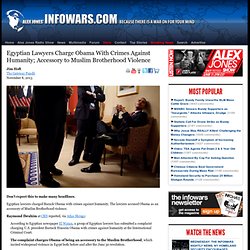 » Egyptian Lawyers Charge Obama With Crimes Against Humanity; Accessory to Muslim Brotherhood Violence Alex Jones
Obamacare Mocked at The CMA's Gay Activist Calls For Mandatory Abortion Cop Tasers Woman for Not Showing Boobs on Demand World Renown Artist Exposes Left/Right Paradigm Through Art Got Obamacare? Better Not Get Cancer
Professor Fires Off Lengthy Email In Defense Of Student Forbidden From Handing Out Copies Of The Constitution
On Constitution Day (Sept. 17th), a student of Modesto Junior College, Robert Van Tuinen, was prevented by Modesto Junior College administration from handing out copies of the Constitution. The college apparently believes free speech is limited to a single small concrete slab on campus, generously named the "Free Speech Zone." Contrary to the First Amendment (and the state's laws governing public university policies), MJC restricts free speech to no more than two people per day, subject to approval of the administration.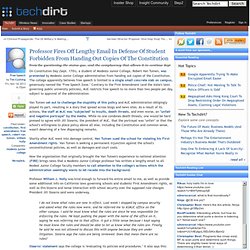 Released: May 7, 2013 Pace of Decline Slows in Past Decade by D'Vera Cohn , Paul Taylor , Mark Hugo Lopez , Catherine A. Gallagher , Kim Parker and Kevin T. Maass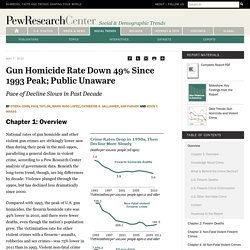 Gun Homicide Rate Down 49% Since 1993 Peak; Public Unaware
Governments/ Institutions/ Corparations
n3uromanc3r comments on Obama Administration Says President Can Use Lethal Force Against Americans On US Soil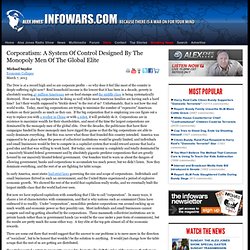 » Corporatism: A System Of Control Designed By The Monopoly Men Of The Global Elite Alex Jones
Michael Snyder Economic Collapse March 7, 2013 The Dow is at a record high and so are corporate profits – so why does it feel like most of the country is deeply suffering right now? Real household income is the lowest that it has been in a decade, poverty is absolutely soaring, 47 million Americans are on food stamps and the middle class is being systematically destroyed.
Wiki Weapon - 3D Printable Gun - Defense Distributed
Canada : Hijacked by Big Brother & The Surveillance Police State
What The Dollar's Collapse Will Mean To The World
More than 1m people are killed at work every year including 12,000 children and 250m suffer workplace injuries which force them to take time off, according to International Labour Organisation estimates. The worldwide annual workplace death tally of 1.1m outstrips the numbers killed in road accidents, war, violence and Aids and costs 4 % of the world's gross domestic product in terms of absence from work, treatment, disability and survivor benefits. The toll is particularly heavy, the United Nations-linked ILO says, in developing countries, where the death rate in construction is 10 times more than in industrialised countries, partly because of the concentration of workers in the most dangerous industries fishing, mining, logging and agriculture. But new occupational hazards are also emerging in modern workplaces, including musculo-skeletal problems, asthmatic and allergic reactions, stress and illnesses caused by exposure to asbestos, radiation and chemicals.
More people killed at work than by war, Aids and accidents | UK news
Mayan calendar, Sandy Hook, Peace Prize Obama Mike Adams Natural News December 21, 2012 This is a message for those who are new to Natural News and who seek the truth in this time of great change.
» Your entire reality has been scripted by the manipulation masters Alex Jones
World Death Clock
Everything You Know is Wrong...
Secrets of Body Language
Just before Hurricane Sandy, Obama signed executive order merging Homeland Security with private sector to create virtual dictatorship
(NaturalNews) While all eyes were on Hurricane Sandy in the days leading up to the storm's breach on the mainland of the Northeast, the White House was busy devising new ways to enslave Americans under the guise of protecting national security. On October 26, 2012, Barack Obama quietly signed an Executive Order (EO) establishing the so-called Homeland Security Partnership Council , a public-private partnership that basically merges the Department of Homeland Security (DHS) with local governments and the private sector for the implied purpose of giving the Executive Branch complete and limitless control over the American people. One of the most effective ways by which the federal government has been able to spread its tendrils into every level of state, regional, and local governments in years past has been to continually convince the people that terrorism lurks around every corner, and that the federal government is needed to provide safety.
The Video the Pentagon doesn't want you to see!
Senator Dianne Feinstein, I will not register my weapons should this bill be passed, as I do not believe it is the government's right to know what I own. Nor do I think it prudent to tell you what I own so that it may be taken from me by a group of people who enjoy armed protection yet decry me having the same a crime. You ma'am have overstepped a line that is not your domain.
No ma'am.
Guns and the Government
If you have listened to President Obama and Vice President Biden talk about guns in the past month, you have heard them express a decided commitment to use the powers of the federal government to maintain safety in the United States. You also have heard congressional voices from politicians in both parties condemning violence and promising to do something about it. This sounds very caring and inside the wheelhouse of what we hire and pay the federal government to do. But it is clearly unconstitutional. When the Founders created the American republic, they did so by inducing constitutional conventions in each of the original 13 states to ratify the new Constitution.
» Arrest Obama Under NDAA For Supporting Terrorists in Syria Alex Jones