Open Access versus public closed gardens of Academic Publishers
FREE THE RESEARCH! Jan 26
Writing some comments elsewhere about the recent events involving JSTOR, I commented something along the lines of – well, they're a nonprofit organization unlike most journal publishers. Then, it occured to me, they say that but they're remarkably reticient. What sort of nonprofit?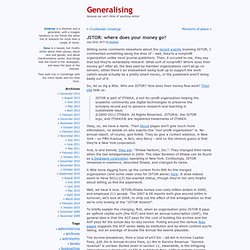 JSTOR: where does your money go?
checking quality control with spoofs. peer reviewed?
EU law introduces a genuine right to reuse public data
wikileaks : Grand Jury forced Aaron Swartz's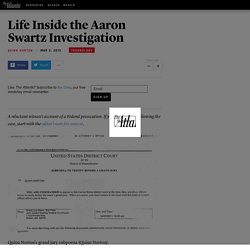 A reluctant witness's account of a Federal prosecution.
Life Inside the Aaron Swartz Investigation - Quinn Norton
We have just published Quinn Norton's account of her life inside the Federal investigation of Aaron Swartz for the alleged crime of downloading too many JSTOR articles too quickly. The story fills in a key time in the investigation, from Swartz's arrest on January 6 until about June of that year. Norton's narrative is deeply personal -- she was romantically involved with Swartz back then -- and it felt correct to let her tell the story her way.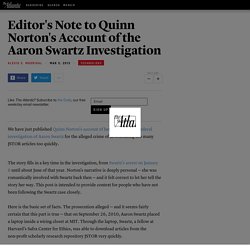 Editor's Note to Quinn Norton's Account of the Aaron Swartz Investigation - Alexis C. Madrigal
<a href="//ad.doubleclick.net/jump/teg.ckau/kidj/a;subs=n;wsub=n;sdn=n;!c=603719;dcopt=ist;pos=ldr_top;sz=728x90,970x90,970x250;tile=1;ord=714949738?"
Economist: 1998Publishing, perishing, and peer review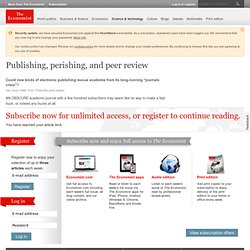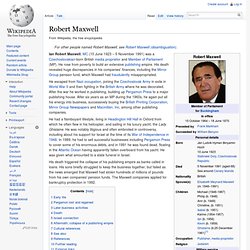 Ian Robert Maxwell MC (10 June 1923 – 5 November 1991) was a Czechoslovakian -born British media proprietor and Member of Parliament (MP).
Robert Maxwell
slideshare: Björn Brembs What's wrong with scholarly publishing today
Björn Brembs (@brembs) sur Twitter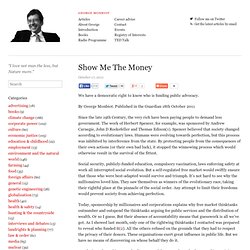 George Monbiot "Show Me The Money"
We have a democratic right to know who is funding public advocacy. By George Monbiot. Published in the Guardian 18th October 2011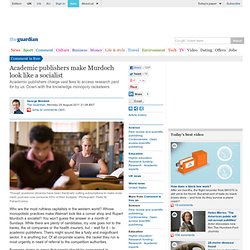 'Though academic libraries have been frantically cutting subscriptions to make ends meet, journals now consume 65% of their budgets.' Photograph: Peter M Fisher/Corbis Who are the most ruthless capitalists in the western world?
Academic publishers make Murdoch look like a socialist | George Monbiot | Comment is free
GeorgeMonbiot (@GeorgeMonbiot) sur Twitter
advalvas: Wetenschappers willen niet langer gratis werken
Wetenschap 25 oktober 2011 7:15 | Wetenschappers die subsidie ontvangen van de Nederlandse Organisatie voor Wetenschappelijk Onderzoek (NWO), moeten hun data voortaan openbaar maken. De NWO, met een budget van ruim een half miljard euro de grootste onderzoeksfinancier van Nederland, wordt mede-eigenaar van de gegevens. 'Wetenschappers hebben ten onrechte het idee dat de onderzoeksgegevens van henzelf zijn,' zei Ron Dekker, directeur Instituten bij NWO onlangs in NRC Handelsblad .
FoliaWeb: open access vs big science publishers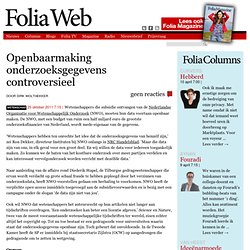 Terwijl de universiteit op veel plekken flink moet bezuinigen, is er één kostenpost die elk jaar maar blijft groeien: wetenschappelijke tijdschriften. Uitgevers vragen steeds hogere bedragen voor toegang. Open access-voorvechters leggen deze week uit dat het anders kan.
Iedere klik op Science kost een fortuin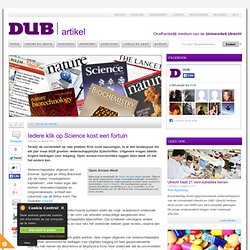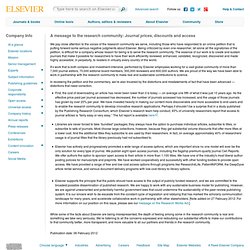 We pay close attention to the voices of the research community we serve, including those who have responded to an online petition that is putting forward some serious negative judgments about Elsevier. Being criticized by even one researcher, let alone all the signatories of the petition, is difficult for a company whose reason for being is to serve the research community.
Elsevier: A MESSAGE TO THE RESEARCH COMMUNITY: JOURNAL PRICES, DISCOUNTS AND ACCESS
Elsevier B.V. ( Dutch pronunciation: [ˈɛlzəvir] ) is a publishing company which publishes medical and scientific literature.
Elsevier
Find Contributions
Carolyn Maloney is a member of the House Committee on Financial Services and the House Committee on Oversight and Government Reform.
Carolyn Maloney (D-NY) U.S. House
Carolyn B. Maloney
Carolyn Jane Maloney [ 1 ] (née Bosher; born February 19, 1946) is the U.S. Representative for New York's 12th congressional district . She is a member of the Democratic Party .
Bill Text - 112th Congress (2011-2012
Elsevier connection via http://pear.ly/h1lMW by notpicnic Jan 13
Research Bought, Then Paid For
taxpayers who already paid for the research would have to pay again to read the results. by notpicnic Jan 11
The Association of American Publishers
The Association of American Publishers ( AAP ) is the national trade association of the American book publishing industry. AAP has more than 300 members, including most of the major commercial publishers in the United States , as well as smaller and non-profit publishers, university presses and scholarly societies. Former U.S. congresswoman Patricia Schroeder served as the association's outspoken CEO from 1997 until 2009.
Association of American Publishers
In 2008, under bipartisan pressure from Congress to ensure that all Americans would be able to access the results of taxpayer-funded biomedical research, the US National Institutes of Health instituted a Public Access Policy :
Elsevier-funded NY Congresswoman Carolyn Maloney Wants to Deny Americans Access to Taxpayer Funded Research
Plagiarist or Puppet? US Rep. Carolyn Maloney's reprehensible defense of Elsevier's Research Works Act
Twitter conversation with timoreilly
Elsevier-funded NY Congresswoman Carolyn Maloney Wants to Deny Americans Access to Taxpayer Funded Research
@mbeisen
Time to terminate the "Research Works Act" which aims to terminate public access to publicly-funded science?
Elsevier — my part in its downfall « Gowers's Weblog
Making the most of a challenging year
To Boycott or Not to Boycott | March 2013 | Communications of the ACM
Results of publicly funded research will be open access – science minister | Science
Academic publishers have become the enemies of science | Dr Mike Taylor | Science
Mike Taylor - Palaeontology Publications
scienceguide: Academic publishers "declare war on science"
Locked in the Ivory Tower: Why JSTOR Imprisons Academic Research - Laura McKenna - Business
Wetenschappers in actie tegen uitgever Elsevier
Un-cripple science with open access
http://fb.me/AUuFyN4n scienceguide it all started
Timothy Gowers statement
As Journal Boycott Grows, Elsevier Defends Its Practices - Publishing
'Ik geloof erg in open source
Occupy Elsevier?
Abstract thoughts about online review systems « Gowers's Weblog
@mbeisen co-founder of Public Library of Science
@cameronneylon
'Open Science' Challenges Journal Tradition With Web Collaboration
Science Uprising
Elsevier boycott gathers pace
Delftse onderzoekers boycotten Elsevier
Elsevier buigt voor wetenschappers
Scientific publishing: Brought to book
FollowTheMoney: Analisten blunderen met Reed Elsevier
Staggered open-access gold run 'won't break bank'
Wetenschappelijke gegevens: open toegang tot onderzoeksresultaten zal innovatievermogen van Europa stimuleren
Academic paywalls mean publish and perish
Keurmerk voor open access?
DUB: Hacker vervalst peer review
Elsevier editorial system hacked, reviews faked, 11 retractions follow
Project Aims to Bring PLoS-Style Openness to the Humanities - Technology
VOX: Open Access (1): Drie redenen waarom uitgevers het goed hebben bekeken
VOX: Open Access (2) – de mitsen en maren
VOX: Blackboard
Why open access makes no sense | Higher Education Network | Guardian Professional
Commercial enclosure: Whatever happened to open access?
Is een gratis wetenschapsblad niet onbetaalbaar? - Ware Wetenschap