Vision
¤ c i r c l e m a k e r s ¤
crop circle - Recherche Google
Createquity.
National Museum of Cambodia. Photo by kfcatles. A heat map of museum activity in Asia would show the whole region aglow. At first glance, if you've been getting your story from mainstream American media, you might think Asian institutions are becoming just like us, or beating us at our own game: the National Museum of Cambodia recently put its collection online thanks to a grant from an American foundation, and the Mumbai airport recently unveiled the largest airport gallery in the world. Other stories might give the opposite impression: a museum in China was shuttered after nearly its entire collection of 40,000 artifacts was found to be fake; in some public museums in Southeast Asia, staff are government employees who have been demoted to what is seen as an undesirable role. So what's really happening?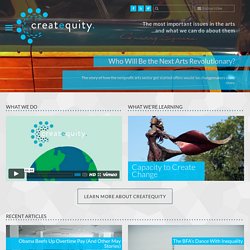 "daniel widrig"
Cosmic Creativity: How Art Evolves Consciousness: Alex Grey at TEDxMaui 2013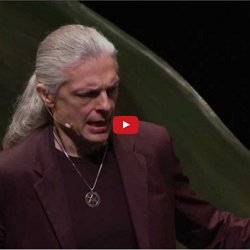 Dieses Video ist derzeit nicht verfügbar. Das Video ist auf diesem Gerät nicht verfügbar. Der Videoplayer ist zu klein. Später ansehen als __user_name__ als __user_name__ Normal
(click play to watch video) Alex's recent TEDx Talk, "Cosmic Creativity: How Art Evolves Consciousness", was performed at the Maui Arts & Cultural Center on January 13th, this essential twenty minutes offers a journey through Alex's art, distinguishing phase shifts of awareness and showing how visionary icons of interconnectedness are transformative. On stage at TEDx, Maui. Alex speaking about the night he met his wife, Allyson. Alex addressing the TEDx crowd.
TEDx - How Art Evolves Consciousness - Alex Grey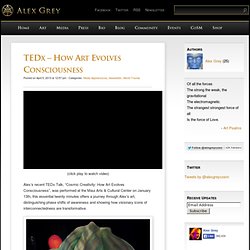 CoSM, Chapel of Sacred Mirrors 2013 Year In Review The mission of the Chapel of Sacred Mirrors, CoSM, is to build an enduring sanctuary of visionary art to inspire every pilgrim's creative path and transmit the values of love and evolutionary wisdom. 2013 was the tenth anniversary of CoSM's Full Moon Ceremonies that began in Brooklyn in 2003. Many thousands of people have come out for these inspirational gatherings over the years, with increasing attendance from both international and Hudson Valley guests. Art Church at CoSM now joins the Full Moon as a regular monthly offering that includes drawing, quietude, studying and discussing some of the correspondences between art and religion. These monthly gatherings are catalysts for the creative spiritual lives of congregants.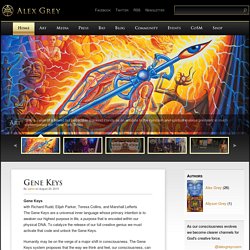 Allyson Grey
The painting of Agostino Arrivabene are steeped in the archetypal wisdoms and depths found in classical and ancient mythology. Painting is a precision instrument in order to explore that which is not cognizable through science and rationality. The Vienna Academy of Visionary Art has just launched, offering courses, full academy training, exhibitions, publications and more.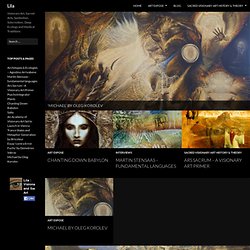 Caricature Artists | ISCA - International Society of Caricature Artists
Art should be challenging, therefore some people might find some images on this site disturbing. Diana Hesketh 1931-2013 Diana was one of the Founder Members of the Society for Art of Imagination. She was born in Yorkshire and studied art at Liverpool and London, specialising in wood, clay and stone. Later on, she worked at the Atelier of Derek Howarth and also studied jewellery at Harrow College of Art, and this became a second career for her.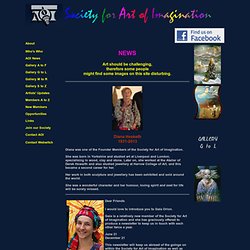 Society for Art of Imagination - News
Au coeur de la Première Guerre mondiale, l'ambiance est acariâtre. La grande boucherie s'approprie des milliers de combattants, laissant ainsi les familles en deuil et les cœurs meurtris. L'Europe n'a jamais été plus sombre et déchirée. C'est en février 1916, à Zurich, qu'un ensemble de révolutionnaires s'emploient à faire tourner le vent. Le metteur en scène Hugo Ball ainsi que sa compagne Emmy Hennings, danseuse, poétesse et écrivaine, arrivent dans la ville suisse et décident de former ensemble le Cabaret Voltaire ...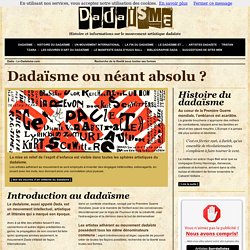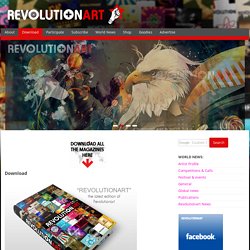 REVOLUTIONART 46 – March 2014 Issue: Justice Pages: 232 // 35,7 Mb Read online | Download here | Order Print! Description: We have to believe in justice or continue seeking it in order to help create a better world. Look inside through Revolutionart "Justice".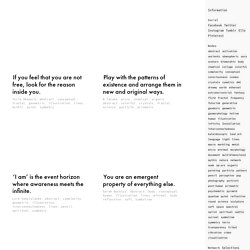 The earth is a medium with a message External Stimuli : Desert Breath - El Gouna, Egypt, Danae Stratou (artist), Vital Space : Nature & Humanity Related Stimuli : Jim Denevan Themes : Sculpture Nodes : earth, land art, pattern, spiral
The future is becoming
Synaptic Stimuli's Photostream