Vision
Temporary Temples. ¤ c i r c l e m a k e r s ¤ Crop circle. Creative Commons. Createquity. "daniel widrig" Future news & vision. The Buckminster Fuller Institute | Buckminster Fuller Institute. Cosmic Creativity: How Art Evolves Consciousness: Alex Grey at TEDxMaui 2013. TEDx - How Art Evolves Consciousness - Alex Grey. (click play to watch video) Alex's recent TEDx Talk, "Cosmic Creativity: How Art Evolves Consciousness", was performed at the Maui Arts & Cultural Center on January 13th, this essential twenty minutes offers a journey through Alex's art, distinguishing phase shifts of awareness and showing how visionary icons of interconnectedness are transformative.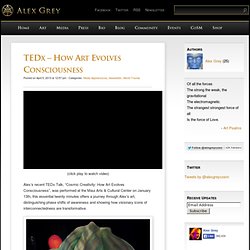 On stage at TEDx, Maui. Alex speaking about the night he met his wife, Allyson. Alex addressing the TEDx crowd. Home - CoSM.org. Alex Grey. Allyson Grey. Visionary Art, Contemporary Sacred Art, Outsider Art | Lila. Caricature Artists | ISCA - International Society of Caricature Artists. Society for Art of Imagination - News. Art should be challenging, therefore some people might find some images on this site disturbing.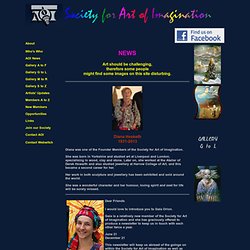 Diana Hesketh 1931-2013 Diana was one of the Founder Members of the Society for Art of Imagination. She was born in Yorkshire and studied art at Liverpool and London, specialising in wood, clay and stone. Later on, she worked at the Atelier of Derek Howarth and also studied jewellery at Harrow College of Art, and this became a second career for her. Le dadaïsme - mouvement artistique, intellectuel et littéraire.
REVOLUTIONART MAGAZINE - Download free Art & Design Magazines. BeinArt Collective & Publishing. Kris Kuksi. Synaptic Stimuli. The future is becoming. Synaptic Stimuli's Photostream.
---