New Pearls & trees...
some direction to follow:
* does not change the photos, make a proposal ...
* Do not create new pearltrees for less than 5 pearls ...
* respect the visual harmony ...
* Arbo rather closed (Russian dolls) than developped in flowchart (chart) ...
* Keep essentially, avoid repetition ...
* reduce the youtube (& other) url so we won't have many duplicate...
Thank you in advance
quelque orientation à respecter:
*ne pas changer les photos, faites une proposition...
* Ne pas créer de nouveaux pearltrees pour moins de 5 perles...
*respecter l'harmonie visuelle...
* plutôt arbo fermé (poupées russes) que dévellopé en flowchart (organigramme)...
*Garder l'essentiel, éviter les répétitions...
*réduire les url youtube j'usqu'au &...
Merci d'avance Aug 12
Welcome
Lundi 3 juin 2013 1 03 / 06 / Juin / 2013 12:39 Ces français qui s'immolent dans le plus grand silence… Le suicide est un acte tragique, désespéré et un des signes principaux de la santé d'une société, pourtant, très peu de données statistiques existent réellement sur le sujet, comme une honte ou un secret qui devrait être gardé… L'observatoire des suicides nous explique en quelques mots ce qu'il en est: on dénombre 200 000 tentatives de suicide par an ; et plus de 11 000 personnes ayant réussi à aller au bout de leur geste. sachant que le nombre de personnes ne trouvant aucune autre alternative que ce geste ultime est fortement sous-évalué en France « du fait d'un défaut de déclaration ou de l'existence de suicides « cachés », inscrits dans d'autres rubriques de décès comme les intoxications ou les accidents
Ces français qui s'immolent dans le plus grand silence…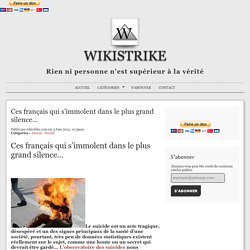 ▶ Black Friday Shopping Chaos [Super Cut Compilation]
THE ZERO ANTHROPOLOGY PROJECT
Golden Record revisited
± PLUSormin.us
Espace de mutualisation de Vic Val d'Adour (435)
Interactive Media Awards - Winners Gallery
MediaCommons | a digital scholarly network
Cognician - Think better, further, faster!
The Holographic Anthropic Multiverse: Formalizing the Complex Geometry of ... - Richard L. Amoroso, Elizabeth A. Rauscher - Google Books
Wanna Be Famous? Science Says Get There By Age 30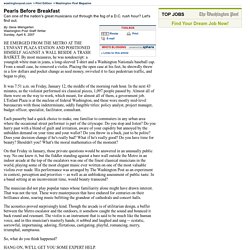 HE EMERGED FROM THE METRO AT THE L'ENFANT PLAZA STATION AND POSITIONED HIMSELF AGAINST A WALL BESIDE A TRASH BASKET. By most measures, he was nondescript: a youngish white man in jeans, a long-sleeved T-shirt and a Washington Nationals baseball cap. From a small case, he removed a violin. Placing the open case at his feet, he shrewdly threw in a few dollars and pocket change as seed money, swiveled it to face pedestrian traffic, and began to play. It was 7:51 a.m. on Friday, January 12, the middle of the morning rush hour.
Un article de Wikipédia, l'encyclopédie libre. Présentation de l'œuvre[modifier | modifier le code] Les Plus qu'humains de l'écrivain américain Theodore Sturgeon est un recueil de trois nouvelles publiées à partir d'octobre 1952 et en 1953 dans la revue américaine spécialisée Galaxy.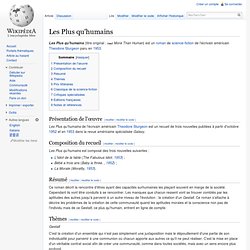 Les Plus qu'humains
MARS-1
Bientôt disponible en France, Google Wallet (ou «Portefeuille Google») permet de centraliser ses moyens de paiement ainsi que ses cartes de fidélités dans un smartphone. Le système fonctionne grâce à la technologie sans contact NFC (Near Field Communication ou communication en champ proche en français). Il s'agit, en fait, d'une puce à l'intérieur de votre téléphone permettant de communiquer avec des bornes spéciales pour payer ses achats, son taxi, sa carte orange, son coca et bien d'autres choses encore.
Présentation vidéo de Google Wallet : un nouveau moyen de paiement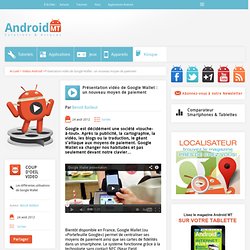 Owni synthétise le zeitgeist numérique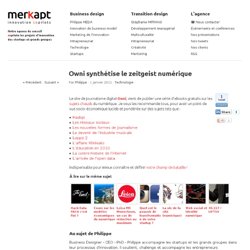 Bio de Philippe Business Designer - CEO - PhD - MBA - Philippe accompagne les startups et les grands groupes dans leur processus d'innovation. Il soutient, challenge et accompagne les entrepreneurs scientifiques, techniques et créatifs, vers une une meilleure profitabilité de leur modèle économique, une croissance stable. Philippe enseigne aussi l'innovation et l'entrepreneuriat dans plusieurs programmes master internationaux.
Rational Optimist - Matt Ridley
olivier.nerot.net | Espace personnel
ICOS | Intelligent Cities – Smart Cities Open Source Community
Caught in the crossfire: Should musicians boycott Israel?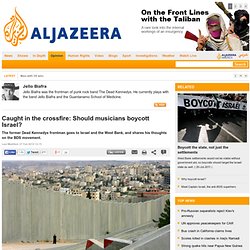 Last summer, punk rock icon Jello Biafra and his band decided to cancel a show they had planned on playing at the Barby Club in Tel Aviv. At the time, Biafra wrote that 'the toll and stress on the band members and myself has been huge, both logistically and as a matter of conscience'. In August, Biafra decided to travel to Israel and Palestine himself to explore his thoughts on the cultural boycott of Israel. San Francisco, CA - So now I have been to Israel. I have also been to Palestine. I got a taste of the place, but not in the way I'd originally hoped.
Because Killing Them All is Not an Option | Social Memory Complex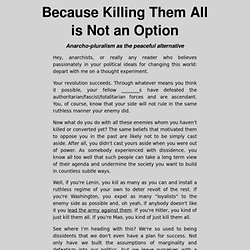 Hey, anarchists, or really any reader who believes passionately in your political ideals for changing this world: depart with me on a thought experiment. Your revolution succeeds. Through whatever means you think it possible, your fellow ________s have defeated the authoritarian/fascist/totalitarian forces and are ascendant.
Introduction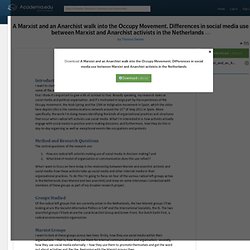 A Marxist and an Anarchist walk into the Occupy Movement. Differences in social media use between Marxist and Anarchist activists in the Netherlands | Thomas Swann
Fleshcap-Home-Flesh-Cap
[edit] Introduction The Resource-based Economy (RBE) concepts propose a way to abandon money and the speculation with it; and get back to resources directly without the involvement of money as a regulatory tool. It assumes that with today's technology it would be possible to measure and store the quantity of a certain good, and connect with the demand or requirement side and share the resources, and skip the speculative and profit aspect in the exchange. The term itself "Resource-based Economy" was adapted from The Antigonish Movement of Canada's Resource Based Communities concept and later reintroduced by Jacques Fresco, who also initiated The Venus Project (TVP), the term was then adapted by other groups, such as The Zeitgeist Movement (TZM), People 4 Social Sustainability (PSS), The Resource Based Economy Foundation, and The Technocracy Movement.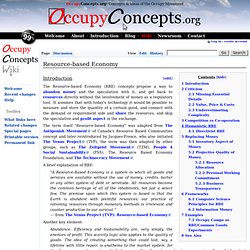 Resource-based Economy - OccupyConcepts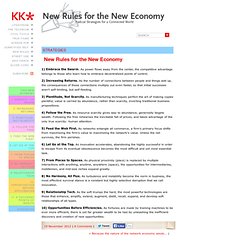 1) Embrace the Swarm. As power flows away from the center, the competitive advantage belongs to those who learn how to embrace decentralized points of control.
New Rules for the New Economy
Mapping the "Next Edge" Ecosystem
Galactic Resonance
A New Story of the People
Carbon Tracing - Bridging the gap between Carbon and Finance
The Overview Project
A Momentary Flow
See on Scoop.it - The future of medicine and health Why do we have to rest? Meet your brain's janitorial staff. In a series of new studies, published this fall in the journal Science, the Nedergaard lab may at last be shedding light on just what it is that would be important enough. Sleep, it turns out, may play a crucial role in our brain's physiological maintenance.
mupi89M4RJ1qek342o1_1280.png (Image PNG, 600x983 pixels)