New Pearls & trees...
some direction to follow:
* does not change the photos, make a proposal ...
* Do not create new pearltrees for less than 5 pearls ...
* respect the visual harmony ...
* Arbo rather closed (Russian dolls) than developped in flowchart (chart) ...
* Keep essentially, avoid repetition ...
* reduce the youtube (& other) url so we won't have many duplicate...
Thank you in advance
quelque orientation à respecter:
*ne pas changer les photos, faites une proposition...
* Ne pas créer de nouveaux pearltrees pour moins de 5 perles...
*respecter l'harmonie visuelle...
* plutôt arbo fermé (poupées russes) que dévellopé en flowchart (organigramme)...
*Garder l'essentiel, éviter les répétitions...
*réduire les url youtube j'usqu'au &...
Merci d'avance Aug 12
Welcome
Lundi 3 juin 2013 1 03 / 06 / Juin / 2013 12:39 Ces français qui s'immolent dans le plus grand silence… Le suicide est un acte tragique, désespéré et un des signes principaux de la santé d'une société, pourtant, très peu de données statistiques existent réellement sur le sujet, comme une honte ou un secret qui devrait être gardé… L'observatoire des suicides nous explique en quelques mots ce qu'il en est: on dénombre 200 000 tentatives de suicide par an ; et plus de 11 000 personnes ayant réussi à aller au bout de leur geste. sachant que le nombre de personnes ne trouvant aucune autre alternative que ce geste ultime est fortement sous-évalué en France « du fait d'un défaut de déclaration ou de l'existence de suicides « cachés », inscrits dans d'autres rubriques de décès comme les intoxications ou les accidents
Ces français qui s'immolent dans le plus grand silence…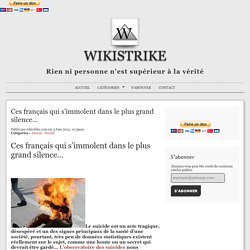 ▶ Black Friday Shopping Chaos [Super Cut Compilation]
THE ZERO ANTHROPOLOGY PROJECT
Golden Record revisited
± PLUSormin.us
Espace de mutualisation de Vic Val d'Adour (435)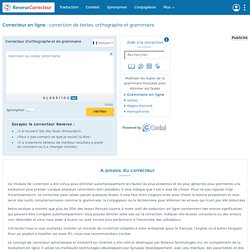 En passant la souris sur la correction vous pourrez voir l'explication de la correction. En cliquant sur le mot, vous pourrez revenir à l'original ou avoir d'autres suggestions. très => Mot ou groupe de mots corrigé automatiquement (grammaire ou ponctuation). très=> Mot avec une ou plusieurs suggestions pour lequel la correction a été déjà effectuée
Interactive Media Awards - Winners Gallery
MediaCommons | a digital scholarly network
Cognician - Think better, further, faster!
"Where all the women are strong, all the men are good looking, and all the children are above average." Those are the closing words Garrison Keillor spoke each night on his radio show A Prairie Home Companion. He was summarizing the… Read more → We've run 2 staff meetings this year using an #edcamp format. They were very well-received, productive, successful, and provided instant feedback for staff and/or immediate classroom learning opportunities for kids.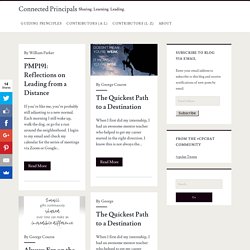 The Holographic Anthropic Multiverse: Formalizing the Complex Geometry of ... - Richard L. Amoroso, Elizabeth A. Rauscher - Google Books
Wanna Be Famous? Science Says Get There By Age 30
Défis prioritaires Les défis que nous voulons relever en priorité cette année sont: (pourcentage de ceux d'entre nous qui les ont choisis dans leur top 3) Éviter la catastrophe du changement climatique Combattre la corruption politique, y compris la mainmise des compagnies privées sur les États
Prochaines étapes pour Avaaz en 2014?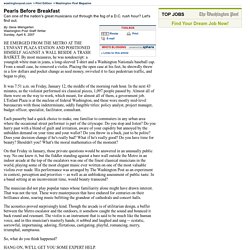 HE EMERGED FROM THE METRO AT THE L'ENFANT PLAZA STATION AND POSITIONED HIMSELF AGAINST A WALL BESIDE A TRASH BASKET. By most measures, he was nondescript: a youngish white man in jeans, a long-sleeved T-shirt and a Washington Nationals baseball cap. From a small case, he removed a violin. Placing the open case at his feet, he shrewdly threw in a few dollars and pocket change as seed money, swiveled it to face pedestrian traffic, and began to play. It was 7:51 a.m. on Friday, January 12, the middle of the morning rush hour.
2014 member poll
Un article de Wikipédia, l'encyclopédie libre. Présentation de l'œuvre[modifier | modifier le code] Les Plus qu'humains de l'écrivain américain Theodore Sturgeon est un recueil de trois nouvelles publiées à partir d'octobre 1952 et en 1953 dans la revue américaine spécialisée Galaxy.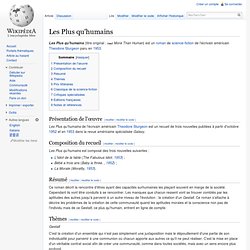 Les Plus qu'humains
MARS-1
Bientôt disponible en France, Google Wallet (ou «Portefeuille Google») permet de centraliser ses moyens de paiement ainsi que ses cartes de fidélités dans un smartphone. Le système fonctionne grâce à la technologie sans contact NFC (Near Field Communication ou communication en champ proche en français). Il s'agit, en fait, d'une puce à l'intérieur de votre téléphone permettant de communiquer avec des bornes spéciales pour payer ses achats, son taxi, sa carte orange, son coca et bien d'autres choses encore.
Présentation vidéo de Google Wallet : un nouveau moyen de paiement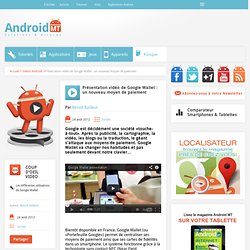 A counterblast to the prevailing pessimism of our age, and proves, however much we like to think to the contrary, that things are getting better. Over 10,000 years ago there were fewer than 10 million people on the planet. Today there are more than 6 billion, 99 per cent of whom are better fed, better sheltered, better entertained and better protected against disease than their Stone Age ancestors. The availability of almost everything a person could want or need has been going erratically upwards for 10,000 years and has rapidly accelerated over the last 200 years: calories; vitamins; clean water; machines; privacy; the means to travel faster than we can run, and the ability to communicate over longer distances than we can shout. Yet, bizarrely, however much things improve from the way they were before, people still cling to the belief that the future will be nothing but disastrous.
Rational Optimist - Matt Ridley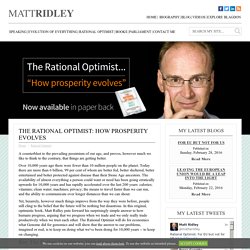 José Carlos Cortizo Pérez
Cualquier buen vendedor lo tiene claro: lo importante es vender, da igual cuándo, dónde o incluso cómo. Hay que saberse adaptar a cada perfil de comprador, adaptarse a las distintas épocas del año o incluso a los distintos momentos del día. Cada venta es única y diferente, al igual que necesaria. En algunos casos la venta es casi inmediata, al dejarse el consumidor guiarse por un impulso consumista o por una necesidad que debe cubrir en ese momento. En otros casos la venta es más lenta, e incluso algunos compradores necesitan varias visitas a la tienda, o incluso visitas combinadas con llamadas telefónica para resolver dudas o aclarar características del producto a comprar. Pero da lo mismo, son ventas y hay que dar lo mejor del vendedor en cada una de ellas.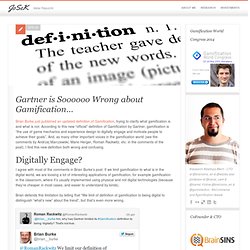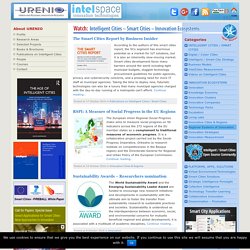 Smart Cities Financing Guide The Smart Cities Council has released a first of its kind tool, which helps cities understand their financing options for technology project. The Smart Cities Financing Guide, developed in partnership with Arizona State University Center for Urban Innovation, outlines 28 of the most promising financial tools for urban infrastructure enhancements. Continue reading… Apps4Thessaloniki competition After the completion and submission of the web and mobile applications by the candidates , the Apps4Thessaloniki contest concludes with a presentation and awarding ceremony of the most valuable applications that attracted the interest of the citizens of Thessaloniki, the Municipality of Thessaloniki and the special award committee.
La contestation des hiérarchies en tant que telles est stérile et même contre-productive quand ce qu'il faudrait, c'est les alléger et les démocratiser ! C'est ce qui fait toute la différence entre d'inutiles utopies et le véritable progrès social. Il s'agit de comprendre les nécessités de l'organisation et la fonction des structures hiérarchiques pour bien distinguer les hiérarchies opérationnelles des systèmes de domination et avoir la capacité d'en réduire l'hétéronomie ainsi que l'infériorisation des acteurs, c'est-à-dire tout simplement remplacer la contrainte par l'information. Ces idées ne sont pas nouvelles puisqu'elles ont été à l'origine de la formation du GRIT (plutôt "le groupe des dix" à l'époque), portées surtout par Henri Laborit, notamment dans "la nouvelle grille" comme on le verra plus loin. Tout ce mouvement venait de la théorie des systèmes et de l'écologie (des écosystèmes, inspirant notamment le rapport de Rome sur les limites de la croissance.
Expérimentateur systémique opportuniste, technoïde, humaniste et multirécidiviste. Après une thèse en sciences cognitives, axée sur l'analyse du chaos dans les réseaux neuronaux, et leur application à un modèle de mémoire par anticipation, j'applique les principes de l'émergence, de l'auto-organisation et de l'apprentissage dans plusieurs domaines : réseaux sociaux, entreprise 2.0, outils collaboratifs, et intelligence collective. Fondateur d'amoWeba, d'ANteiKA, et de la galerie H+, j'accompagne les entreprises dans leur évolution collaborative, au niveau technique, organisationnel et managerial.
olivier.nerot.net | Espace personnel
ICOS | Intelligent Cities – Smart Cities Open Source Community
Our brains are by far our most important organs. Here are 10 of the most surprising things our brains do and what we can learn from them: 1. Your brain does creative work better when you're tired.
Caught in the crossfire: Should musicians boycott Israel?
Because Killing Them All is Not an Option | Social Memory Complex
A Marxist and an Anarchist walk into the Occupy Movement. Differences in social media use between Marxist and Anarchist activists in the Netherlands | Thomas Swann
Fleshcap-Home-Flesh-Cap
Resource-based Economy - OccupyConcepts
New Rules for the New Economy
Galactic Resonance
A New Story of the People
Carbon Tracing - Bridging the gap between Carbon and Finance
The Overview Project
A Momentary Flow
Portail sur les expériences avancées de Conscience | De nombreuses démarches pour accéder aux états normaux de la conscience morale, culturelle, personnelle. L'hyperconscience un avantage concurrentiel et de grande performance: plus d'agilité, de lucidité
mupi89M4RJ1qek342o1_1280.png (Image PNG, 600x983 pixels)