Corporate psychopathy...
Inequality watch. October 25, 2012 - TV Studios of SRF / tpc. TEDxZurich: Who Controls The World - OlsenBlog's blog. Fri, 30 Nov 2012 05:04:20 GMT James B.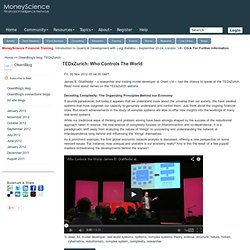 Glattfelder – a researcher and trading model developer at Olsen Ltd – had the chance to speak at the TEDxZurich. Read more about James on the TEDxZurich website. Home / FisheadMovie. Dependency theory. Dependency theory is the notion that resources flow from a "periphery" of poor and underdeveloped states to a "core" of wealthy states, enriching the latter at the expense of the former.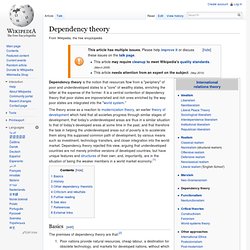 It is a central contention of dependency theory that poor states are impoverished and rich ones enriched by the way poor states are integrated into the "world system. " The theory arose as a reaction to modernization theory, an earlier theory of development which held that all societies progress through similar stages of development, that today's underdeveloped areas are thus in a similar situation to that of today's developed areas at some time in the past, and that therefore the task in helping the underdeveloped areas out of poverty is to accelerate them along this supposed common path of development, by various means such as investment, technology transfers, and closer integration into the world market.
:: Corporation : Clinical Diagnosis (PCLR) :: Test for Psychopathy. The List of Psychopathy Symptoms: Hervey Cleckley and Robert Hare. "I knew in my heart something was wrong with him (or with her)".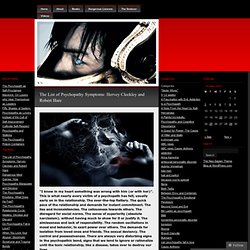 This is what nearly every victim of a psychopath has felt, usually early on in the relationship. The over-the-top flattery. The quick pace of the relationship and demands for instant commitment. How to spot a sociopath. (Extracted from an article by Robert Matthews in the Sunday Telegraph Review, May 4th 1997) While such personality disorders as psychopathy, paranoia and obsession/compulsion all have strictly defined criteria, psychiatrists are still struggling to decide precisely what constitutes a socialised psychopath.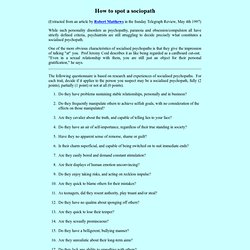 One of the more obvious characteristics of socialised psychopaths is that they give the impression of talking "at" you. Prof Jeremy Coid describes it as like being regarded as a cardboard cut-out. "Even in a sexual relationship with them, you are still just an object for their personal gratification," he says. Are there too many psychopaths in Corporate America. Profit motive has no conscience. No-coment. Philip Zimbardo shows how people become monsters ... or heroes. The Experiment 2010 | Full Movie. Utopian Formula. The Corporation- sous titre : français. The Corporation (film) The Corporation is a 2003 Canadian documentary film written by University of British Columbia law professor Joel Bakan, and directed by Mark Achbar and Jennifer Abbott.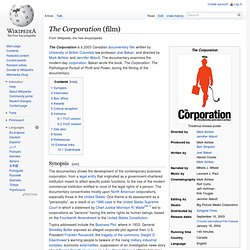 The documentary examines the modern-day corporation. Bakan wrote the book, The Corporation: The Pathological Pursuit of Profit and Power, during the filming of the documentary. The documentary shows the development of the contemporary business corporation, from a legal entity that originated as a government-chartered institution meant to affect specific public functions, to the rise of the modern commercial institution entitled to most of the legal rights of a person. The documentary concentrates mostly upon North American corporations, especially those in the United States. One theme is its assessment as a "personality", as a result of an 1886 case in the United States Supreme Court in which a statement by Chief Justice Morrison R.
La violence des riches. The Corporation and the psychopath economy | Corporate Rule. Originally published: Corporate Rule, March 2011 Using the World Health Organisation's diagnostic check list for personality disorders, film examines the 'personality' of the dominant economic form of our times: the transnational corporation.
Established in law as an individual person, freed from regulation and enjoying many of the 'rights' we ascribe to real human individuals, the corporation, as "the institutional embodiment of laissez-faire capitalism", pursues its singular purpose of achieving ever greater profits with ruthless efficiency. Impacts on the 'third parties' - communities, the environment, its own workers - of a corporation's activities are relegated to the status of 'externalities'. The Corporation Film: Welcome. THE CORPORATION [6/23] The Pathology of Commerce. The Corporation (complete, chapters 1 to 23) Welcome to YouTube!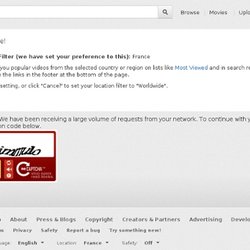 The location filter shows you popular videos from the selected country or region on lists like Most Viewed and in search results.To change your location filter, please use the links in the footer at the bottom of the page. Click "OK" to accept this setting, or click "Cancel" to set your location filter to "Worldwide". The location filter shows you popular videos from the selected country or region on lists like Most Viewed and in search results.
The 5 Most Horrifying Things Corporations Are Taking Over. It's true that a part of us dies every time we see Dr.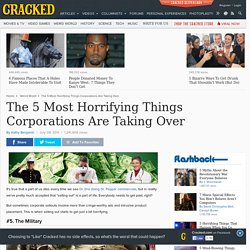 Dre doing Dr. Pepper commercials, but in reality we've pretty much accepted that "selling out" is a part of life. Panic of the Plutocrats. And this reaction tells you something important — namely, that the extremists threatening American values are what F.D.R. called "economic royalists," not the people camping in Zuccotti Park.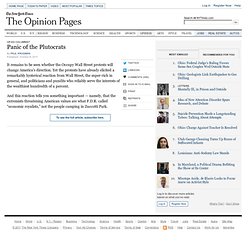 Consider first how Republican politicians have portrayed the modest-sized if growing demonstrations, which have involved some confrontations with the police — confrontations that seem to have involved a lot of police overreaction — but nothing one could call a riot. And there has in fact been nothing so far to match the behavior of Tea Party crowds in the summer of 2009. 5 Things to Know About How Corporations Block Access to Everything from Miracle Drugs to Science Research. Photo Credit: Shutterstock.com April 19, 2014 | Like this article?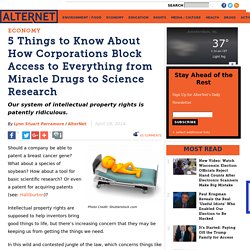 Wall Street Follies - Financial Cartoons. Wall Street Mocks Protesters by Drinking Champagne. Published: Friday 30 September 2011 Wall Street has shown Americans how they feel about protests: This video shows unidentified occupants watching protests from the balconies of Wall Street in amusement while sipping champagne. Resize Text + | - | R Demonstrations began on September 17 to show U.S. citizens anger over a financial system that favors the rich over all other American citizens. Adidasit4.jpg. Leaked documents reveal US diplomats actually work for Monsanto. (NaturalNews) Biotech giant Monsanto has been genetically modifying the world's food supply and subsequently breeding environmental devastation for years, but leaked documents now reveal that Monsanto has also deeply infiltrated the United States government. With leaked reports revealing how U.S. diplomats are actually working for Monsanto to push their agenda along with other key government officials, Monsanto's grasp on international politics has never been clearer.
Amazingly, the information reveals that the massive corporation is also intensely involved in the passing and regulations concerning the very GM ingredients they are responsible for. In fact, the information released by WikiLeaks reveals just how much power Monsanto has thanks to key positions within the United States government and elsewhere. Going Rogue: Share Traders More Reckless Than Psychopaths, Study Shows - SPIEGEL ONLINE - News - International. Two weeks ago, yet another case of rogue trading shocked the financial world when UBS trader Kweku Adoboli was arrested for allegedly squandering some $2.3 billion with a risky and unauthorized investment scheme.
The 31-year-old, who had been based in London for the Swiss bank, remains in jail. The bank's chief executive Oswald Grübel, meanwhile, has resigned over the scandal -- the third major embarrassment to rattle the institution in just a few years. The situation mirrors a similar scandal at French bank Société Générale, where another young "rogue trader," Jérôme Kerviel, gambled away billions in 2007 and 2008. Wallstreetscandals.gif (Image GIF, 1000x750 pixels)
One Out Of Every Ten Wall Street Employees Is A Psychopath, Say Researchers. An article that appeared on The Huffington Post on February 28, 2012, "One Out Of Every Ten Wall Street Employees Is A Psychopath, Say Researchers," was incorrect and has been removed. The article drew on a previously published piece by Sherree DeCovny, "The Financial Psychopath Next Door," which ran in CFA Magazine [subscription required]. DeCovny's article contained the following passage: Sociétés : Les traders seraient plus fous que les psychopathes. Inégalités et discriminations. The Cassiopaean Experiment. How Will the 99% Deal with 70 Million Psychopaths? 'Extreme Money' Destroying America, Says Author UBS - TheStreet TV. The Iron Fist Behind the Invisible Hand. Top 5 Most Evil Corporations. La preuve en chiffres de l'indécence des grands patrons ~ <b>A Perdre La Raison</b> Paul Piff: Does money make you mean? Paul Piff Media. New Study, Old News: Stock Traders Are Psychopaths.
Corporate Social Responsibility. Cash ISAs: How banks can pinch 92% of your savings income, and the Office of Fair Trading says it's ok. A Brief History of the Corporation: 1600 to 2100. Learning & Environment Aprendizado & Ambiente - THE CORPORATION: Social & Economic Psychopath ? (Outlining the FILM) How Wealth Reduces Compassion. Dotées d'un degré d'empathie zéro, les compagnies sont psychopathes. Empathy. Isolated and Under-Exposed: Why the Rich Don't Give - Neighborhoods. L'influence de l'argent sur le comportement. -Le syndrome d' hubris : la maladie du pouvoir. L'art d'ignorer les pauvres. Corporation as Psychopath. Essential reading on corporate rule in general | Corporate Rule. Inverted totalitarianism. CNN.com - 'Corporate psychopaths' at large - Aug 26, 2004. Gina Rinehart is a Bubble. Speech patterns give away psychopaths.
---