Creative Resources
Charas, rpgmaker, the chara generator. Author: DominicyName: HoMM2 Monster collectionDescription: Knight: Archer, Pikeman, Swordsman, Cavalier, Paladin Barbarian: Goblin, Orc, Wolf, Ogre, Troll, Cyclops Sorceress: Sprite, Dwarf, Elf, Druid, Unicorn, Phoenix Wizard: Halfling, Boar, Iron Golem, Roc, Mage, Giant Warlock: Centaur, Gargoyle, Griffin, Minotaur, Hydra, Green Dragon.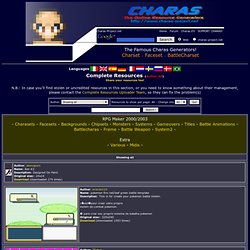 Serendipity. Chaotic Shiny. How to Flesh out a Country or Region in Your Fantasy RPG World - Edit Article Edited by Zach Haffey, Maluniu, Glutted, Nicole Willson and 5 others Hello game master/fantasy author.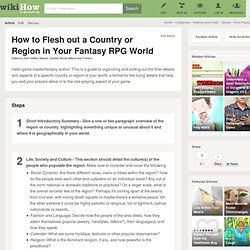 This is a guide to organizing and sorting out the finer details and aspects of a specific country or region of your world: a format for the living details that help you and your players delve in to the role-playing aspect of your game. Ad Steps. The Domesday Book - Medieval Demographics Made Easy. The Domesday Book Penned by Brandon Blackmoor, based on Medieval Demographics Made Easy by S.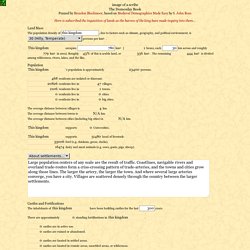 John Ross Here is subscribed the inquisition of lands as the barons of the king have made inquiry into them... <p>Forsooth, thy browser is truly antiquated! Seventh Sanctum. City Generator.
---