Travel
There's a vast number of eateries in France. Most have defined roles, though some definitions are becoming a bit blurred. Here's a quick guide: Auberge 'Auberge' by Ludo29880.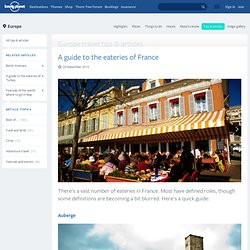 Teylers Museum |
From 28 september 2013 to 19 January 2014 The 100 most beautiful Rembrandts No other Dutch artist is as well known and loved worldwide as Rembrandt. Yet it has not always been that way. In his own day, he was counted among the greatest masters, but after his death he was often reviled for his loose style and risqué subjects.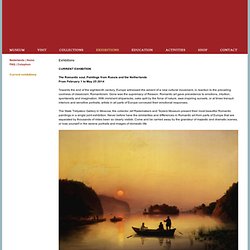 Cancel Edit Delete Preview revert Text of the note (may include Wiki markup) Could not save your note (edit conflict or other problem).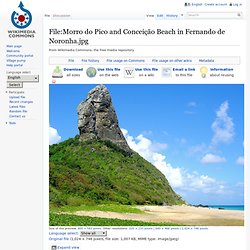 Fernando de Noronha Praia da Conceição .jpg - Wikipedia, the free encyclopedia
Preachers Rock, Preikestolen, Norway Blue Caves - Zakynthos Island, Greece Skaftafeli - Iceland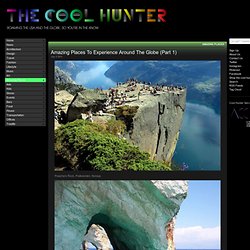 Vanuatu
Vanuatu (English i/ˌvɑːnuːˈɑːtuː/ vah-noo-AH-too or /vænˈwɑːtuː/ van-WAH-too; Bislama IPA: [vanuaˈtu]), officially the Republic of Vanuatu (French: République de Vanuatu, Bislama: Ripablik blong Vanuatu), is an island nation located in the South Pacific Ocean. The archipelago, which is of volcanic origin, is some 1,750 kilometres (1,090 mi) east of northern Australia, 500 kilometres (310 mi) northeast of New Caledonia, west of Fiji, and southeast of the Solomon Islands, near New Guinea. The nation's name was derived from the word vanua ("land" or "home"),[7] which occurs in several Austronesian languages,[8] and the word tu ("stand").[9] Together the two words indicated the independent status of the new country.[9]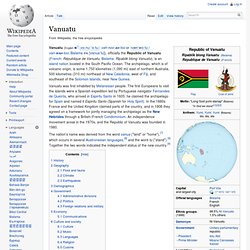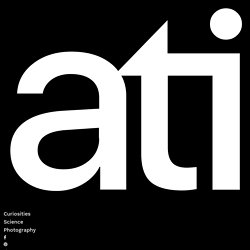 World's Beautiful Lakes: Five-Flower Lake, China The pristine water of Wuhua Hai, or Five-Flower Lake, is the pride of Jiuzhaigon National Park in China. The shallow lake glistens different shades of turquoise and its floor is littered with fallen ancient tree trunks. Wuhua Hai is one in the legendary 108 haizi, or multicolored lakes, in the national park that according to legend, were created after an ancient Goddess dropped a mirror that her lover had given her, smashing it into 108 pieces.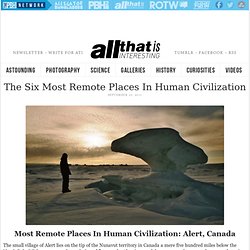 The Six Most Remote Places In Human Civilization
Most Remote Places In Human Civilization: Alert, Canada The small village of Alert lies on the tip of the Nunavut territory in Canada a mere five hundred miles below the North Pole. With a year-round population of five people, Alert is one of the most treacherous and remote places in the world. Surrounded by the Arctic Ocean, the temperatures in the region can reach as low as 40 degrees below zero.
City Oslo | euromaxx
The days when the word "hostel" made you think about travel bums cramped up in tiny bunk beds with dirty showers, are over. This is the age of the travelette, where backpacking in heels is no longer an oxymoron, and the hostels are hip and fresh. Nowadays the gap between these low budget accomodations and certain boutique hotels can be very slim, providing you with a high quality stay AND a full wallet. So, for your inspiration and budget travel plans, here are 10 of the hippest hostels in the world. 1.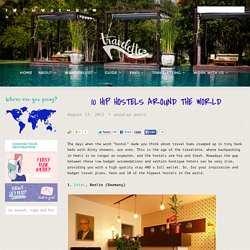 10 hip hostels around the world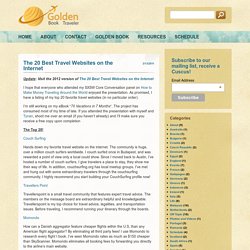 Update: Visit the 2012 version of The 20 Best Travel Websites on the Internet I hope that everyone who attended my SXSW Core Conversation panel on How to Make Money Traveling Around the World enjoyed the presentation. As promised, I have a listing of my top 20 favorite travel websites (in no particular order). I'm still working on my eBook "70 Vacations in 7 Months". The project has consumed most of my time of late. If you attended the presentation with myself and Tynan, shoot me over an email (if you haven't already) and I'll make sure you receive a free copy upon completion
Do You Think Most People Try to Take Advantage of You?
Please, fill in both cities The biggest free database of prices in the world! More than 875,000 prices in 1,730 cities entered by 230,500 users like you!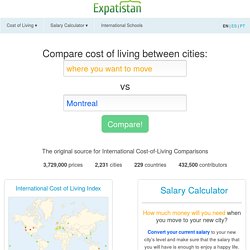 Wat is Skyscanner? Skyscanner vergelijkt razendsnel miljoenen vluchten van meer dan 1000 luchtvaartmaatschappijen en ticketwebsites en vindt goedkope vliegtickets voor u. Ook vinden we voor u de beste hotelaanbiedingen, autoverhuur en vakantie-aanbiedingen. Skyscanner is een gratis service, wij berekenen geen extra kosten of boekingskosten Gratis Skyscanner app Al meer dan 25 miljoen mensen gebruiken onze gratis apps om hun vlucht te vinden!
Tromsø (Norwegian pronunciation: [ˈtrʊmsø] ( listen); Northern Sami: Romsa;[2] Kven: Tromssa) is a city and municipality in Troms county, Norway. The administrative centre of the municipality is the city of Tromsø. The city centre of Tromsø contains the highest number of old wooden houses in Northern Norway, the oldest house dating from 1789.
Tromsø
8 Things You Might Not Have Known About the Czech Republic
My problem with flying stems from having really bad seatmates -- the kind that read over your arm, nudge and kick you endlessly, and take eons to mess around with their luggage. And I'd sit and grit my teeth in silence. The solution is shockingly simple: about a year ago, I accidentally wore my sunglasses the entire time we were on the plane, and I noticed my seatmate was courteous, but left me alone. One more flight confirmed it: no more eye contact means my bad neighbors leave me alone unless absolutely necessary.
Wear sunglasses during the flight - Airplane tip
A few years ago, we created Wanderfly to make the online travel experience more personal, fun and beautiful. From a dinner conversation idea, to a dozen employees crammed in a Soho/Brooklyn loft, to being honored as a top 10 startup, it has been a crazy few years. In 2012, TripAdvisor acquired Wanderfly so that millions of travelers around the world could find the same travel inspiration and recommendations that Wanderfly fans already enjoyed.
Easter Island travel guide
Five Must See European Cities for the First Time Traveler
SIW Internationale Vrijwilligersprojekten