Data Visualization
Light Field camera | Lytro. Visualization Methods Exploration. Introduction Over at Visual-Literacy.org , Ralph Lengler and Martin Eppler have published this great Periodic Table of methods of visualisation.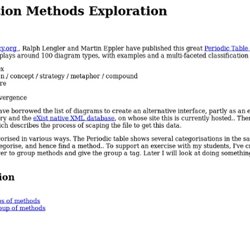 This displays around 100 diagram types, with examples and a multi-faceted classification by: simple to complex data / information / concept / strategy / metaphor / compound. Data Visualization. Definition: Tools that help users discern patterns in data--dynamic graphs, charts, maps, plots, etc.
Tools: Chartle: Create simple interactive charts. Datavisualization. A Periodic Table of Visualization Methods.
---