Monde
L'histoire de l'univers, la vie et de l'homme Excellent documentaire
▶ Echelle de distance dans l'univers
Système solaire
Invisible Universe
Les Français sont fâchés avec la mondialisation - Monde - la-Croix.com
Agence Francaise de Développement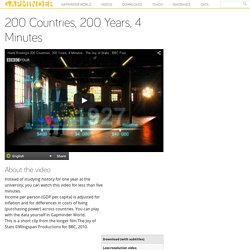 200 Countries, 200 Years, 4 Minutes
The world might not be as bad as you might believe! Don't Panic – is a one-hour long documentary produced by Wingspan Productions and broadcasted on BBC on the 7th of November 2013. The visualizations are based on original graphics and stories by Gapminder and the underlaying data-sources are listed here. Hans's — "All time favorite graph", is Read more … Hans Rosling is debunking the River of Myths about the developing world.
L'évolution de 200 pays sur 200 ans en 4 minutes by nicoxbus Apr 13
7 Billion, National Geographic Magazine
Tous africains
ARTE
La planète en 2030 vue par les services de renseignement américains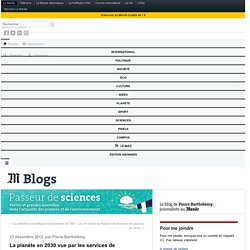 C'est un cadeau pour le président Obama fraîchement réélu : le rapport Global Trends 2030, concocté par le National Intelligence Council (NIC) et qui vient d'être rendu public. Le NIC, petit cousin de la CIA, est en quelque sorte le bras analytique et prospectif des services de renseignement américains. Son rapport imagine le monde de 2030.
http://www.unesco.org/culture/ich/fr/listes/ Chaque année, le Comité se réunit pour évaluer des candidatures et décider d'inscrire ou non les pratiques et expressions culturelles du patrimoine immatériel proposées par les États parties à la Convention de 2003. La Liste du patrimoine immatériel nécessitant une sauvegarde urgente (voir les critères) est composée d'éléments du patrimoine immatériel que les communautés concernées et les États parties considèrent comme nécessitant des mesures de sauvegarde urgentes pour assurer leur transmission.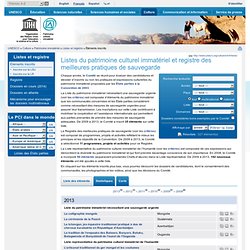 Unesco - immatériel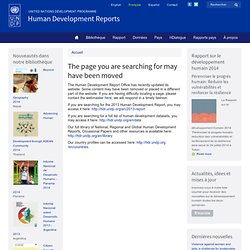 The Human Development Report Office has recently updated its website.
Rapports sur le développement humain
Worldometers
Statistiques mondiales.com
"The man who knows what freedom means will find a way to be free." -F.A. "Baldy" Harper "Where liberty dwells, there is my country."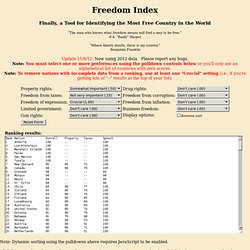 Freedom Index : Find Freedom!