Monde
An animated explanation of the Big Bang and the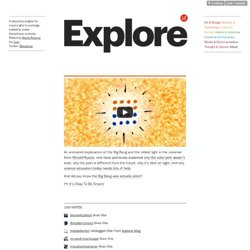 Coursekit is now Lore. What's the Story? Science & Technology An animated explanation of the Big Bang and the oldest light in the universe from MinutePhysics , who have previously explained why the color pink doesn't exist , why the past is different from the future , why it's dark at night , and why science education today needs lots of help .
L'histoire de l'univers, la vie et de l'homme Excellent documentaire
Invisible Universe
Les Français sont fâchés avec la mondialisation - Monde - la-Croix.com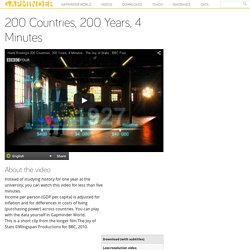 Is there a relation between religion, sex and the number of babies per woman? What was the greatest invention of the industrial revolution? Hans Rosling makes the case for the washing machine. Instead of studying history one year at the university, you can watch this video for less than five minutes. Hans Rosling explains why ending poverty is crucial to stop population growth.
L'évolution de 200 pays sur 200 ans en 4 minutes by nicoxbus Apr 13
Tous africains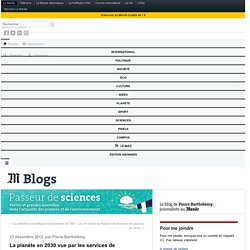 C'est un cadeau pour le président Obama fraîchement réélu : le rapport Global Trends 2030 , concocté par le National Intelligence Council (NIC) et qui vient d'être rendu public. Le NIC, petit cousin de la CIA, est en quelque sorte le bras analytique et prospectif des services de renseignement américains. Son rapport imagine le monde de 2030.
http://www.unesco.org/culture/ich/fr/listes/ Chaque année, le Comité se réunit pour évaluer des candidatures et décider d'inscrire ou non les pratiques et expressions culturelles du patrimoine immatériel proposées par les États parties à la Convention de 2003 . La Liste du patrimoine immatériel nécessitant une sauvegarde urgente (voir les critères ) est composée d'éléments du patrimoine immatériel que les communautés concernées et les États parties considèrent comme nécessitant des mesures de sauvegarde urgentes pour assurer leur transmission.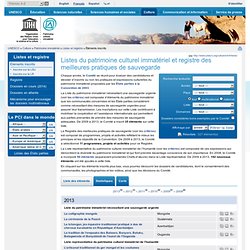 Unesco - immatériel
Rapports sur le développement humain
Finally, a Tool for Identifying the Most Free Country in the World "The man who knows what freedom means will find a way to be free." -F.A. "Baldy" Harper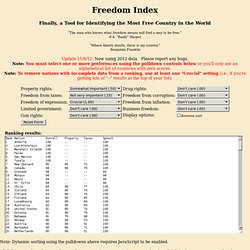 Freedom Index : Find Freedom!