Gestion de projet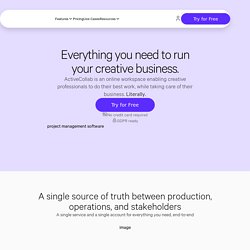 See why thousands of companies choose activeCollab as their team collaboration and project management tool. Your 30-day free trial includes immediate, unlimited access to full-feature, cloud-based activeCollab. Free trial quick facts: Start using activeCollab immediately Get to work with an unlimited number of team members, clients and projects Sign up without a credit card or contract Absolutely no obligations or restrictions Enjoy full access to all of our features and add-ons!
With Zoho, you focus on your business while we take care of the rest with apps that help you get more sales, get paid, support your customers and make your business more productive. "One of our favorite cloud office suites comes from Zoho" "Zoho is the most comprehensive suite of web-based programmes for small businesses..." "I typed this story in Zoho Writer, even though I had never even tried it until this week. So far, so good..." "Zoho CEO Sridhar Vembu weighs in on cloud computing business" More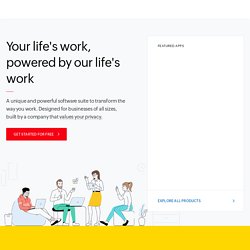 The scheduling tool you'll actually use. Find a date for a meeting 2x faster Doodle cooperates with your calendar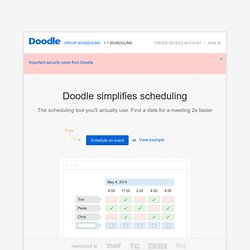 Your Partner of Choice for High Performance Business Collaboration Our passion is business collaboration. From technologies that can be integrated in your pre-existing solutions today to unprecedented and elegant digital collaboration environments for tomorrow, we enable high-performance business. Universal Business Collaboration for your Organization To build your next-generation work environment: our expertise and our technologies will help you create and secure the high performance collaboration hub of your organization, and connect it to your business applications. Security as a Foundation
Calinda Software - Home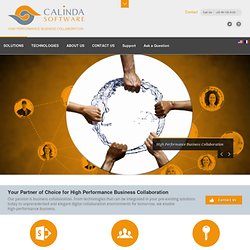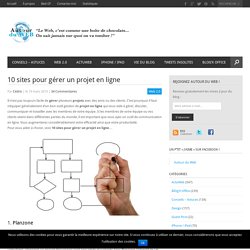 Il n'est pas toujours facile de gérer plusieurs projets avec des amis ou des clients. C'est pourquoi il faut s'équiper généralement d'un bon outil gestion de projet en ligne qui vous aide à gérer, discuter, communiquer et travailler avec les membres de votre équipe. Si les membres de votre équipe ou vos clients vivent dans différentes parties du monde, il est important que vous ayez un outil de communication en ligne.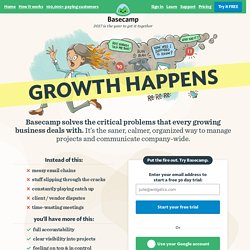 Highly recommended. Primarily through word-of-mouth alone, Basecamp has become the world's #1 project management tool. For the last 10 years, companies have been switching to Basecamp because it's famously easy-to-use, reliable, and It Just Works™.
Zwiggo, petit partage entre amis. |
Les outils de collaborations à distance au niveau des entreprises existent et sont assez nombreux , mais qu'en est-t-il pour les particuliers ? « Zwiggo » a peut être la réponse à cette question. "La meilleure façon de partager" En effet , vous avez certainement assisté ou participé à une conversation avec des personnes d'autres sociétés (fournisseurs ou clients) par le biais d'un logiciel basé sur l'internet. Ces outils parfois rigides sont tout de même très pratiques, vous évitant parfois un long déplacement pour une réunion éclaire.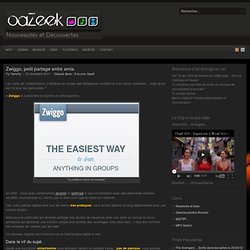 Your Yugma (Trial account) web conferencing account is ready We've just created your Yugma (Trial account). Use your email address and the password you created when you registered to sign in to your Yugma account. You can now begin to share and collaborate with others anytime, anywhere. Give Yugma a test drive and see how easy it is to share ideas, work in real-time with others around the globe, be more efficient and save on money on travel.
Free Web Collaboration Forever — anytime, anywhere.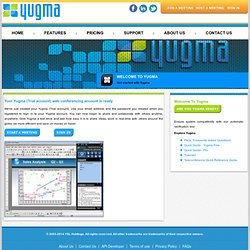 EFFICEO : Easy Management of Actions
EFFICEO is a leading provider of efficient and secured Collaborative Team software to manage work tasks. EFFICEO est une solution Web Collaborative de Management des Tâches pour optimiser l'exécution des Projets et des Plans d'Action, des Objectifs et des Processus. EFFICEO est une solution Web Collaborative de Management des Tâches pour optimiser l'exécution des Projets, des Plans d'Action et de Progrès, des Objectifs et des Processus.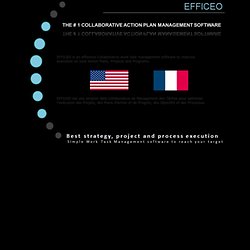 Aperçu - projectpro : une application web de gestion de projets et de travail collaboratif
Tableaux de bord Créez vos tableaux de bord et paramétrez vos widgets. Planification Planifiez et suivez l'avancement de votre projet. Mes actions Créez, affectez, validez vos micro-tâches.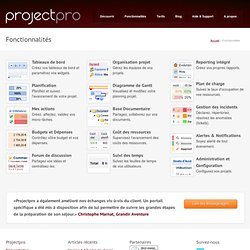 La gestion de projet avec Taskii | Taskii : logiciel de gestion
NadineProject
Thank's JellyS for the use of your cow photo! What Is It? Nadine is a software project originally developed at Office Nomads to handle daily operations of the space. It manages members, tracks their activity, and generates billing reports and statistics. The Development Plan