Gamifying Education
Traditional face classes are changing. Over past years, teaching was limited to instructors that give master classes, with a better or worse speech, and students that just take notes and rarely ask some questions. Thus, made a hard division between the active and the passive parts in the classroom, which is even more noticeable nowadays. May be, this kind of face classes had sense when there were not so much resources for the students than now. Today there is so abundant resources for the students: books, slides, articles, exercises, IT technologies...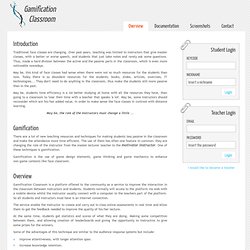 Gamification Classroom
Looking to find a new, simple, and free way to gamify your classroom? There a new web tool out that you should probably know about. It's called ClassBadges and it's a free online tool where teachers can award badges for student accomplishments.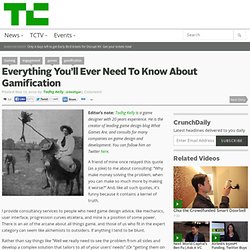 Editor's note: Tadhg Kelly is a game designer with 20 years experience. He is the creator of leading game design blog What Games Are, and consults for many companies on game design and development. You can follow him on Twitter here.
Effects of Video Games on our Brains ? ~ Educational Technology and Mobile Learning
I am really getting confused here. Just last month I posted an article entitled " Do Video Games Make Kids Violent ". This post was mainly inspired by the book I have read for Paul James Gee ( What Video Games Have to Teach Us About Learning and Literacy. Second Edition: Revised and Updated Edition
As I work with teachers to implement game-based learning (GBL), they are always looking for any free tools that exist. While some are willing to pay for iPad game apps or using the Kinect, these tools often cost money. Luckily, there are many tools out there that are free and that teachers could use in the classroom as soon as tomorrow.
Free Tools to Incorporate Game-Based Learning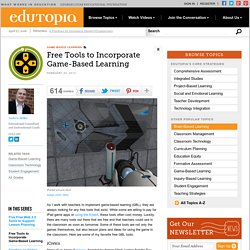 There's been a lot of buzz lately about the use of gaming in the classroom – from the 'gamification' of learning to the use of Minecraft to teach everything from physics to strategic thinking. Since long before education technology even existed, video games have been a hugely successful way to engage students, creating a fun and compelling environment in which they can learn, develop and interact with their peers. But allowing students to actually take control of designing the game themselves takes the concept to a whole new level, allowing them to practice a host of new creative and technical skills. Here are 5 top websites – let the games begin!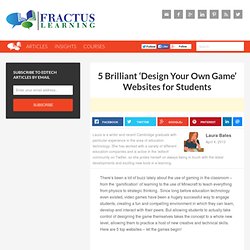 (This is the Gamification Framework that I am most known for. Within a year, it was translated into 9 different languages and became classic teaching literature in the gamification space in the US, Europe, Australia and South America.) Octalysis: Complete Gamification Framework Gamification is design that places the most emphasis on human motivation in the process.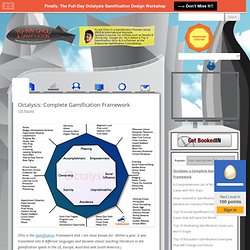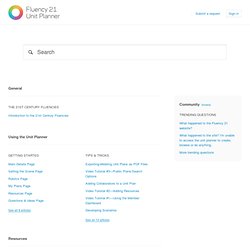 "How often will you hear that failure is an option? Sounds very defeatist! However, failure can be a valuable experience. Humans make mistakes, but they learn from their mistakes. A game-based learning experience personifies the practice of learning through failure. Jolie Barker, an innovative teacher, showcases her experiences with game-based learning and the rewards of higher scores on tests—and better behavior from engaged and excited students—in the following article she wrote for eSchool News."
How I Turned My Classroom into a 'Living Video Game'—and Saw Achievement Soar
Realistically, a "with it" teacher can teach almost anything using almost anything. I've been taught trigonometry using a paper clip, and expository structure using paint. Tech is great, but nowhere close to necessary. But if the underlying learning process is well-thought out, tech can provide powerful common ground for teachers and learners. So then, video games.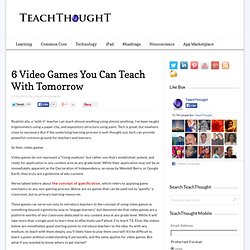 6 Video Games You Can Teach With Tomorrow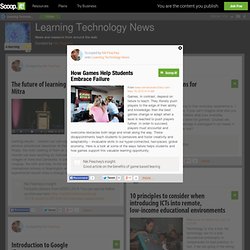 How Games Help Students Embrace Failure | Learn...
Textivate is an online facility for creating and sharing interactive browser-based activities. Text re-ordering, gap-fills, text re-construction, anagrams, matching, memory, hangman, flashcards, millionaire and lots more - all automatically generated based on any text and/or list of matching items that you put into the textivate text box. Much of the site is free to use, and subscribers can upload resources to share with their students or embed activities on a blog or website. It is browser-based, so it works on desktops, laptops, ipads etc. The activities are ideal for whole-class work with any interactive whiteboard.
How to Tell if Your Cat is Plotting to Kill You
Extra Credits – Gamifying Education