Gamifying Education
Gamification Classroom
ClassBadges Is A Free Way To Gamify Your Classroom
Looking to find a new, simple, and free way to gamify your classroom? There a new web tool out that you should probably know about. It's called ClassBadges and it's a free online tool where teachers can award badges for student accomplishments.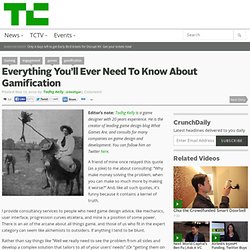 Editor's note: Tadhg Kelly is a game designer with 20 years experience. He is the creator of leading game design blog What Games Are, and consults for many companies on game design and development. You can follow him on Twitter here .
Everything You'll Ever Need To Know About Gamification
Effects of Video Games on our Brains ? ~ Educational Technology and Mobile Learning
I am really getting confused here. Just last month I posted an article entitled " Do Video Games Make Kids Violent ". This post was mainly inspired by the book I have read for Paul James Gee ( What Video Games Have to Teach Us About Learning and Literacy. Second Edition: Revised and Updated Edition
As I work with teachers to implement game-based learning (GBL), they are always looking for any free tools that exist. While some are willing to pay for iPad game apps or using the Kinect (3) , these tools often cost money. Luckily, there are many tools out there that are free and that teachers could use in the classroom as soon as tomorrow.
Free Tools to Incorporate Game-Based Learning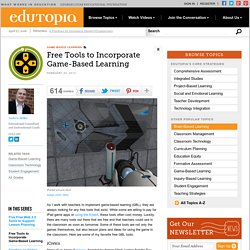 3 in Share Anyone Can Learn to Make a Game - Online Course Have you ever been curious about how to design your own game or wanted to learn how to create video games yourself? Turn your dream into reality and start learning to make a game today with Unity 3D!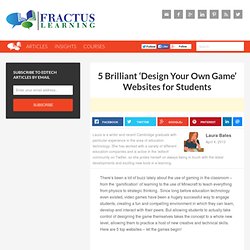 Octalysis: Complete Gamification Framework Gamification is design that places the most emphasis on the human in the process. In essence, it is Human-Focused Design (as opposed to "function-focused design").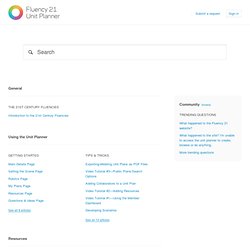 "How often will you hear that failure is an option? Sounds very defeatist! However, failure can be a valuable experience. Humans make mistakes, but they learn from their mistakes. A game-based learning experience personifies the practice of learning through failure. Jolie Barker, an innovative teacher, showcases her experiences with game-based learning and the rewards of higher scores on tests—and better behavior from engaged and excited students—in the following article she wrote for eSchool News."
How I Turned My Classroom into a 'Living Video Game'—and Saw Achievement Soar
Realistically, a "with it" teacher can teach almost anything using almost anything. I've been taught trigonometry using a paper clip, and expository structure using paint. Tech is great, but nowhere close to necessary. But if the underlying learning process is well-thought out, tech can provide powerful common ground for teachers and learners. So then, video games.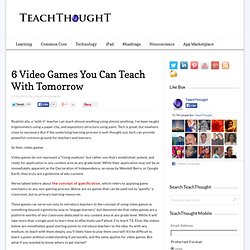 6 Video Games You Can Teach With Tomorrow
Ten reasons why game based learning works in education | connectED
1. Familiarity – Students are already familiar with many of the devices, regularly using iPads, iPhones, PSPs and (soon no doubt) the new PS Vita at home so adopting use inside the classroom can be quick and simple. See 'For The Young, Smartphones No Longer A Luxury Item' http://techcrunch.com/2012/02/20/for-the-young-smartphones-no-longer-a-luxury-item/ via @techcrunch 2. Engagement – Engages the disengaged. Teachers report regularly on how using digital resources in class captures student imagination. See a wonderful example here on the Guardian blog 'An English teacher discovers digital literacy really works' http://www.guardian.co.uk/teacher-network/2011/dec/05/engage-disengaged-students-digital-literacy 3.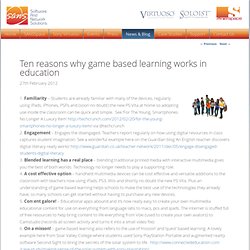 How Games Help Students Embrace Failure | Learn...
How To Gamify Your Classroom In 6 Easy Steps
How to Tell if Your Cat is Plotting to Kill You
Extra Credits – Gamifying Education