Papercraft
How To Make An Endless Love Valentine Card
Johan Scherft
Le forum en papier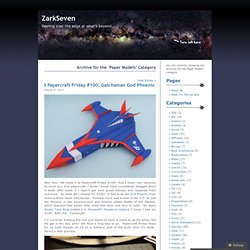 Woo Hoo! We made it to Papercraft Friday #100! And I mean "we" because as much as I love papercraft, I doubt I would have consistently blogged about it week after week if I hadn't got such great interest and response from everyone.
Paper Models « ZarkSeven
Paper Craft
Mundo Papercraft, Descarga modelos de papercraft gratis
Erick's Models
Welcome Welcome to Erick's Models, my place to show off my models and give back to the modeling community that helped improve my skills. Browse around and see what I have to offer. I try to update the site whenever I get more to put on here. Of course, this is just a hobby, so work and life can prevent me from doing a lot here.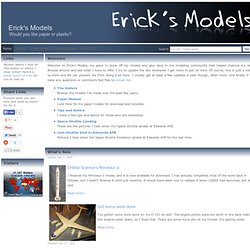 Epson - Exceed Your Vision
SD動物ペーパークラフト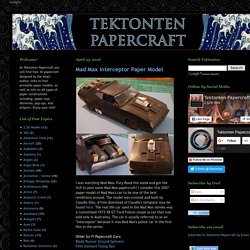 Here's a new take on the classic Christmas Advent calendar! From Mr. Printables:
Steak
I know from personal experience how hard it can be to keep the little people in your life entertained, particularly if like me you live in a country where winter just seems to drag on and on. So I thought I would dig out some easy, fun and damn cute paper models for that crafty kid in your life. Hey even if they get bored and want to watch cartoons at least you have something to do rather than watching Toy Story for the 30th time that week. Piperoids Amazon has these great little robots called Piperoids, there are many different versions to collect, they are all high quality and each have a story behind them, excellent for teaching kids about constructing things themselves Animal Matching Puzzle made from paper of course!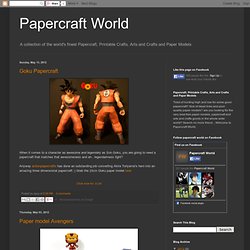 Paper Replika
Basic Tools and Materials Scissors & Cutting Tools A good pair of sharp scissors is one of the most important tools you will need. Dull scissors can rip the paper, make uneven cuts, and they can be hard to control when precision cutting is key. You can also invest in scissor sharpeners. Having a few different scissors for different tasks can also be helpful.
Paper Model Building Tips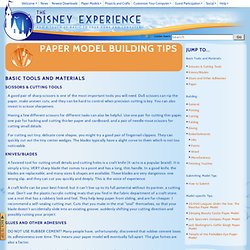 How to make Paper Craft Models | YAMAHA MOTOR
Paperpokés - Pokémon Papercrafts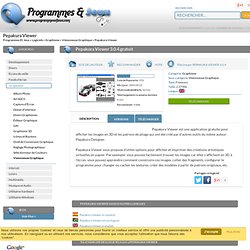 Pepakura Viewer est une application gratuite pour afficher les images en 3D et les patrons de pliage qui ont été créé par d'autres outils du même auteur: Pepakura Designer. Pepakura Viewer vous propose d'utiles options pour afficher et imprimer des créations artistiques virtuelles en papier. Par exemple: vous pouvez facilement trouver les images car elles s'affichent en 3D à l'écran, vous pouvez apprendre comment construire ces images, coller des fragments, configurer le programme pour changer ou cacher les textures, créer des modèles à partir de patrons originaux, etc.
Pepakura Viewer 3.0.4
A paper model of the iconic tank from SNK's console/arcade platform video game Metal Slug: Super Vehicle-001.Metal Slug Papercraft - Super Vehicle-001 Didier has created these papertoys inspired by the popular Adventures of Tintin comics by the Belgian cartoonist Herge. Included are Tintin, Captain Haddock and Snowy.Adventures of Tintin Papercraft Here's a beautiful model of a wolf's head that you can hang on your wall. You need to print out 13 pages of parts and the finished model is about 30cm big.Wolf Head Papercraft Here's a cubeecraft of Tyrion Lannister (also The Imp or The Halfman) to celebrate the return of the highly popular TV series Game of Thrones.Game of Thrones - Tyrion Lannister Cubeecraft
Ninjatoes' papercraft webpage
Maquette en carton
Un article de Wikipédia, l'encyclopédie libre. Pour cela il faut réaliser sur les feuilles de papier ou carton le « développement plan » de l'objet à construire : c'est en quelque sorte le patron 2D de l'objet 3D qui est assimilé à un assemblage de surfaces développables. Le patron sera ensuite découpé et l'objet sera obtenu par pliage et assemblage (en général collage). En langage populaire, ce type de modèle est fréquemment appelé découpage ou construction en carton.