Beauty
Bye Bye Beehive: Hair Styles. Hair! Head Scarf Tutorial. After many requests, I finally made a tutorial on how to tie a simple head scarf.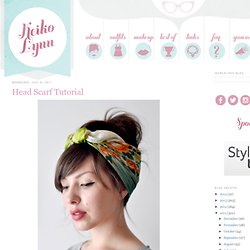 It's really, really easy. I did this without looking in the mirror, so that should tell you how easy it is. Let's get started! How-To: Instant Hairstyles- Do Yourself. How To Style a Side Braid. Here's a brand new, extra magical hair how-to by Katie of Skunkboy. 1.Start with a dramatic side part. 2.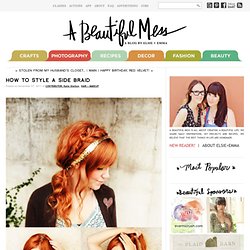 Separate a small section of hair on the side. This will be the beginning of your braid. 3.Taking that section, separate it into two smaller sections. 4. Using a fishtail braid method, begin braiding. 5. ...love Maegan: Messy Rope Braids and Low Bun Hair Tutorial Fashion+Home+Lifestyle Blog. These little rope braids are a fun way to add a little style with your own hair, creating a sort-of headband of sorts.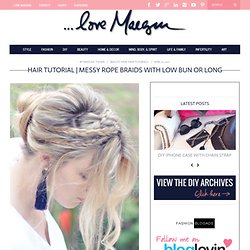 Your hair doesn't need to be extremely long, but you do need some length to cover the top of your head with. If you have layers, you could instead create a tiny French Braid where the hair is shorter and closer to your head, if that makes sense. But it's a fun and cute braided hair style that's just a little different. I originally wore this style last Summer with two slightly larger braids Watch and Enjoy… - StumbleUpon. Styling / Hair and Makeup Tips &Tricks. Tutorial - Simple 3 Twists Hairstyle. First, a little back story: I was on Pinterest (I know, big surprise) awhile back and Ms.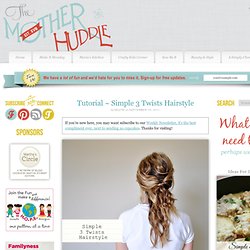 Ez from Creature Comforts pinned a fun messy hair-do, and mentioned she needed to learn how to do it. So I piped in that I should show her how. I have been wanting to do a hair tutorial for ages now, so this was the perfect reason to get it done. Hairstyles, Haircuts and Hair Colors | Hairstyles by TheHairStyler.com. Laser Disco Nail Art Tutorial. Fun Summer Hair in Minutes.
Happy Friday ladies!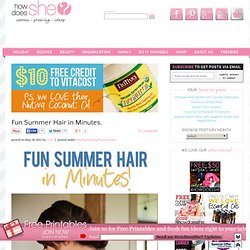 I just love this time of year- summer is just around the corner! Naturally, as weather changes so does my hairstyle. However, I am feeling like I need something new. My usual summer top knot, braids, or loose pony tail is just getting a bit…well, boring. Top 5 Youtube tutorials for gorgeous summer hairstyles - Top 5 Lists. Top 5 Youtube tutorials for gorgeous summer hairstyles Category: Fashion Created on Sunday, 08 July 2012 22:18 Written by Emily Lawrence.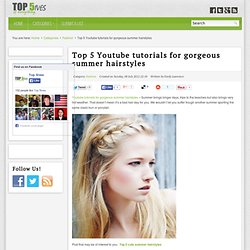 The Can-Do Updo | Spark. Fun Friday - Bandanas - asuyeta [ah-soo-yeh-tah] clothes &accessories. handmade with love. Bandanas are not only for Bret Michaels, you can wear them too.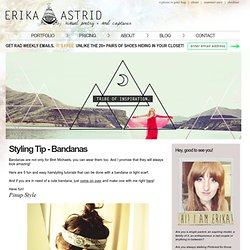 And I promise that they will always look amazing! Here are 5 fun and easy hairstyling tutorials that can be done with a bandana or light scarf. And if you are in need of a cute bandana, just come on over and make one with me right here! Have fun! LoveIt. Photo 1- You Totally Got This: 4 Easy Braids For Rookies. Feb 24, 2014 Even if you've landed your dream job and work in the coolest office ever, it's easy to fall into the business-as-usual rut when it comes to your beauty routine.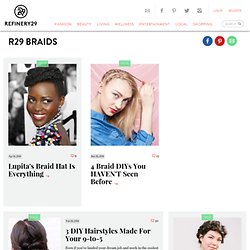 There isn't anything wrong with alternating…read Feb 18, 2014 If we ruled the world, our first decree would be to make daily braid wearing mandatory. Things I would Love To Do To my Hair!! &3. - StumbleUpon. 25 HairStyle TUTORIALS & EXTRAS! Looking GOOD!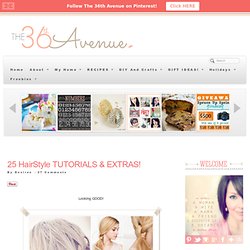 With the holidays also come a bunch of parties! Some of them are just family gatherings, some other ones are work related and some are hosted by great friends. Whatever the occasion is I think we ladies deserve to look good, regardless of our age, size or taste. So I put together for today's Sunday Best 25 tutorials of hair-styles and some few other EXTRAS for inspiration! The Messy Side Updo.
---