Home/design blogs
Bloesem. Stilsucht. Apartment Therapy. Chez Larsson. Interior Design Magazin & Blog – Schöner Wohnen Wohnideen Inneneinrichtung Einrichten Wohndesign. MoCo Loco - Modern contemporary design & architecture.
Sanvie|designbüro Kerstin Sandelmann. Caitlin wilson design: style files. Lauren of Lauren's Latest is sharing the perfect dish to get you through these last few cold days of Spring!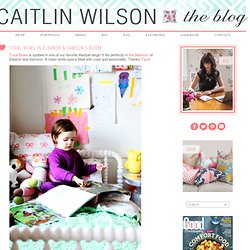 It seems this creamy tomato soup would pair nicely with a blanket and a good book. : ) Take it away Lauren! Are some of you guys still wading through the snow? IKEA Hackers. Freunde von Freunden. This Ain't No Disco (it's where we work) The style files. Sfgirlbybay - bohemian modern style from a san francisco girl. Emmas designblogg - design and style from a scandinavian perspective. 23qm Stil. NZZdomizil.ch mit Wohnwelten, Design, Interior, Trends, Guide, M?bel, Einrichtung und Style.
StyleSpion - Kai Müller über Design, Fotografie, Musik, Einrichtung und andere schöne Dinge des Lebens. Decor8. The selby - photos in your place. featuring photographs, paintings and videos by todd selby of interesting people and their creative spaces.
---