LIFE/PERSONALITY
Bucket List: 225 Things to Do Before You Die | Lifed | Page 2. 16.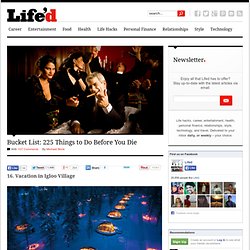 Vacation in Igloo Village Those who love winter (well, that, several feet of snow, and holy-crap-I-can't-feel-my-legs-anymore! Temps) are likely to find the Kakslauttanen, Finland Igloo Village right up their alley. In addition to rows-and-rows of heated, glass-dome igloos (keyword: HEATED) outfitted with beds, restrooms, and kitchens, the Village also boasts authentic igloos (for the most hardcore winter enthusiast) that never reach above freezing inside. MetLife Foundation: Remember Me. I Taught Photography at Summer Camp. A few years ago I spent a couple of summers working at a summer camp way, way out in the middle of nowhere in New Hampshire.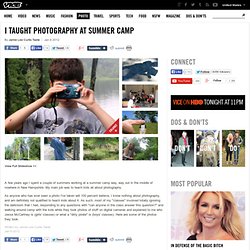 My main job was to teach kids all about photography. As anyone who has ever seen a photo I've taken will 100 percent believe, I know nothing about photography, and am definitely not qualified to teach kids about it. Hello I'm an Introvert! - Sticking Up for Yourself. 101 Things. 16 Things I Wish They Had Taught Me in School. I am 28 now.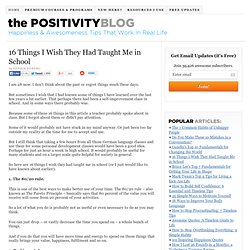 I don't think about the past or regret things much these days. But sometimes I wish that I had known some of things I have learned over the last few years a bit earlier. Is Your Job Killing You? Embed this infographic on your site!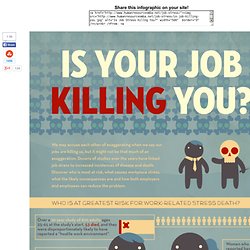 <a href=" src=" alt="Is Job Stress Killng You? " width="500" border="0" /></a><br />From: <a href=" We may accuse each other of exaggerating when we say our jobs are killing us, but it might not be that much of an exaggeration. Dozens of studies over the years have linked job stress to increased incidences of disease and death. With this infographic, discover who is most at risk, what causes workplace stress, what the likely consequences are and how both employers and employees can reduce the problem.
Personality Quiz. Tricks for remembering names. Following up on the earlier post about becoming a better listener, I get the feeling I'm not the only one with problems remembering peoples' names.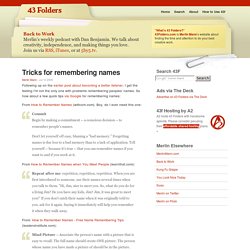 So how about a few quick tips via Google for remembering names: From How to Remember Names (wittcom.com). 15 Things Worth Knowing About Coffee. Top 10 Things That Determine Happiness. Photo: meddygarnet Happiness is, by nature, a subjective quality with a definition like a moving target.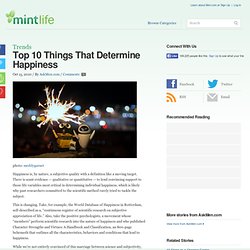 There is scant evidence — qualitative or quantitative — to lend convincing support to those life variables most critical in determining individual happiness, which is likely why past researchers committed to the scientific method rarely tried to tackle the subject. This is changing. Take, for example, the World Database of Happiness in Rotterdam, self-described as a, "continuous register of scientific research on subjective appreciation of life."
Also, take the positive psychologists, a movement whose "members" perform scientific research into the nature of happiness and who published Character Strengths and Virtues: A Handbook and Classification, an 800-page behemoth that outlines all the characteristics, behaviors and conditions that lead to happiness. Maslows-hierarchy-of-needs1.jpg (JPEG Image, 1344 × 1000 pixels) - Scaled (57%)
---