tutorials
Get flash to fully experience Pearltrees
Hi! We show you're using Internet Explorer 6. Unfortunately, IE6 is an older browser and everything at MindBites may not work for you.
This art tutorial, kindly donated by surfing comic strip illustrator and surf artist Bob Penuelas covers how to draw a wave the Wilbur Kookmeyer way! If you're like me, then you've probably spent a lot of time in high school class daydreaming and doodling a thousand perfect cartoon waves in your notebook. It's safe to say that ninety percent of us surfers have a habit of scribbling perfect waves whenever a pencil is in our hands.
How to Store Silk Screen Art When storing ant type of two dimensional silkscreen art it is important to pack the artwork in such a way that it... How to Silk Screen Print Have you ever wanted to create your own silk screen? Want to make and print your own custom t-shirts, bags, or posters?...
photoshop How to Create a Jumbotron Effect Create a jumbotron screen effect like you would see at big sporting events | 26406 views | by denisdesigns How to Create a Somber Composition
Feb 07 2011 Advertisement Brushes for Adobe Photoshop are known to be one of the most used add-ons since they don't just enhance your designs, but also help give your works a new, fresh and stunning look. Those of you who have a love for brushes may probably know a number of them listed in this post.
In order to create a , you do not need to be an expert photographer or own expensive photography equipment.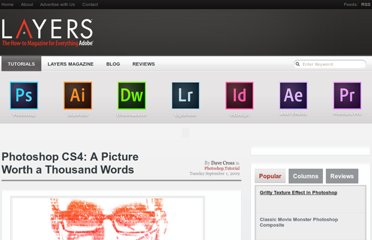 I love Photoshop techniques that offer all kinds of possibilities for experimentation—and the following tutorial is a perfect example of one of those techniques. In this issue, we're going to take a portrait and replace the person's image with text (think 2009 Grammy posters). Pick a portrait that offers good contrast—a photo that's very dramatic and dark probably won't work as well.
Want to learn how everything works in Photoshop? We'll help you make your photos better, draw vector graphics, and design a web site. Learn the Basics of Photoshop in Under 25 Minutes - To get started with Photoshop, you need to know what everything does.
If you are new to working in Lightroom your first few weeks will be a steep learning curve.
PS: We feature new, hand-picked tutorials every day! Subscribe to our RSS feed and get them delivered! photoshop 25 Worst Photoshop mistakes See what happens when designers mess up in Photoshop, good for a laugh.