Paintings
F1898.110.jpg (708×500) Painting on water - StumbleUpon. Talented young artist from Yangon, Myanmar. Before and after pictures of known | The Green Box. Grimshaw Louis H St Giles Cathedral Edinburgh - Classic Art Paintings. Julie Heffernan. From Julie Heffernan's Constructions of Self Julie Heffernan creates sensuous figurative painting, like co-Yale MFAS, John Currin and Linda Yuskavage, but her luminous oils are patently unique among them and most working artists today.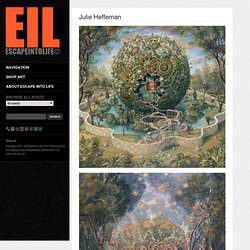 A Victorian impetus to conjoin, edging toward pastiche, creates artfully staged Surrealist environments. They avoid the mawkish or macabre by virtue of an evocative 17th century Baroque styling and the dignity with which she handles her primary subject, herself. Good construction is essential to the success of such works, built of disparate things suggesting disparate philosophies and ages. Beautiful/Decay Cult of the Creative Arts. Oil paintings by Esao Andrews. SUPAKITCH &KORALIE - VÄRLDSKULTUR MUSEET GÖTEBORG on Vimeo. Super Fast Spray Paint Artist. Dream Worlds Revealed On Canvas. Along with some magnificent dreams, Jacek Yerka finds inspiration for his masterful paintings from his childhood memories: the places, remembered feelings and smells of 1950′s Poland.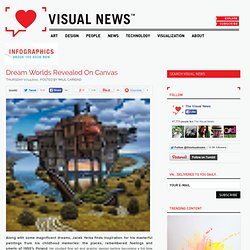 He studied fine art and graphic design before becoming a full time artist in 1980… and we're glad he did. His paintings will take you through incredible worlds of imagination, bending reality in captivating and clever ways fit to inspire a novel or film. See many more examples of his find paintings at yerkaland.com. See Also ENDEARING MONSTER DRAWINGS POP FROM THE SCREEN Via: hypeness.com.br.
Digital Diversity » Blog Archive » Creation of "Get Digitised" – Photoshop CS tutorial. Paul Delvaux: The Great Sirens (1979.356. 35 Inspiring Color Palettes from Master Painters | Art Varsity. Putting together a great color palette for your design work can be one of the most challenging aspects of any project.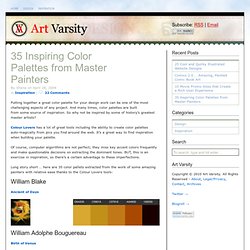 And many times, color palettes are built from some source of inspiration. So why not be inspired by some of history's greatest master artists?
---