Tutoriel
Get flash to fully experience Pearltrees
Et voilà, c'est la dernière formation vidéo offerte en partenariat avec video2brain , j'espère que tout ça t'a été utile ! On termine avec une vidéo sur les CSS, après avoir étudié le positionnement par bloc la semaine dernière , on jette un oeil aujourd'hui sur le système de grille 960px. De quoi s'agit-il ?
I've selected various Photoshop tutorials that I'm liking at the moment for light effects, some have quite cool techniques on how to achieve the end result that can be applied to a million different designs (try and experiment with them), check them out below. You might also enjoy: Design a Vista Styled Wallpaper
We all have shortcuts that are essential to our daily workflow. A majority of them are staples such as Copy ( Command + C ) and Paste ( Command + V ), but occasionally we stumble upon a shortcut we wish we'd learned years ago. Suddenly, this simple shortcut has streamlined our process and shaved quite a bit of time off our day. Collected here are some lesser known but extremely useful shortcuts.
This tutorial will help you learn how to speed up skin retouching and polish photos in Photoshop using basic techniques. Original Photo Step 1 Duplicate the background image and rename it to Layer 1 .
Advertisement When it comes to Adobe Illustrator, internet is full of interesting and impressive tutorials but checking each and every tutorial is a tedious task. Thus we have collected a list of most recent and important Illustrator Tutorials.
This article features a huge amount of Photoshop web design tutorials, which will teach you simple effects which can be combined together in order to create a great website design. Theses tutorials are perfect for first time Photoshop users because there short and sweet. I hope you enjoy the article and feel free to leave a comment below. you'll learn how to make this sleek layout with a carbon fiber background that would look great as a landing page for a website. 2) Design Studio Layout In this tutorial you will learn how to make a layout for your design studio website.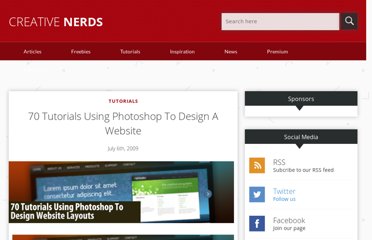 Découvrez les meilleurs scripts Photoshop pour donner un style unique à vos photos ou vos réalisations. Idéal pour renforcer votre univers graphique. Un script est un ensemble d'actions pré-enregistrées qui s'exécutent automatiquement. Pour ouvrir la console, Fenêtre => Scripts ou Alt + F9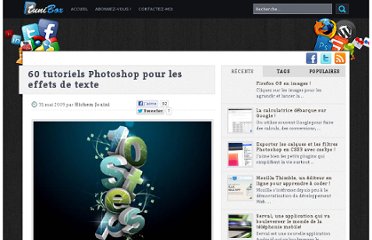 Le texte est un élément de base dans les maquettes et les créations graphiques. Le bon choix des polices et des couleurs requiert de l'expérience et un gout artistique développé pour arriver à des résultats surprenants. L'utilisation de Photoshop et l'ensemble des outils puissants pour texte qu'il propose permet de créer des effets de texte magnifiques.
Découvrez une sélection de tutoriaux récents et de bonne qualité pour apprendre à créer un webdesign complet de portfolio, de thème business, de page d'attente ou encore d'une page d'application iPhone ! Bonne lecture Créer le webdesign d'un site business