Books, articles and more
All 339 Books Referenced In "Gilmore Girls"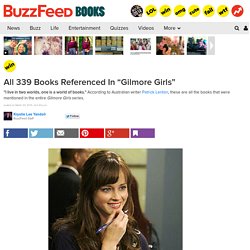 Warner Bros. Television / Via ew.com Anyone who's watched an episode of Gilmore Girls knows that Rory is something of a book lover and aren't surprised to find out that nearly 339 different texts were either read or mentioned throughout all seven seasons. From Rory's time at Chilton to her graduation from Yale and everything in between — including her oh, so literary relationship with Jess — it's abundantly clear to viewers that loving Rory also means loving her infatuation with literature. A lot of us grew up watching Rory grow up and were unintentionally influenced by the books she read and talked about.
As Valentine's Day (not to mention yet another cold night) approaches, you may find yourself in the mood for love. But what if you don't? Never fear, because all you have to do is pick up a book.
50 Sexy Books to Get You in the Mood (for Valentine's Day)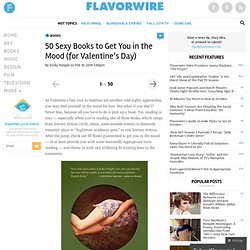 15 Highly Anticipated Books From (Mostly) Small Presses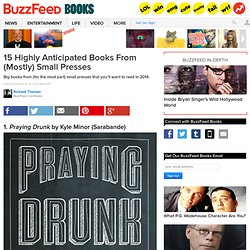 1. Praying Drunk by Kyle Minor (Sarabande) Building on the critical success of In the Devil's Territory, Kyle Minor's latest is a dark collection of intelligent stories that will break your heart over and over again. A mix of Southern gothic, crime, and horror — all with a literary bent — Minor knows that our morality is not not black and white, but shades of gray, and that our actions are often questionable.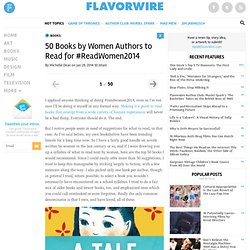 I applaud anyone thinking of doing #readwomen2014, even as I'm not sure I'll be doing it myself in any formal way. Making it a point to read books that emerge from a wide variety of human experiences will never be a bad thing. Everyone should do it.
50 Books by Women Authors to Read for #ReadWomen2014
Hello friends! I just wanted to let all of you know what the A Beautiful Mess Book Club will be reading in February. I'm excited to crack open my copy of The Fault in our Stars by John Green. I keep hearing wonderful things about this book!
ABM Book Club: February Selection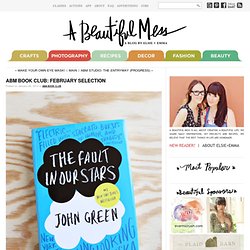 20th January 2014 If your New Year's Resolution this year is to travel more, you're not alone. But what if you don't get to travel as much as you would like?
TRAVEL: MY FAVOURITE BOOKS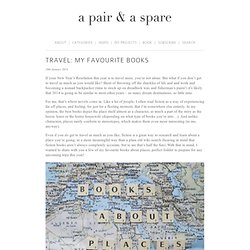 Donna Tartt's The Goldfinch is a myth exploded. It's a fairy tale for grown-ups, an outsized caper, a tragic love story, an improbable crime novel, a bromance, a coming-of-age tale, a dissection of family life post-divorce and post-death, an exercise in life-as-ekphrasis. Despite its wide range — nearly 800 pages — bustling cast of characters, and multiple coincidences (Dickens will come up in nearly every review of this book, and Tartt is a devoted fan), this is a novel that will enchant you into believing before you blink an eye. We start with the origin story of our protagonist Theo, which holds the same recognizable kind of magic that the origins of tragic orphans so often do. His mother is killed in a random bombing; an old, dying man presses a golden ring and a priceless painting into his hands and gives him a rhyming mission: "Hobart and Blackwell… Ring the green bell."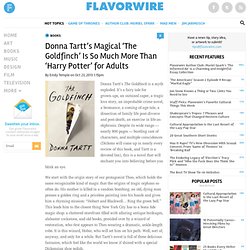 Donna Tartt's Magical 'The Goldfinch' Is So Much More Than 'Harry Potter' for Adults
20 Books That Make You A Better Twentysomething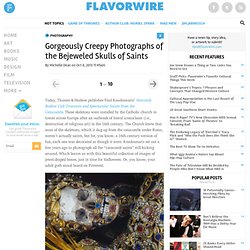 Gorgeously Creepy Photographs of the Bejeweled Skulls of Saints
Today, Thames & Hudson publishes Paul Koudounaris' Heavenly Bodies: Cult Treasures and Spectacular Saints from the Catacombs. These skeletons were installed by the Catholic church in towns across Europe after an outbreak of literal iconoclasm (i.e., destruction of religious art) in the 16th century. The Church knew that most of the skeletons, which it dug up from the catacombs under Rome, weren't actually saints, but for, you know, a 16th-century version of fun, each one was decorated as though it were. Koudounaris set out a few years ago to photograph all the "catacomb saints" still kicking around.
Best Wedding Reading Quotes - Famous Literary Quotes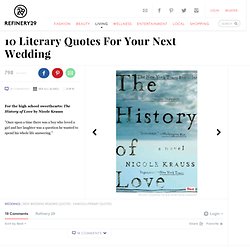 Photo: Courtesy of Simon & Schuster.For the non-traditional ceremony: A Heartbreaking Work of Staggering Genius by Dave Eggers "We throw the frisbee farther than anyone has ever seen a frisbee go. First it goes higher than anyone has thrown before, so that in the middle of the pale blue there is only the sun's glazed headlight and the tiny white disc, and then it goes farther than anyone has known a frisbee to go, with us having to use miles of beach, from one cliff to the other, thousands of people in between, to catch it.
The Independent recently published a pretty fascinating list of David Bowie's 100 favorite books. It was well stocked with classics — The Iliad, Madam Bovary, The Great Gatsby, 1984, and The Stranger all feature — but there are also a heap of fascinating lesser-known books, so much so that we thought we'd put together an annotated guide to some of the titles that caught our attention. Here are 15 that we can either vouch for directly or have added to our collective Flavorwire reading list. R. D. Laing — The Divided Self
An Annotated Guide to 15 of David Bowie's Favorite Books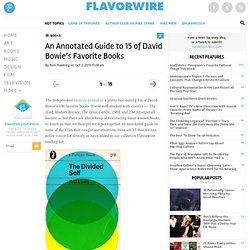 32 Books Guaranteed To Make You Laugh Out Loud
1. Is Everyone Hanging Out Without Me? (And Other Concerns), by Mindy Kaling
Cick here to see Bowie's top books The titles, ranging from Viz comic's vulgarity to The Divided Self, R.D. Laing's exploration into the nature of mental illness, reflect the broad range of influences Bowie has absorbed throughout his chameleon career. The list, released to mark the Canadian opening of the David Bowie Is exhibition, now on tour after a sell-out run at the Victoria and Albert Museum, also hints at the somewhat pretentious, aspiring 60s singer, who brandished a copy of Camus's The Stranger on the Underground for effect. The "Bowie's 100 books" list was sent to the exhibition curators by the singer's archivist, who keeps watch over a treasure chest of 75,000 costumes, sheet music, books and other memorabilia.
From Homer to Orwell: David Bowie's 100 favourite books revealed - News - Books
10 Must-Read Books for October
Autumn is new-book season, and as we wind our way into the days when the trees begin shedding, the Halloween decorations start going up, and the air becomes cooler, October offers up some of the year's most anticipated titles. This month's crop includes Jonathan Franzen teaching the masses about Karl Kraus, a Philip Roth reader, a new Elizabeth Gilbert novel, and a handful of other great books to help ease us from Indian Summer into straight-up sweater weather. The Goldfinch, Donna Tartt (October 22) The #Galleybrag book of the year, Tartt's first novel since 2002′s The Little Friend and third overall is about to soar to the top of the to-read list for everyone who likes fiction. At a sprawling 800 pages, it follows a 13-year-old boy who loses his beloved mother — and gains a secret and an obsession in the form of the titular painting — in an explosion at the Metropolitan Museum of Art.
Book News: National Book Award Fiction Longlist Includes Lahiri, Pynchon : The Two-Way
(This post was updated at 10 a.m.) hide captionThe winners of the National Book Awards will be announced Nov. 20. NationalBook.org The daily lowdown on books, publishing, and the occasional author behaving badly. The National Book Awards' fiction longlist was announced Thursday morning, and includes 10 novelists ranging from established writers such as the legendary Thomas Pynchon to debut novelist Anthony Marra.
True Love, Book Fights, And Why Ugly Stories Matter : Monkey See
Regular Monkey See readers know that I've been a fan for some time of Rainbow Rowell, whose first book, Attachments, was a thoughtful romance that utterly charmed me. (Full disclosure: It was after I began reading her books that I got to know Rowell a bit, enough that we actually met in person for the first time Tuesday night for dinner, ahead of her Wednesday night event at Politics & Prose in Washington, where she'll be talking about her new book, Fangirl.) But it's news about Eleanor & Park, the book she wrote between Attachments and Fangirl, that had me fretting and frustrated this morning as soon as I woke up. Yesterday, Rowell spoke to Mallory Ortberg at The Toast about the fact that the Anoka-Hennepin School District in Minnesota had canceled her upcoming visit to talk about Eleanor & Park, which school librarians had chosen as an optional summer read.
30 "Guilty Pleasure" Books That Are In Fact Awesome
50 Works of Fiction in Translation That Every English Speaker Should Read
Oyster iPhone Digital E-Library App
40 Trashy Novels You Must Read Before You Die
Best New Books For Fall - Reading Guide
32 Books That Will Actually Change Your Life
19 Contemporary British Novels You Need to Read Now
50 Sci-Fi/Fantasy Novels That Everyone Should Read
The 25 Best Websites for Literature Lovers
10 Must-Read Books for August
Which Books Should You Read If You Want To Get Laid?
2013′s 10 Best Paperbacks (So Far)
7 Better-Than-Beach-Reads About Famous Writers
2013′s 10 Best Works of Fiction So Far
23 Books You Didn't Read In High School But Actually Should
10 New Must-Reads for July
10 of the Greatest Debut Sci-Fi/Fantasy Novels
10 New Must-Reads for June
Best Books - Summer Reading List 2013
20 Books Every Woman Should Read in Her 20s
65 Books You Need To Read In Your 20s
It's D.E.A.R Day!
10 Phenomenally Tricky Books Everyone Should Read
The 25 Greatest Essay Collections of All Time
10 Books to Read While You Wait for 'Game of Thrones' to Come Back
10 Great American Novel Contenders From the Past Decade
10 New Must-Reads for March
The 10 Greatest Dystopian Love Stories in Literature
setting book lists
The Best Science Fiction Books (According to Reddit)
find books
Historical Fiction : NPR
The Staff Recommends: Home - StumbleUpon
BBC Meme: How Many of These 100 Books Have YOU Read? | What Are You Reading...
Get (Almost) Any Book For Free: 100+ (Kosher) Sites Offering Great...
Free eBooks at Planet eBook - Classic Novels and Literature
Whichbook | A new way of choosing what to read next