Books, articles and more
Donna Tartt's The Goldfinch is a myth exploded.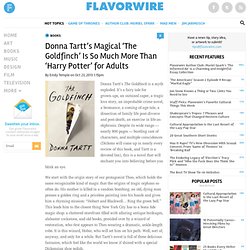 Donna Tartt's Magical 'The Goldfinch' Is So Much More Than 'Harry Potter' for Adults
20 Books That Make You A Better Twentysomething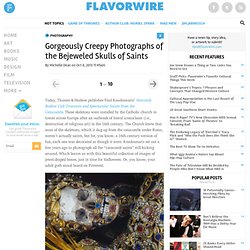 Gorgeously Creepy Photographs of the Bejeweled Skulls of Saints
Today, Thames & Hudson publishes Paul Koudounaris' Heavenly Bodies: Cult Treasures and Spectacular Saints from the Catacombs.
Best Wedding Reading Quotes - Famous Literary Quotes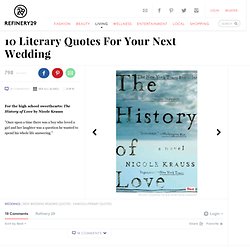 Photo: Courtesy of Simon & Schuster.For the non-traditional ceremony: A Heartbreaking Work of Staggering Genius by Dave Eggers
The Independent recently published a pretty fascinating list of David Bowie's 100 favorite books. It was well stocked with classics — The Iliad, Madam Bovary, The Great Gatsby, 1984, and The Stranger all feature — but there are also a heap of fascinating lesser-known books, so much so that we thought we'd put together an annotated guide to some of the titles that caught our attention.
An Annotated Guide to 15 of David Bowie's Favorite Books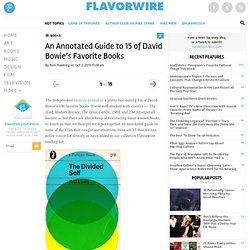 32 Books Guaranteed To Make You Laugh Out Loud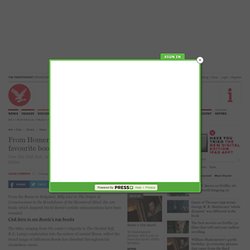 Cick here to see Bowie's top books
From Homer to Orwell: David Bowie's 100 favourite books revealed - News - Books
10 Must-Read Books for October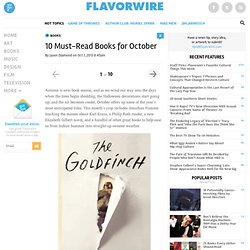 Autumn is new-book season, and as we wind our way into the days when the trees begin shedding, the Halloween decorations start going up, and the air becomes cooler, October offers up some of the year's most anticipated titles.
Book News: National Book Award Fiction Longlist Includes Lahiri, Pynchon : The Two-Way
(This post was updated at 10 a.m.)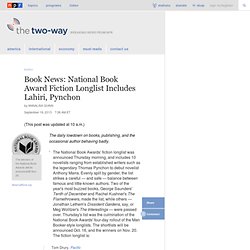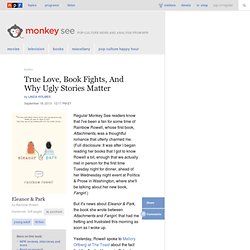 True Love, Book Fights, And Why Ugly Stories Matter : Monkey See
Regular Monkey See readers know that I've been a fan for some time of Rainbow Rowell, whose first book, Attachments, was a thoughtful romance that utterly charmed me.
30 "Guilty Pleasure" Books That Are In Fact Awesome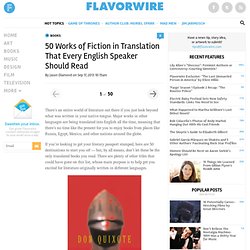 There's an entire world of literature out there if you just look beyond what was written in your native tongue. Major works in other languages are being translated into English all the time, meaning that there's no time like the present for you to enjoy books from places like Russia, Egypt, Mexico, and other nations around the globe. If you're looking to get your literary passport stamped, here are 50 destinations to start you off — but, by all means, don't let these be the only translated books you read.
50 Works of Fiction in Translation That Every English Speaker Should Read
Photo: Courtesy of Oyster Books.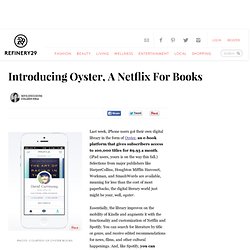 Oyster iPhone Digital E-Library App
First things first: the history of the novel is already tangled up with the notion of "trash." Peruse the great 19th-century realist novels — particularly Jane Austen's, say — and you'll catch characters insulting each other's reading habits.
40 Trashy Novels You Must Read Before You Die
Best New Books For Fall - Reading Guide
Photos: Courtesy of Sophie Gilbert; Little, Brown and Company. Sophie Gilbert, arts editor at Washingtonian
32 Books That Will Actually Change Your Life
19 Contemporary British Novels You Need to Read Now
Perhaps my opinion here owes much to the fact that I'm Canadian and therefore still subject to excessive colonial reverence for people with cool accents and universities that date to the 13th century who put all the "u"s in the proper places in the words!
50 Sci-Fi/Fantasy Novels That Everyone Should Read
People say it all the time: they'd love to get into science fiction or fantasy, but they've no idea where to start.
It's an interesting relationship that book lovers have with the Internet: most would rather read a physical book than something on an iPad or Kindle, and even though an Amazon purchase is just two or three clicks away, dedicated readers would rather take a trip to their local indie bookstore. Yet the literary world occupies a decent-sized space on the web.
The 25 Best Websites for Literature Lovers
10 Must-Read Books for August
Which Books Should You Read If You Want To Get Laid?
2013′s 10 Best Paperbacks (So Far)
7 Better-Than-Beach-Reads About Famous Writers
2013′s 10 Best Works of Fiction So Far
23 Books You Didn't Read In High School But Actually Should
10 New Must-Reads for July
10 of the Greatest Debut Sci-Fi/Fantasy Novels
10 New Must-Reads for June
Best Books - Summer Reading List 2013
20 Books Every Woman Should Read in Her 20s
65 Books You Need To Read In Your 20s
It's D.E.A.R Day!
10 Phenomenally Tricky Books Everyone Should Read
The 25 Greatest Essay Collections of All Time
10 Books to Read While You Wait for 'Game of Thrones' to Come Back
10 Great American Novel Contenders From the Past Decade
10 New Must-Reads for March
The 10 Greatest Dystopian Love Stories in Literature
setting book lists
The Best Science Fiction Books (According to Reddit)
Seven books you HAVE to read before you finish university & GoodbyeBoredom.com
find books
Historical Fiction : NPR
The Staff Recommends: Home - StumbleUpon
BBC Meme: How Many of These 100 Books Have YOU Read? | What Are You Reading...
Get (Almost) Any Book For Free: 100+ (Kosher) Sites Offering Great...
Free eBooks at Planet eBook - Classic Novels and Literature
Whichbook | A new way of choosing what to read next