On Life
35 Inspiring Quotes from Albert Einstein & Always Well Within - StumbleUpon. Albert Einstein (March 14, 1879 – April 18, 1955), the famous theoretical physicist, developed the theory of relativity and is considered the father of modern physics.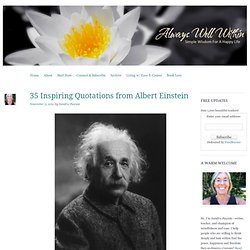 The nuclear physicist Robert Oppenheimer shared his impressions of Einstein by saying, "He was almost wholly without sophistication and wholly without worldliness . . . There was always with him a wonderful purity at once childlike and profoundly stubborn." Due to his brilliance Einstein was often called upon to offer opinions on topics beyond the realm of physics; thus the wide range of inspired quotations. - StumbleUpon. - StumbleUpon. - StumbleUpon. - StumbleUpon. 15 Awesome Inspirational Quotes by Celebrities and Famous People.
My Most Favorite Story….Ever | Humor Dairy. - StumbleUpon. Collected Quotes from Albert Einstein - StumbleUpon. [Note: This list of Einstein quotes was being forwarded around the Internet in e-mail, so I decided to put it on my web page.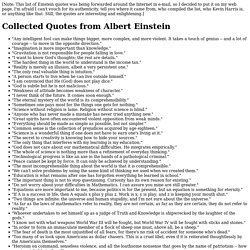 I'm afraid I can't vouch for its authenticity, tell you where it came from, who compiled the list, who Kevin Harris is, or anything like that. Still, the quotes are interesting and enlightening.] "Any intelligent fool can make things bigger, more complex, and more violent. It takes a touch of genius -- and a lot of courage -- to move in the opposite direction. " "Imagination is more important than knowledge. "
---