Physics
The Oh-My-God Particle. By John Walker January 4, 1994 Fly's Eye The University of Utah operates a cosmic ray detector called the Fly's Eye II, situated at the Dugway Proving Ground about an hour's drive from Salt Lake City.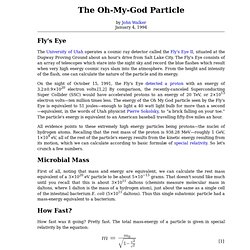 Alcubierre Warp Drive Time Travel. An Alcubierre Warp Drive stretches spacetime in a wave causing the fabric of space ahead of a spacecraft to contract and the space behind it to expand.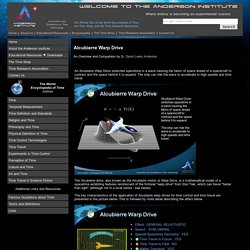 The ship can ride the wave to accelerate to high speeds and time travel. The Alcubierre drive, also known as the Alcubierre metric or Warp Drive, is a mathematical model of a spacetime exhibiting features reminiscent of the fictional "warp drive" from Star Trek, which can travel "faster than light" (although not in a local sense - see below). Imagining the Tenth Dimension - A Book by Rob Bryanton. For One Tiny Instant, Physicists May Have Broken a Law of Nature.
This image of a full-energy collision between gold ions shows the paths taken by thousands of subatomic particles produced during the impact.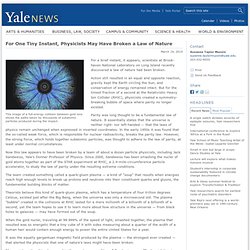 For a brief instant, it appears, scientists at Brook­haven National Laboratory on Long Island recently discovered a law of nature had been broken. Action still resulted in an equal and opposite reaction, gravity kept the Earth circling the Sun, and conservation of energy remained intact. 13 more things that don't make sense. Cookies on the New Scientist website close Our website uses cookies, which are small text files that are widely used in order to make websites work more effectively.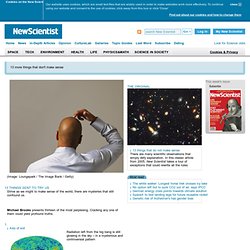 To continue using our website and consent to the use of cookies, click away from this box or click 'Close' Find out about our cookies and how to change them Log in.
---