Curation MM
Myrstad's Blog » Blog Archive » Content Curation – Growing Up and Coming of Age. The impetus to this blog post (developed via curation and creation), was my fascination when I came across the following story that broke in the middle of May: "Man tracks stolen laptop hundreds of miles away, calls thief". – A very real example of what is going on in the content curation space today.
@seanpower (Sean Power), an Ottawa, Canada native living in New York, was on a visit to Canada (without his laptop), when he discovered, through his Prey software, that his laptop was in the hands' of a stranger back in New York. Immediately, the tweeting began. As the story evolved, Sean Power managed to follow his travelling laptop as a victim, as a private person, with an alias, eventually identifying the person who had stolen it and moving a potential criminal case to its conclusion and positive solution – all through communication via social media and with the help of various different stakeholders.
Curation Best Practice
New 8. Social media engagement – 5 Cs to use content to your advantage | Beast of Traal. I have always stressed my belief that 'content is king', particularly when it comes to corporate/brand approaches to social media.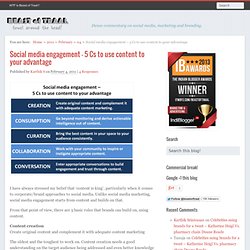 Unlike social media marketing, social media engagement starts from content and builds on that. From that point of view, there are 5 basic roles that brands can build on, using content. Content creation Create original content and complement it with adequate content marketing The oldest and the toughest to work on. Content creation needs a good understanding on the target audience being addressed and even better knowledge of the brand's theme for communication. Google launches algorithm change to tackle content copying. Will it help? In a blog post last week, Matt Cutts, head of Google's Webspam team, wrote about the progress the team has made in reducing the amount of spam in search engine results.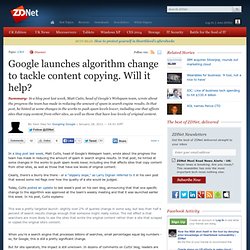 In that post, he hinted at some changes in the works to push spam levels lower, including one that affects sites that copy content from other sites, as well as those that have low levels of original content. Clearly, there's a blurry line there - or a "slippery slope," as Larry Dignan referred to it in his own post that waved some red flags over how the quality of a site would be judged. Today, Cutts posted an update to last week's post on his own blog, announcing that that one specific change to the algorithm was approved at the team's weekly meeting and that it was launched earlier this week.
NewsMix takes on Flipboard with their curated news app. Flipboard may have been first to market with their Twitter and Facebook curated news service, but they certainly won't be the last.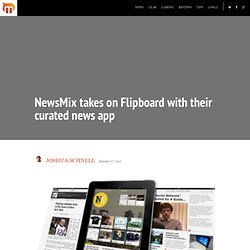 The popular news application scours your Facebook and Twitter streams for links and then builds a personalized news feed for you based on what your friends were sharing online. Flipboard is pretty amazing, and now we're starting to see some real innovation in the field with Sobees' NewsMix. Flipboard still rules the roost when it comes to socially curated news, but having newcomers in the field is a great idea. Genieo now available for Mac, recognizes your favorite web content. Genieo is now available for the Mac with a unique approach to managing information overload.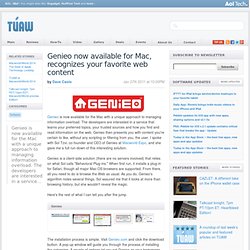 The developers are interested in a service that learns your preferred topics, your trusted sources and how you find and read information on the web. Genieo then presents you with content you're certain to like, without any scripting or filtering from you, the user. Magazines Require Innovation, Experiments in Digital and Print.
Some magazine fans may feel like their favorite publications are dissolving into fragments of their former selves: fractured content distributed throughout the web, social media, digital editions and the surviving print versions.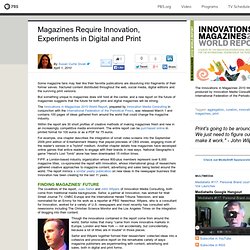 But something unique to magazines does still hold at the center, and a new report on the future of magazines suggests that the future for both print and digital magazines will be strong. The Innovations in Magazines 2010 World Report, prepared by Innovation Media Consulting in conjunction with the International Federation of the Periodical Press, was released March 1 and contains 100 pages of ideas gathered from around the world that could change the magazine industry. Within the report are 30 short profiles of creative methods of making magazines fresh and new in an increasingly competitive media environment.
The entire report can be purchased online in printed format for 100 euros or as a PDF for 75 euros. No Layout. What's in it from me? Crowdsourced magazines and storytelling. As a child, did you ever imagine yourself waiting for a call from people in need, people who were praying that you'd see their signal and come to the rescue?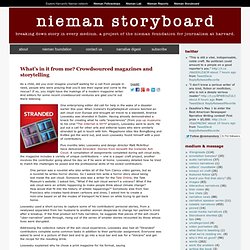 If so, you might have the makings of a modern magazine writer. And editors for some recent crowdsourced ventures are glad you're out there listening. One enterprising editor did call for help in the wake of a disaster earlier this year. When Iceland's Eyjafjallajökull volcano belched an ash cloud over Europe and brought air travel to a standstill, Andrew Losowsky was stranded in Dublin. Having already demonstrated a knack for creating what he calls "experiences" (from pop-up museums to his viral "The Internet is Sh*t" project), Losowsky went to work. Longshot! The Three C's of Social Networking: Consumption, Curation, Creation. Over the years, social networks have lured us from the confines of our existing realities into a new genre of digital domains that not only captivated us, but fostered the creation of new realities.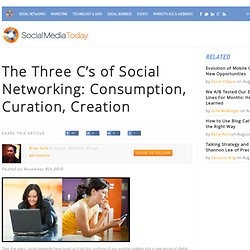 As George Bernard Shaw observed, "Life is not about finding yourself, life is about creating yourself." Such is true for social networks and the digital persona and resulting experiences we create and cultivate. It was the beginning of the shift in behavior toward an era of digital extroversion, self-defined by varying degrees of sharing, connections, and engagement. The Future of Social Media in Journalism. This series is supported by Gist.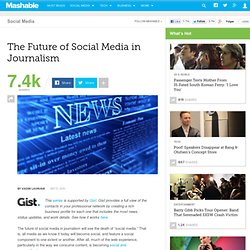 Gist provides a full view of the contacts in your professional network by creating a rich business profile for each one that includes the most news, status updates, and work details. See how it works here. The future of social media in journalism will see the death of "social media." That is, all media as we know it today will become social, and feature a social component to one extent or another. After all, much of the web experience, particularly in the way we consume content, is becoming social and personalized.
Who is The Daily trying to reach? What problem is it trying to solve? Technically, I'm on vacation in warmer climes this week, far away from the northeast's snowpocalypse du jour.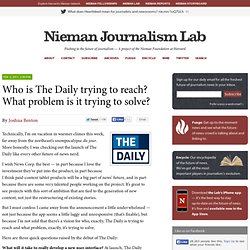 More honestly, I was checking out the launch of The Daily like every other future-of-news nerd. I wish News Corp. the best — in part because I love the investment they've put into the product, in part because I think paid-content tablet products will be a big part of news' future, and in part because there are some very talented people working on the project. It's great to see projects with this sort of ambition that are tied to the generation of new content, not just the restructuring of existing stories. But I must confess I came away from the announcement a little underwhelmed — not just because the app seems a little laggy and unresponsive (that's fixable), but because I'm not sold that there's a vision for who, exactly, The Daily is trying to reach and what problem, exactly, it's trying to solve. Community curation of the blekko.com programming slashtags. Traction Software, Inc. | Blog1521: Fixing Enterprise Search.
Content Is No Longer King: Curation Is King.
Sulia | The Interest Network. The Egypt list: Sulia curates content by curating expertise. One of the biggest challenges in covering the unrest in Egypt — or, for that matter, in covering any event that's in some way "foreign" — is determining who can provide relevant and accurate news about the event. To curate content is in large part to curate expertise; faced with a frenzy of news updates — some of them true, some of them false, some of them in-between — how do you know which updates, and whose updates, to listen to?
How do you know whom to trust? Sulia, a NYC-based startup, has made it a point to figure that out. Guillaume Decugis: "The human curation reinjected in the Web" - 20minutes.fr. Why content curation is the new hype for content marketing. Content marketing is too demanding Content marketing is the hype as it uses content as a currency to get attention of your audience or potential customers instead of paying for advertising. The main drawback of content marketing is the requirement of creating content. For most people creating new original content is just too demanding. If you want to create new content every day or several times a day, chances are you will run out of ideas after a few months (writers block ?). The glut of content is an opportunity On the other hand there is already an abundance of content on the Internet by professional writers, bloggers and user generated content that gets published on the Internet almost every second of the day.
Abundance indicates the overload of information and quantity of content to be read, consumed and absorbed. Content Marketing: 10 Thought Leaders Share Thoughts on Curating Content. Companies are realizing the value in "brands as publishers" and are making real commitments to the creation of content in their online marketing mix. It's no longer enough to provide fundamental features and benefits information about products and services to succeed competitively online. Consumers and of course, business buyers, seek additional information, resources and others to connect with on the topics of interest to them. Some companies choose a pure creation strategy and find it to be a formidable undertaking, especially creating unique and valuable content over a long period of time.
Digital curation. The term curation in the past commonly referred to museum and library professionals. It has since been applied to interaction with social media including compiling digital images, web links and movie files. Approaches to digital curation[edit] The Digital Curation Centre is a "world leading centre of expertise in digital information curation"[5] that assists higher education research institutions.
The DCC is based in the UK and began operations in early 2004. Content Curation Tools: How To Pick The Right Venue? | Real-Time News Curation | Scoop.it. I'm seeing more Scoopit links in my Twitter stream and I'm not crazy about it. Sure it's quick and easy to share with Scoopit. But it not quick and easy to consume. For me it's all about the econ... Marty Note (here is comment I wrote on Dr. V's blog) Content Curation in B2B Marketing : Business Blog Consulting. Inside the Mind of a Community Manager (Social Studies Blog) | Brand & Content Curation. Managing the Internet message. Is Social Media Crowdsourcing Making Us Lazy? | Danny Brown. The Seven Needs of Real-Time Curators. Music radio may be dead, but music curation lives on | Puddlegum. Transmedia Storyteller.
New 5. New 4. Quora Q&A. Cadmus. Curation Bloges and Sites. New 3. New 2. Non-Algoritm. Algoritmer. Edit dig. User digs. Strategy.
---