Sites et blogs eco pointus, en anglais
CARPE DIEM
The Bonddad Blog
Global Macro Monitor
Buttonwood's notebook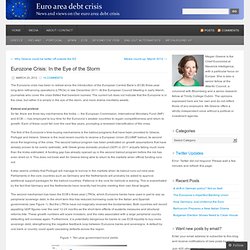 The Eurozone crisis has been in retreat since the introduction of the European Central Bank's (ECB) three-year long-term refinancing operations (LTROs) in late December 2011. At the European Council Meeting in early March, journalists who cover the crisis fretted that boredom loomed. The current lull does not indicate that the Eurozone is in the clear, but rather it is simply in the eye of the storm, and more drama inevitably awaits.
Eurozone Crisis: In the Eye of the Storm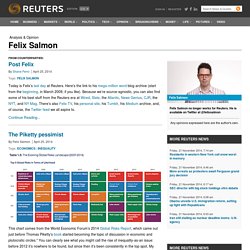 Ostensibly Respectable Academic Is In Fact A Hack: it's a hardy perennial, and an enjoyable one at that. The best example is Inside Job, where big names like Ric Mishkin and Glenn Hubbard got their well-deserved comeuppance. And it's a genre I've indulged in myself: last year, for instance, I spent 4,500 words on a paper by Bob Litan, showing how he lies with numbers to arrive at his paymasters' predetermined conclusion. But here's the thing: for this kind of article to carry any weight, it has to demonstrate the mendacity or venality of the academics in question — and, ideally, those academics should have a high-profile reputation which deserves to be tarnished. Which is why David Kocieniewski's article about Craig Pirrong and Scott Irwin this weekend is such a disappointment.