Sites et blogs eco pointus, en anglais
Economic Musings
1. "The number of improving housing markets across the country rose to 99 in September, according to the National Association of Home Builders/First American Improving Markets Index (IMI), released this week. This is up from 80 metros that were listed as improving in August and includes representatives from 33 states as well as the District of Columbia. The IMI identifies metropolitan areas that have shown improvement from their respective troughs in housing permits, employment and house prices for at least six consecutive months." Barry Rutenberg, chairman of the National Association of Home Builders (NAHB) and a home builder from Gainesville, Fla. said, "This solid growth is an encouraging sign that housing continues on a slow but steady recovery path that is gradually advancing from one local market to the next."
CARPE DIEM
The Bonddad Blog
- by New Deal democratTwo signifiant arguments contra my contention that housing demand will actually decrease at least for awhile YoY this year are that (1) there is a lot of pent-up demand, and (2) interest rates at 3% are still low so there shouldn't be that much of a reaction. Fair points. But this isn't the first time that there has been pent-up demand for housing in an era of low interest rates.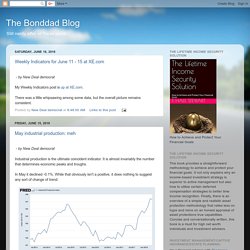 Economic Myth Busting – The Video Version I joined Erin Ade on Boom Bust on RT TV this afternoon to discuss economic myths and hyperinflation. We covered a lot of ground in 10 minutes including the money multiplier, paying back government debt, the government's debt constraint, hyperinflation and the "money printing" myth. 5 Things To Ponder: Beer Goggles, Fires And Luck While the article was based around the historical statistical data, it got me to thinking about the average investor and where they are currently positioned in the markets today. More importantly, what are some of the risks that could derail the previous analysis.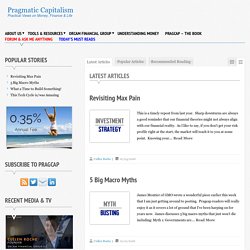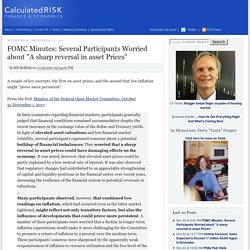 by Bill McBride on 1/17/2014 04:20:00 PM From housing economist Tom Lawler: Based on realtor association/MLS reports from across the country, I estimate that US existing home sales as measured by the National Association of Realtors ran at a seasonally adjusted annual rate of 4.96 million in December, up 1.2% from both November's seasonally adjusted pace and last December's seasonally adjusted pace. I estimate that unadjusted sales (as measured by the NAR) showed a slightly higher YOY growth than SA sales, reflecting this December's higher business day count than last December.
Global Macro Monitor
The Market Radar We anticipate, monitor, and comment on market moving global economic and geopolitical issues. No dark side brooding, no wanting the world to end, no political rants. Traders, investors, policymakers, or market observers can't afford to ignore us. Daily Risk Monitor – April 17
Posted by: abnormalreturns, January 25th, 2014 at 8:27 am The weekend is a great time to catch up on some posts that were either too long or simply didn't fit in during the week. Hope you enjoy! Investing Small investors have a big advantage: small stocks. (Old School Value)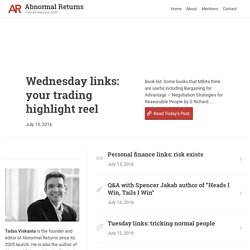 In a speech at the National Press Club in Washington, IMF managing director Christine Lagarde stated "If inflation is the genie, then deflation is the ogre that must be fought decisively." With that sentence Lagarde did something most central banks won't: discuss Lord Voldemort, the deflation ogre, by name. Please consider Christine Lagarde warns of growing threat of deflation. "With inflation running below many central banks' targets, we see rising risks of deflation, which could prove disastrous for the recovery," said Ms Lagarde, in a speech at the National Press Club in Washington.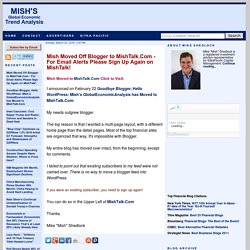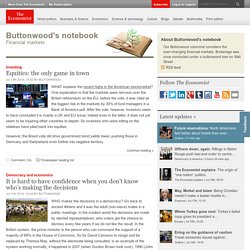 THE stockmarket ploughs ahead in its merry way, in the serene confidence that the US economy has regained some momentum, the eurozone has avoided a turbulent break-up and, if all else fails, the central banks can be relied upon to keep the party going. But what if there is a risk that the market doesn't like to think about - that the global economy could slip back into recession? Surely that can't be right; the recovery is yet to really get going? But in his latest research note, Albert Edwards of SocGen points out that
Buttonwood's notebook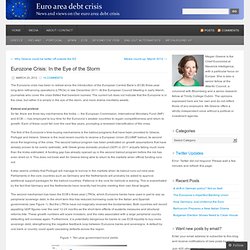 The Eurozone crisis has been in retreat since the introduction of the European Central Bank's (ECB) three-year long-term refinancing operations (LTROs) in late December 2011. At the European Council Meeting in early March, journalists who cover the crisis fretted that boredom loomed. The current lull does not indicate that the Eurozone is in the clear, but rather it is simply in the eye of the storm, and more drama inevitably awaits.
Eurozone Crisis: In the Eye of the Storm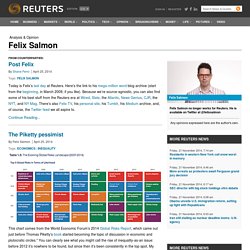 Three years ago, with a post entitled "philanthropy isn't for profit", I expressed the hope that we had finally reached a turning point, and that people would "do good to do good, rather than simply declaring that the best way they can do good is to chase profit as zealously as possible". And maybe I was right. That post was directed in part at Matthew Bishop, who had written a silly article asking whether IBM had done more good for the world than the Carnegie philanthropies. But this evening, when I ran into Bishop at an event for rich people in a swanky midtown club, he couldn't bring himself to defend Larry Page, who said something similar at TED: Rose asked him about a sentiment that Page had apparently voiced before that rather than leave his fortune to a cause, that he might just give it to Elon Musk.