Be inspired
HOW TO: Jump-Start Your Career by Becoming an Online Influencer. David Spark is a veteran tech journalist and the founder of the media production and consulting firm Spark Media Solutions.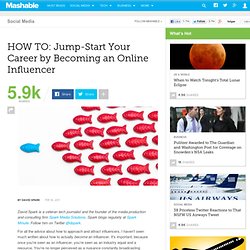 Spark blogs regularly at Spark Minute. Follow him on Twitter @dspark. For all the advice about how to approach and attract influencers, I haven't seen much written about how to actually become an influencer. It's important, because once you're seen as an influencer, you're seen as an industry equal and a resource. You're no longer perceived as a nuisance constantly broadcasting your own agenda, hoping others will relay.
Vente privee : l'actualité des ventes privées. Message de Jacques-Edouard Charret, président groupe Quick, sur le restaurant Quick Avignon Cap Sud (9)
Appli facebook
Crowdsourcing. United Breaks Guitars.
---