mscherich
Get flash to fully experience Pearltrees
This post is the beginning of a master list of free Web sites and Web 2.0 tools that teachers and students can use instantly for literacy projects focusing on word work, vocabulary, comprehension, reader response, and fluency. Come take a look at some really cool tools that are sure to make your reading skills come alive! made on Wondersay - Animate text with style Last week's post, " Reading Book Projects With Flip Video, Digital Cameras, Web 2.0, and More ," asked for reader feedback about free Web sites and Web 2.0 tools that can be used for literacy projects like those my kindergarten students are doing each week.
- guest post by Karen Schweitzer Where to Find Free Web 2.0 Tools for the Classroom Teachers who want to put web 2.0 technologies to work for them can find many different free options online.
August 7, 2012 To all my educator colleagues: As you all know, I retired in June of 2011 from my school district job as Director of Technology. I retired to spend more time learning new things to support you as you embed technology into teaching and learning in a meaningful way.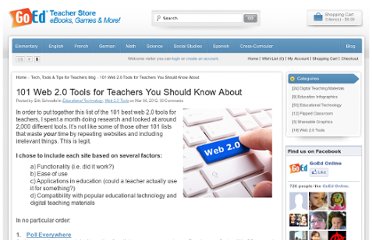 In order to put together this list of the 101 best web 2.0 tools for teachers, I spent a month doing research and looked at around 2,000 different tools. It's not like some of those other 101 lists that waste your time by repeating websites and including irrelevant things. This is legit. I chose to include each site based on several factors: a) Functionality (i.e. did it work?)
Top 10 Web 2.0 Tools for Young Learners By Chris Riedel 02/02/09 ##AUTHORSPLIT## <---> Gail Lovely is adamant about the nature and potential of Web-based learning tools. "Web 2.0 is about trust," she said at a recent talk. "It's about sharing and collaborating." And, she insisted, it's about putting the power to learn and create in the hands of the students.
100 Web 2.0 Tools Every Teacher Should Know About 44.24K Views 0 Likes We're always trying to figure out the best tools for teachers, trends in the education technology industry, and generally doing our darnedest to bring you new and exciting ways to enhance the classroom.
This work is licensed under a Creative Commons Attribution-NonCommercial-NoDerivs 3.0 Unported License . WEB 2.0 RESOURCES FOR 21st CENTURY INSTRUCTION This has gone from 10 to 20 in less than a year.