Ed Tech
Share Ideas that matter | Scoop.it.
Twitter
Top 5 Websites for Teachers to Use in Their Classrooms. Six Emerging Technologies in Education | Master's in Curriculum and Instruction | Saint Xavier University Online. Over the next five years, the K-12 education community is expected to adopt six new technologies that will affect both teaching and learning.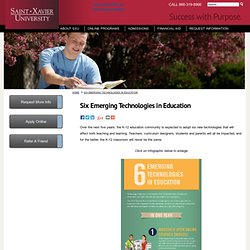 Teachers, curriculum designers, students and parents will all be impacted, and for the better, the K-12 classroom will never be the same. Click on infographic below to enlarge Embed this infographic on your site or within a blog post: (Copy Paste This Code): SideVibe. Resources | Teaching With and About Technology.
Jim Wilson/The New York TimesStudents have always faced distractions and time-wasters.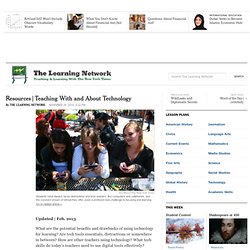 But computers and cellphones, and the constant stream of stimuli they offer, pose a profound new challenge to focusing and learning.Go to related article » Updated | Feb. 2013 What are the potential benefits and drawbacks of using technology for learning? What's An Average Day on Facebook? [Infographic] Did you know that American Internet users spend more time on Facebook than any other site?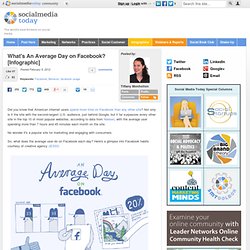 Not only is it the site with the second-largest U.S. audience, just behind Google, but it far surpasses every other site in the top 10 of most popular websites, according to data from Nielsen, with the average user spending more than 7 hours and 45 minutes each month on the site. No wonder it's a popular site for marketing and engaging with consumers. So, what does the average user do on Facebook each day? Here's a glimpse into Facebook habits courtesy of creative agency JESS3. How does your Facebook use stack up to these numbers? The 7 Golden Rules of Using Technology in Schools.
Culture Digital Tools Flickr:David Ortez Sometimes teachers and administrators need a kick in the pants to see what they perceive as problems re-framed in a different way.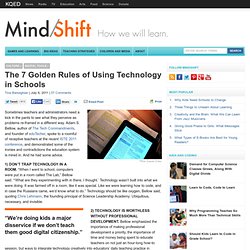 The Educator's Guide to Copyright, Fair Use, and Creative Commons. Lately, we've been hearing more and more about digital copyrights and fair use in the news and online – particularly with the whole SOPA/PIPA uproar that recently swept the web.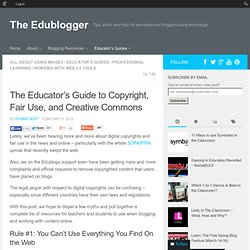 Also, we on the Edublogs support team have been getting more and more complaints and official requests to remove copyrighted content that users have placed on blogs. The legal jargon with respect to digital copyrights can be confusing – especially since different countries have their own laws and regulations. 21st Century learner. 21st Century learner. History Tech. We know that the world is moving online and that to prepare our kids for that world, we need to train them to use that world's tools.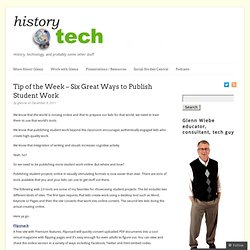 We know that publishing student work beyond the classroom encourages authentically engaged kids who create high-quality work. We know that integration of writing and visuals increases cognitive activity. Incredible Things That Happen Every 60 Seconds On The Internet. eBook - Playing with Media. Dr.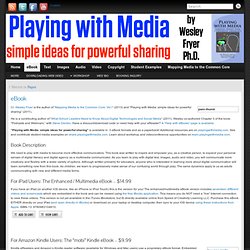 Wesley Fryer is the author of "Mapping Media to the Common Core: Vol I" (2013) and "Playing with Media: simple ideas for powerful sharing" (2011). He is a contributing author of "What School Leaders Need to Know About Digital Technologies and Social Media" (2011). Wesley co-authored Chapter 3 of the book, "Podcasts and Webinars," with Steve Dembo. Twubs. Twitter Guide Book – How To, Tips and Instructions by Mashable. @ozge 's Favourite Web Tools of 2011. Here are my favourite web tools from 2011: Grababeast is a tool to create your own monster using different body parts and colouring them using a palette.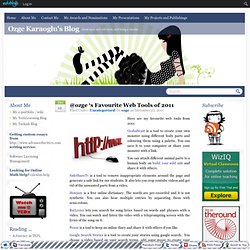 You can save it to your computer or share your monster with a link.
Story Telling
APPitic - 1,300+ EDUapps. Pinterest / Home. 40 interesting ways to use QR Codes in the classroom. QR-Code Generator. TeachersPayTeachers.com - An Open Marketplace for Original Lesson Plans and Other Teaching Resources.
Student Response System for K12. Learn. Together. Blogs for Teachers and Students. Scrapbooking, Greetings, Slideshows and More at Smilebox. TED Talks Jr. PRANK VIDEOS music videos politics supercuts remixes GIFS GIFS GIFS basketball cat videos FILE UNDER kids, Jest Originals, Jest Original Videos More Like This Jest Original Videos video TOMS "One 4 One" Gone Wrong.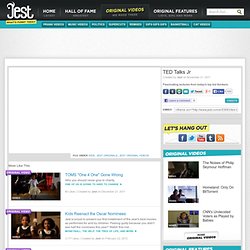 Yodio - Add voice to photos. Digital Is. Three rings and the truth by sschwister :: bookr ::pimpampum.
---