Drink Recipes
The Pastry Affair - Home - Pumpkin Spice Latte. Let me start by saying the pictures don't do this drink justice.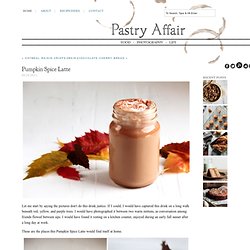 If I could, I would have captured this drink on a long walk beneath red, yellow, and purple trees. I would have photographed it between two warm mittens, as conversation among friends flowed between sips. I would have found it resting on a kitchen counter, enjoyed during an early fall sunset after a long day at work. These are the places this Pumpkin Spice Latte would find itself at home. The Pumpkin Spice Latte is most well known as a seasonal treat you can find at your neighborhood coffee chain. The Ultimate Strawberry Lemonade.
One of the first times I ever realized that – HEY!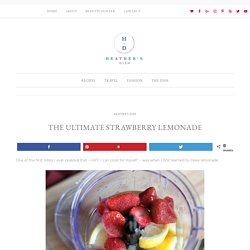 I can cook for myself! – was when I first learned to make lemonade. Italian sodas. June 30, 2011 | Sweet Recipes | Comments Growing up, these Italian sodas were my favorite!!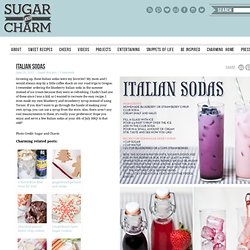 My mom and I would always stop by a little coffee shack on our road trips to Oregon. I remember ordering the blueberry Italian soda in the summer instead of ice cream because they were so refreshing. I hadn't had one of these since I was a kid, so I wanted to recreate the easy recipe. Holiday Mixed Drink Recipes – Drink Recipe Ideas for Your Holiday Party. Top 20 Mixed Drink Recipes Looking for the perfect drinks to serve at your holiday party?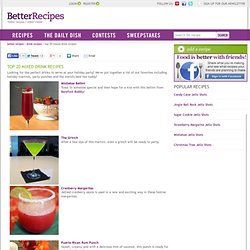 We've put together a list of our favorites including holiday martinis, party punches and the world's best hot toddy! Mistletoe Bellini. Iced Tea with Cider, Mint and Honey. Caramel Macchiato Cider with Cinnamon Cream. Try Kitchen View!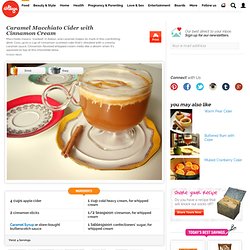 Take your computer to the kitchen and view this recipe full-screen, with step-by-step directions. Enter Kitchen View 1 Make Caramel Syrup and allow to cool. Skittles Vodka (with instructions) 21st Birthday Shots That Taste Good: Recipes to Celebrate the Big Two-One... Face it, on their 21st birthday, most people celebrate by going out and having a few drinks.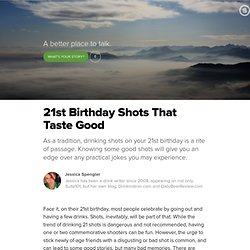 Shots, inevitably, will be part of that. While the trend of drinking 21 shots is dangerous and not recommended, having one or two commemorative shooters can be fun. However, the urge to stick newly of-age friends with a disgusting or bad shot is common, and can lead to some good stories, but many bad memories. There are some shots, though, that taste good and won't leave you running from the bars. Washington Apple. Diy Sonic Cherry Limeade | The Little Brown House. - StumbleUpon. Tweet!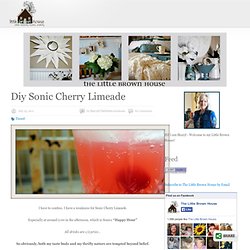 I have to confess. I have a weakness for Sonic Cherry Limeade. Especially at around 2:00 in the afternoon, which is Sonics "Happy Hour" All drinks are 1/2 price… Detox Foods | Detox smoothies. Toxins-free for life Looking to increase your energy levels, to lose weight, get clearer skin, prevent premature ageing and to help preventing diseases?
Then look no further! This 5 days step-by-step detox will help you implement long-lasting healthy habits that yields results. Price: $47. 50 Summer Drinks : Recipes and Cooking. 1.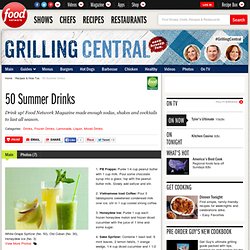 PB Frappe: Purée 1/4 cup peanut butter with 1 cup milk. Pour some chocolate syrup into a glass; top with the peanut-butter milk. Slowly add seltzer and stir. 2. Vietnamese Iced Coffee: Pour 3 tablespoons sweetened condensed milk over ice; stir in 1 cup cooled strong coffee. Eat make read - StumbleUpon. April 29th, 2011 It's Friday, it's sunny, it's time for margaritas!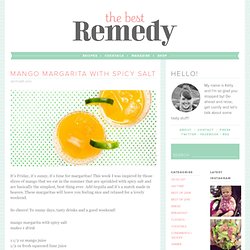 This week I was inspired by those slices of mango that we eat in the summer that are sprinkled with spicy salt and are basically the simplest, best thing ever.
Coffee
Detox Foods | Detox smoothies. 9 drink recipes for fall and winter: Pumpkin pie smoothie. 50 Smoothies : Recipes and Cooking. 1. Banana Blend 2 bananas, 1/2 cup each vanilla yogurt and milk, 2 teaspoons honey, a pinch of cinnamon and 1 cup ice. 2. Green Smoothie for Weight Loss? | One of my absolute favorite things is a Green Smoothie. It's a fast, easy, and delicious way to get a big dose of vitamins and minerals, plus it tastes FANTASTIC!!
Don't let the color's fool you!! It is sweet and filling – even the kids love it!!
Smoothies
Alcoholic.
---