Art
Polka Dot Cottage Category Archive for : tutorials. Everyday Cardigan KAL: finishing up!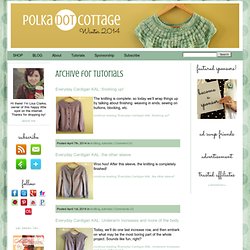 The knitting is complete, so today we'll wrap things up by talking about finishing: weaving in ends, sewing on buttons, blocking, etc. continue reading "Everyday Cardigan KAL: finishing up! " Everyday Cardigan KAL: the other sleeve. How To Make A Ribbon Rosette Brooch! Cute Bat In Your Hair | Version | Cut Out. Make Fabric Flowers. Let's just jump right into making this flower… Start with a piece of fabric 3 inches wide by 24 inches long.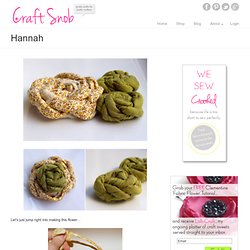 Twist it really tight. Wednes-diy | Free People Clothing Boutique Blog. UPDATE: This post originally ran on March 23 2011, but with summer winding down we wanted to bring it back up for some late summer inspiration!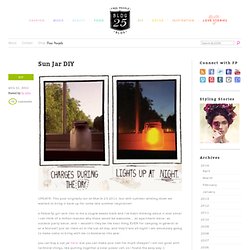 A fellow fp girl sent this to me a couple weeks back and i've been thinking about it ever since! I can think of a million reasons why these would be awesome… as apartment décor, as outdoor party décor, and – wouldn't they be the best thing EVER for camping in general or at a festival? Page corner bookmarks | I Could Make That.
This project comes to you at the request of Twitterer @GCcapitalM.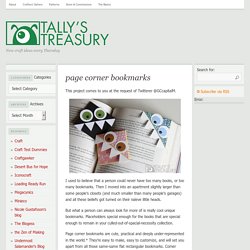 I used to believe that a person could never have too many books, or too many bookmarks. Then I moved into an apartment slightly larger than some people's closets (and much smaller than many people's garages) and all these beliefs got turned on their naïeve little heads. But what a person can always look for more of is really cool unique bookmarks.
T-Shirt Bracelets | Family Chic. SATURDAY, JUNE 4, 2011 | Comments: 45 Brightly colored t-shirts that are too small for my daughters now, have found new life as bracelets.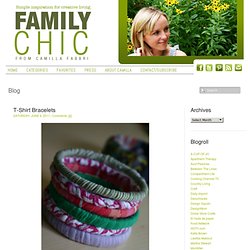 For this project you will need some old t-shirts and a bunch of bangle bracelets. Try using old bangles that you already own, check thrift stores or pick up some up for a few dollars at Target, Walmart – or even the sale bins at Old Navy. How to Make Clothing Buttons from Shrink Plastic… This tutorial is an old one of mine that's too good not to share again.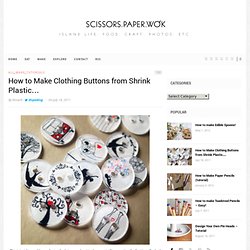 Since posting the first time, I've had lots of questions about these buttons which will hopefully be answered in this revised post. Equipment. Cargo Scarf: Free your hands, and your mind will follow! To make a cargo scarf, you will need: 1/2 yard 45" wide cotton for outer layerI chose a cute banana-print cotton; any decorative or fashion fabric will do, but it should be woven (not a stretchy knit). 1/2 yard liningThis is the part of the scarf that will be against your skin, so choose something warm and comfortable.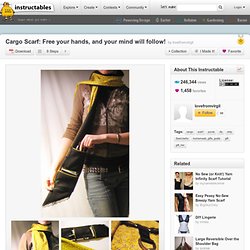 Softer felts, flannels or fleeces are all good options. Decorative trimsThese can be lace, eyelet tape, or whatever else you prefer. All Featured Projects | Cut Out. Adventures in home-making: The world's best sewing tutorials in no particular order. Alina's Adventures sew everything A P indicates a printable tutorial or pdf pattern.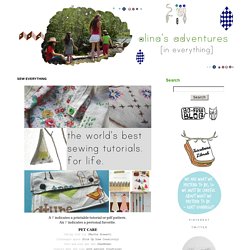 An F indicates a personal favorite. PET CARECatnip fish toy (Martha Stewart)Clothespin apron (Pick Up Some Creativity)Cool and cozy pet bed (Sew4Home)Country gent dog coat with pattern (Craftzine)Collapsible travel dish (Craft Stylish)Color spectrum pet bed (Design Sponge)Custom-fit doggy coat (Pretty Little Things)Dog leash (The Purl Bee)Embellished doggy sweater (Miss Lovie)Fabric dog coat pattern (Cut Out & Keep) PFabric pet bed (Inspiration & Realization)Fabric pup tent (CasaSugar)Family connection writing center (Craftzine)Fleece dog bed (Dog Under My Bed)Pet pouches (The B Line)Sweater dog toys (Craft Stylish)Squeaky doggie bone (Laura Griffin)Water resistant doggy coats (Martha Stewart)
Make-up
Sewing. Dance. Future Hair Fun. Crafts. Nails.
---