Librarian Blogs
Tension and Unrest in Ukraine: Ukrainian Library Association Publishes Statement, Pictures on IFLA Web Site
From a Statement Shared by the Ukrainian Library on the IFLA (International Federation of Library Associations) Web Site: During the months of January and February 2014, the National Parliamentary Library of Ukraine found itself at the center of the anti-government clashes in Kiev. T[Clip]Librarians remained neutral and did not take direct part in the anti-government protests, but carried out their professional duties, saving people, protecting library collections and the library building. Beyond this, the International Red Cross opened a field hospital on the ground floor of the National Parliamentary Library and managed to save many lives.Maidan activists together with librarians defended the National Parliamentary Library and stayed in the library building day and night. As a result of their efforts, the National Parliamentary Library of Ukraine is safe, as are the library collections and librarians.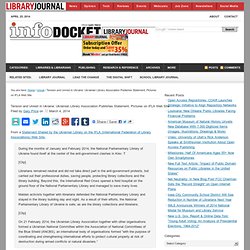 Idaho: Boise Public Library Hopes to Open "Digital Branch" at Boise Airport
You are here: Home / Uncat / Idaho: Boise Public Library Hopes to Open "Digital Branch" at Boise Airport Filed by Gary Price on March 3, 2014 From Boise Weekly: …library officials have been huddling with their information technology department and Boise airport Director Rebecca Hupp to develop what they're calling a digital library at the airport. The proposal is to construct a kiosk at the airport that would provide spaces for people to sit, read and/or plug in their electronic devices. The kiosk is also expected to include some tabletop tablets preloaded with magazines for passengers while they're waiting for their departures.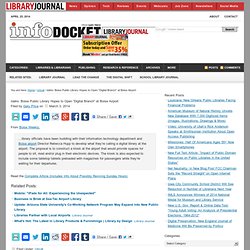 Other areas of Wikipedia Community portal – Bulletin board, projects, resources and activities covering a wide range of Wikipedia areas.Help desk – Ask questions about using Wikipedia.Local embassy – For Wikipedia-related communication in languages other than English.Reference desk – Serving as virtual librarians, Wikipedia volunteers tackle your questions on a wide range of subjects.Site news – Announcements, updates, articles and press releases on Wikipedia and the Wikimedia Foundation.Village pump – For discussions about Wikipedia itself, including areas for technical issues and policies. Wikipedia's sister projects Wikipedia is hosted by the Wikimedia Foundation, a non-profit organization that also hosts a range of other projects: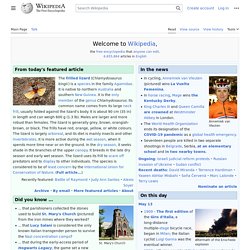 Predicting things is a game for mugs and gamblers; doing it in a written format is really within the domain of the entirely insane or overly confident. However, it's also a lot of fun, so I thought I would point out a variety of things that I suspect will happen in the upcoming 12 months in lots of different areas. Feel free to use the comments option to berate me on my stupidity or praise me for me thoughtfulness! In no particular order: 1. We're going to see a rise in augmented reality.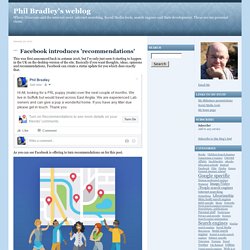 2013 reading list, a year end summary Here are previous year end lists: 2012, 2011, 2010, 2009, 2007, 2006, 2005, 2004. My always-updated booklist lives at jessamyn.info/booklist and it has its own RSS feed. Number of books read in 2013: 50 2012: 53 2011: 56 2010: 48 2009: 39 2008: 31 2007: 53 2006: 60 2005: 86 2004: 103 2003: 75 2002: 91 2001: 78 average read per month: 4.17 average read per week: 1.04 number read in worst month: 1 (April) number read in best month: 7 (Jan/Dec) percentage by male authors: 76 percentage by female authors: 24 percentage of authors of color: 4? fiction as percentage of total: 54 non-fiction as percentage of total: 46 percentage of total liked: 90 percentage of total ambivalent: 8 percentage of total disliked: 2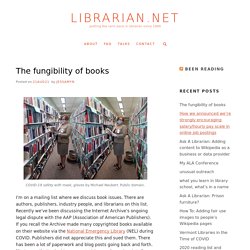 I am pleased to report that ALA OITP Digital Literacy Task Force (of which I was a member, it has disbanded) released the final Conclusions and Recommendations for Digital Literacy Programs and Libraries. You can download the full report and read the blog post at Digital Dispatch. I have highlighted some sections I believe are the most important specifically sections related to libraries as powerful partners in their communities, working with others on digital literacy issues and demonstrating the attractiveness of libraries as partners in their communities the importance of a culture of learning, exploration, and curiosity for library staff.continuing education for library staff and support for this by directors, local, state, and national organizations.sharing resources, collaboration,the value of good research, not just to libraries, but to those who want to support libraries, and those who should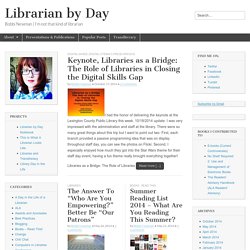 Internet Librarian 2013 – Holistic UX: Applying Lessons From the Web Everywhere Aaron Schmidt Websites are an important touch point for your users, but they are just one of many touchpoints of the overall user experience with the library. Most library tasks require interaction with multiple touchpoints. For example, If you want to place a hold and pick up an item—you have physical, customer service, and online touchpoints.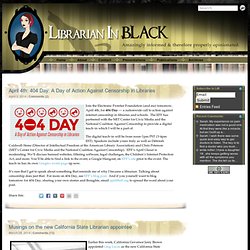 I have a decent understanding of copyright and the process of determining fair use, but I didn't have a good understanding of how YouTube enforces and adjudicates copyright disputes. I'll own up to my naiveté, but even after acknowledging this, I am still troubled by YouTube's approach to copyright enforcement. I thought about titling this post, "I Fought the Law and the Law Won," but the problem is that this whole thing isn't really about the law at all.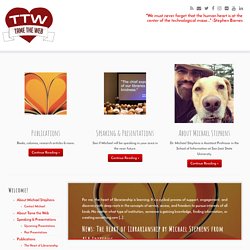 A Chair, A Fireplace & A Tea Cozy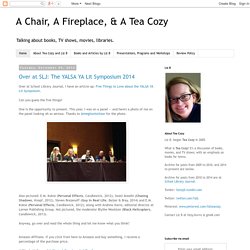 Over at School Library Journal, Brian Kenney's latest editorial is Fear Factor: Kids' Lit Style, about Common Sense Media. As you may recall, back in February I wrote about Common Sense Media in the context of their reviews being used at Barnes & Noble, called No We Don't All Agree. Many other bloggers and writers also wrote about it. Publishers Weekly did a story, called Common Sense raises issues at B&N. At the time, I wrote: "If a parent wants the type of detailed "how many f*cks?" "is there kissing with tongue" "is it blasphemous" type of review, fine.