Food
Get flash to fully experience Pearltrees
Now, I have a chocolate chip cookie recipe that I swear by. I love it, I think it is incredible, and I haven't changed my mind about that. However, as much as it pains me to say it, these chocolate chip cookies by Jacques Torres are absolutely, without a doubt, the best chocolate chip cookies that I have ever made or tasted in my entire life. I guess that's why they call him Mr.
Call me easily amused, but these little torch-topped cupcakes delight me. Besides being a cute novelty item for a party, I think they would add a little drama to the end of a romantic meal. I've been looking for something different to serve for Valentine's dessert, and this is definitely different. The strawberries are hollowed out and filled with a bit of liquor, then ignited with a match. For the cake portion, I chose a One Bowl Chocolate Cupcake recipe because 1. it's quick 2. it is easy, and 3. it fits my prerequisite for a light ending on date night.
Cheesecake Stuffed Strawberries Can I just say that I have died and gone to heaven. Cheesecake stuffed strawberries….how have I not made these before?! I'm serious. They are amazing!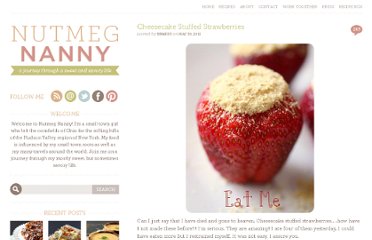 Recipe by: Kairockz This is the treat my children love to make themselves after a good term at school or when they have a friend staying. One cake is big enough to share between 2 children if you can convince them of it!!! Ready in 13 minutes Saved as a favourite by 489 cook(s) Ingredients
I'm sorry. I know it's Monday morning and you probably came here for some pretty pictures of food that you could glance at, and then move on with your day… and here I go thrusting warm, soft cinnamon sugar bread in your face. It's not fair.
Chocolate Cup Cakes Serves: 20 Prep time: 35 minutes Cook time: 15 minutes Ingredients 160 g dark chocolate, chopped 200 g unsalted butter 200 g caster sugar 4 medium eggs 230 g self raising flour 4 tbsp cocoa powder 150 g chocolate chips To decorate: 25 g dark chocolate 150 g Philadelphia Original 50 g icing sugar a few drops of vanilla essence white chocolate to decorate Method 1.