Writing
an exquisite corpse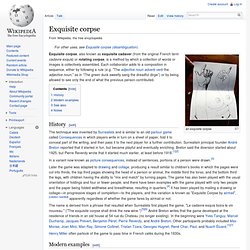 Exquisite corpse
Progress Report After a long period of dormancy, I hope to beging updating the site again over the course of the 2011 calendar year, though work will progress slowly.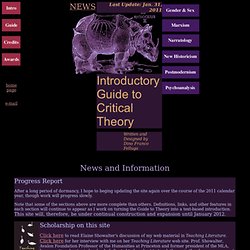 Paragraphs and Topic Sentences
A paragraph is a series of sentences that are organized and coherent, and are all related to a single topic.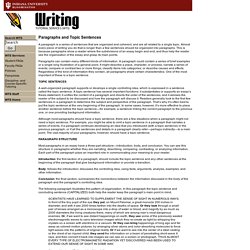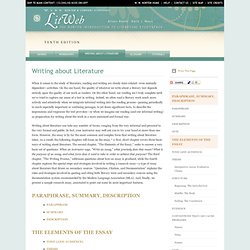 When it comes to the study of literature, reading and writing are closely inter-related—even mutually dependent—activities. On the one hand, the quality of whatever we write about a literary text depends entirely upon the quality of our work as readers. On the other hand, our reading isn't truly complete until we've tried to capture our sense of a text in writing.
LitWeb - The Norton Introduction to Literature: W. W. Norton & Company StudySpace
W. W. Norton Home | Help | Contact Us | Site map | Site Credits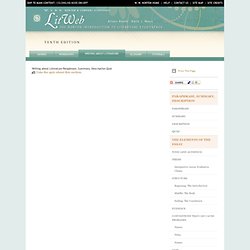 LitWeb - The Norton Introduction to Literature: W. W. Norton & Company StudySpace
Winston Churchill's Way With Words
hide captionWinston Churchill wrote every word of his many speeches — he said he'd spend an hour working on a single minute of a speech. Above, he is shown speaking during the 1945 election campaign. Express/Getty Images Winston Churchill is best remembered as the British prime minister whose speeches rallied a nation under a relentless Nazi onslaught in World War II. But few people know that he won the Nobel Prize in Literature — in part for his mastery of speechmaking.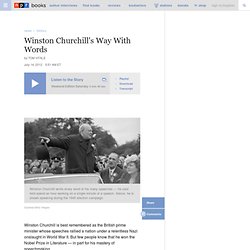 1hour of writing for every 1min of speech. (Lots of revision) by morgangh Jul 15
Reading& writing about poetry
Writing About Literature: Explicating a Poem and Symbolism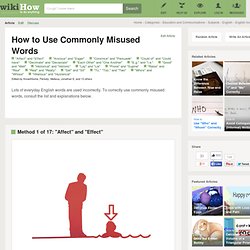 Edit Steps EditMethod 1 of 17: "Affect" and "Effect"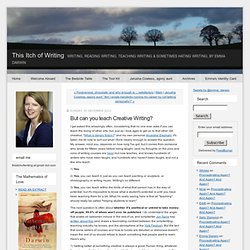 This Itch of Writing: But can you teach Creative Writing?
I get asked this amazingly often, considering that no one ever asks if you can teach the doing of other arts, but, just as I took ages to get on to that other old chestnut, "What is literary fiction?" and my own personal Ancestral Elephant, it's taken me till now to sort out what I think clearly enough to answer the question. My answer, mind you, depends on how long I've got, but it comes from someone who wrote for fifteen years before being taught, (and my thoughts on the pros and cons of writing courses are here) but now teaches, and knows hundreds of writers who have been taught, and only slightly fewer who teach: 1) Yes. 2) Yes, you can teach it, just as you can teach painting or sculpture, or choreography or writing music.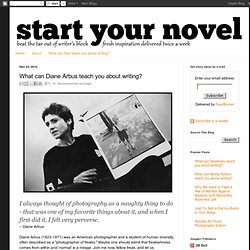 I always thought of photography as a naughty thing to do - that was one of my favorite things about it, and when I first did it, I felt very perverse. -- Diane Arbus Diane Arbus (1923-1971) was an American photographer and a student of human diversity, often described as a "photographer of freaks." Maybe one should admit that freakishness comes from within and 'normal' is a mirage. Join me now, fellow freak, and let us contemplate the normalness of strangehood
What can Diane Arbus teach you about writing?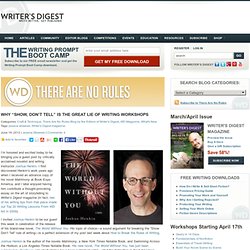 I'm honored and excited today to be bringing you a guest post by critically acclaimed novelist and writing instructor Joshua Henkin. I first discovered Henkin's work years ago when I received an advance copy of his novel Matrimony at Book Expo America, and I later enjoyed having him contribute a thought-provoking essay on the art of storytelling to Writer's Digest magazine (in fact, two of his writing tips from that piece made our Top 20 Writing Lessons From WD list in 2009). I invited Joshua Henkin to be our guest this week in celebration of the release of his brand-new novel, The World Without You. His topic of choice—a sound argument for breaking the "Show Don't Tell" rule of writing—is a perfect extension of my post last week about How to Break the Rules of Writing.
Why "Show, Don't Tell" Is the Great Lie of Writing Workshops
by Maria Popova "Perfection is like chasing the horizon. Keep moving."