Twitter
Design Your Own Twitter Background! Auto Retweet. Auto Follow Friday for Twitter. Tweetology: Make a Twitter widget and make money. 100% free. Mcpass. TweetReach. Twitter Counter. Status. Docteur Tweety. TweetBeep.com. Annuaire Twitter, URL courte, petites annonces, buzz • Twitts.fr. Twitter alerts via email by Twilert.
TweetPo.st v2 | Tweet in your face! Feed your blog to twitter. Tweetake - sauvegarde. Export.ly. Twtpoll. C'est la journée Twitter !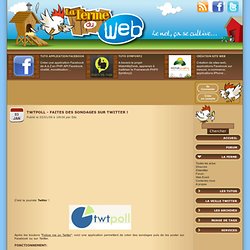 Après les boutons "Follow me on Twitter", voici une application permettant de créer des sondages puis de les poster sur Facebook ou sur Twitter. Fonctionnement: Rendez-vous sur le site twtpoll Remplissez les champs du sondage en spécifiant votre ID Twitter. Twiclur: Custom Twitter Widget for your Website or Blog.
---