MISCELANEOS
These are some useful tricks
The map of the Internet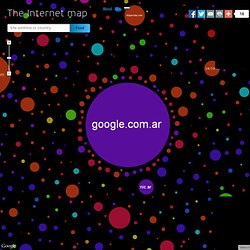 The Internet map
Experiments at the Office
Device Loop Animation View the device loop A device loop animation that I created for the new slid.es home page.
Coil - Use your trail to enclose enemies in this reflex HTML5 game.
Generar un nombre aleatorio - Fake Name Generator
Endless Forms Most Battleful
Submitted by Santo76 on November 19, 2009 Pallet Town, England, 1831 - A young naturalist named Charles Darwin sets sail on a five year voyage of discovery to lands great and unknown. Always a keen observer and ardent collector, Darwin delighted at the strange, wonderful, and pugnacious creatures he discovered.
How did the current home-console controllers come to be? How have they evolved? You may have noticed some similarities between the current generation controllers, or between them and the previous generations of controllers. So, how do they all tie together? Lets try to find out.